Manchester, Jamaica – In South-central Jamaica, the bauxite industry breathed vitality into surrounding towns and communities, including the rural haven of Content. However, as the lands were depleted, the time had come to forge a path beyond bauxite. Enter the US$15 million Rural Economic Development Initiative (REDI) project, funded by the World Bank, which promoted the restoration and rehabilitation of these mined lands, breathing new life into the region while supporting livelihoods and fostering economic growth.
Keisha Vassel and Earl Williams are among the scores of farmers who secured a sustainable future beyond bauxite, as a result of the project. REDI, a pioneering project, was organized as a productive alliance that harnessed the distinct features of Jamaica's rural landscape and the untapped potential for collaboration between agriculture and tourism. It leveraged the linkages between these sectors by bringing together farmers, agricultural experts, tourism authorities, bauxite professionals, local communities, and government agencies.
Under the project, a cluster was established which included 20 farmers, who - like Keisha and Earl - were originally subsistence farmers relying on rain-fed agriculture. Through REDI's training programs, they were able to acquire new skills and adopt modern techniques to improve their agricultural practices.
"I'm in green house farming for over four years. I used to do other farming but not in this way. Coming in the greenhouse, it has been different, but I learnt to adapt. We got training and that has been very helpful; how to manage the plant, how to treat the plant," Keisha said.
Her life took an unexpected turn when she lost her partner and the father of her children, leaving her as a single mother. Determined to provide for her family and give her children the future they deserved; she sought an opportunity that could offer stability. Being among those who were provided with a greenhouse gave her purpose and a means to support her family. The greenhouse not only enabled her to dedicate time to her children but also provided the financial resources necessary for their education.
Life threw another curveball when Keisha was involved in an accident, breaking her wrist while painting. "Its savings from this greenhouse that helped me until now, so it has really benefitted me and my family," Keisha recalled.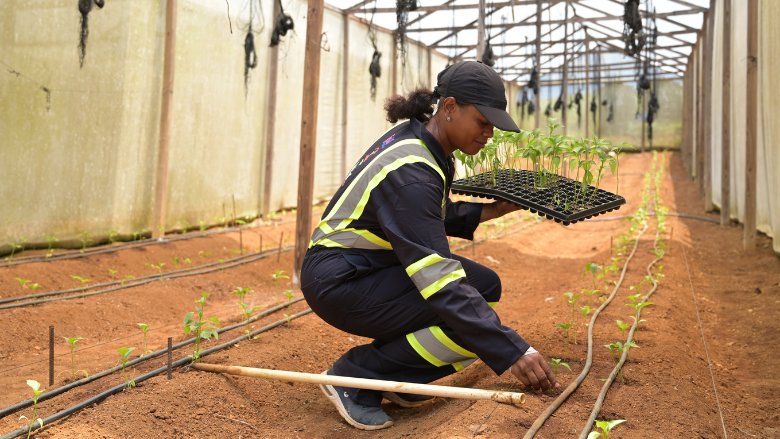 One of the key aspects of the training was the installation, operation, and maintenance of drip irrigation systems, which covered over 600 acres of land. This technology allowed the farmers to efficiently water their crops, reducing water wastage and increasing overall crop yields. Additionally, the farmers were trained in the construction and upkeep of greenhouses. By utilizing greenhouses, they were able to create controlled environments for growing vegetable crops, leading to higher-quality produce and longer growing seasons. Rainwater harvesting is also a key feature of this project, where rainwater is harvested and stored in old mining pits, which would have otherwise been useless. This water is later used for crop irrigation and is particularly helpful during periods of drought.
Earl, an experienced farmer, reflects on the challenges of outdoor farming in the local climate. He shares, "...In our unpredictable weather conditions, excessive rainfall and drought caused significant losses." Getting a greenhouse eliminated these challenges for Earl. He further explained: "it has changed my life because the losses I have had in the past, outdoor, with the excessive rain and drought, has been transformed into production in the greenhouse. The protected environment allows me to benefit from higher yields, particularly with the sweet peppers I plant."
Through the adoption of greenhouse farming, Earl has not only overcome the challenges of unpredictable weather but also achieved financial stability, enabling his children to pursue higher education and secure their own futures.
Across Jamaica, the REDI project quickly gained recognition for its outstanding performance in greenhouse cultivation with the Content cluster becoming known as the best performing greenhouse in the region. This success attracted the attention of prominent buyers, such as hotels, leading to direct supply partnerships and the expansion of their market presence. Today, REDI farmers are selling peppers and tomatoes to a variety of entities, including local hotels.
Notably, the cluster embraced sustainability through rainwater harvesting, application of a zero-waste production approach and the use of renewable energy. Farmers also undertook training in employing good agricultural practices, including effective waste management techniques to ensure that all byproducts and waste materials were utilized or disposed of in an environmentally friendly manner. By integrating renewable energy and prioritizing sustainability, the cluster demonstrated a commitment to reducing their environmental impact.
Strengthening linkages between producers and industries
The first phase of the project benefitted over 1,300 individuals, either through direct training or job creation. It helped participants boost sales, increase agricultural productivity, and improve revenue. Through REDI, 86 percent of the project's rural enterprises expanded their market access, enabling small-scale agricultural producers to fulfill the demands of large-scale tourism establishments by replacing international agricultural imports with domestic production. Further, the project played a pivotal role in empowering community tourism providers to develop and execute business plans while adopting modern business practices such as planning, record-keeping, and marketing.
Building on REDI's experience, a second phase of the project has kicked-off, prioritizing the strengthening of value chains and tourism clusters; emphasizing linkages between producers/service providers and buyers. It aims to scale small agricultural and tourism businesses, while promoting climate resilience.