Lilongwe City, May 2, 2022—The nearest borehole was three kilometers away from Patricia Mgawi's home. Walking several times this distance daily to fetch water for her four children and her husband was never such an easy task. Waking up early was her norm, so she could have time for other household tasks. Yet she lives in Chikungu area, which is within Malawi's capital, Lilongwe City.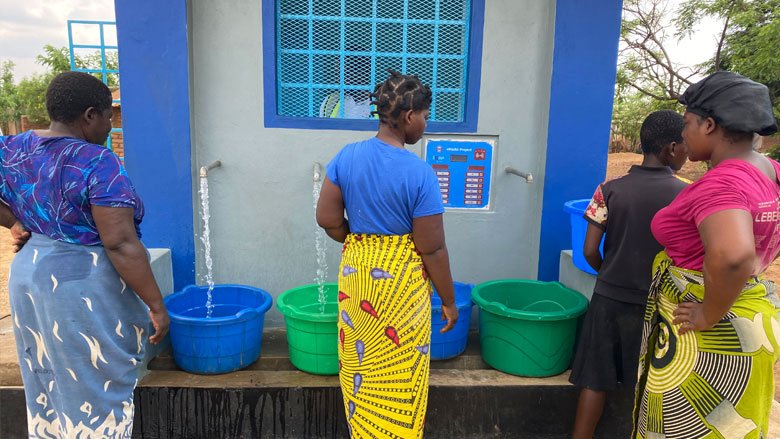 "I used to spend most of the time in a day fetching water," said Patricia. "Not only was it far but the water was not safe for use. But we had no options, and it was backbreaking work." She had to carry a heavy jerrycan on her head when she went to draw water.
In a day, she required not less than four 20-liter buckets of water for cooking and drinking for her family and spent about K200 ($0.18). It was never cheap: In a month, Patricia's family required K6,200 ($5.6) for the purchase of water in their home. The water source was not safe either and the occurrence of diarrhoea diseases was frequent in her household.
Access to Water for Residents
Access to clean water in this community has long been a challenge. Patricia's experience is not isolated. In some parts of Lilongwe City, many families faced similar challenges due to the lack of safe and clean water and their inability to pay for it.
But the Lilongwe Water and Sanitation Project (LWSP), which has been implemented by the Lilongwe Water Board (LWB) since 2017 with financing from the World Bank, is changing the lives of thousands of people in the city. With the aim of increasing access to potable water and improving sanitation services in Lilongwe City and its surrounding areas, nearly 350,000 people have benefited from water supply upgrades, with increased hours of supply and improved pressure and reliability.
Nearly 370km of new pipes have been installed. The Project has led to the construction of new water storage tanks and pumping stations, rehabilitation of existing infrastructure, and installation of new water distribution networks in underserved areas. About 187.2km of pipeline has been extended to previously unserved areas and is likely to benefit 130,000 people through 14,700 more household connections and 60 new water kiosks.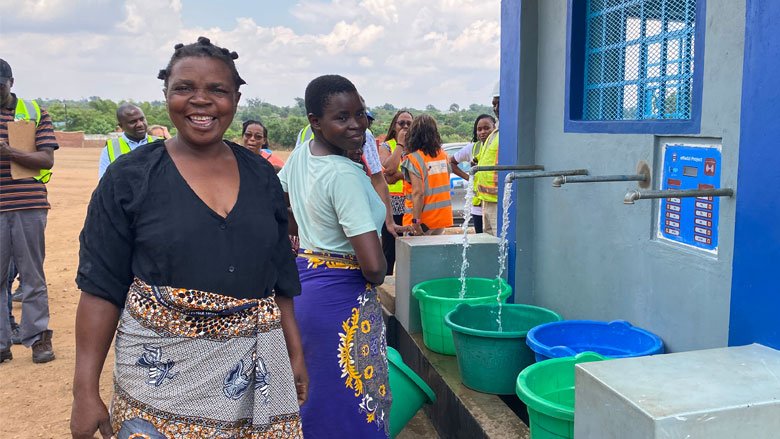 The construction of the Chikungu storage tank in Area 38, where Patricia lives, has made it easier for her and her neighbours to access clean water very close to their homes. They no longer walk long distances to fetch water. They no longer worry about waterborne diseases. "I now have more time to focus on other things, such as taking care of my children and my other daily undertakings," Patricia said. "I also feel much healthier, and my children are no longer getting sick as often as they used to."
Economic Impact
The project is not only improving the health and well-being of residents but is also contributing to the economic development of individuals.
Faith Kaulalo, a communal water point operator in the nearby area of Mchitanjiru, has seen her life transforming. She manages a communal tap or E-Madzi kiosk in the area. She generates an income of at least K44,000 ($40) per month, a fee agreed with the Water User Association, which owns the tap. On average, she sells water to about 200 people a day.
"I was a stay-at-home mother with two children to support. Getting an income by managing this communal tap has been life-changing for me," Faith said.
The communal tap comes under the Tsabango Water Users association, which is responsible for bringing potable water to the area after applying for communal water from the Lilongwe Water Board. Consumers with prepaid smartcards tap the water dispenser; the amount deducted from the card is based on the volume of water a customer wishes to draw from the tap. There are standard prices volumes such as 20 or 25 liters, and the water point operator can help consumers top up their credit.
The arrival of potable water has not only given the community access to it but has economically uplifted people, especially women. Besides Faith, women like Asiyatu Lawe, Agness Chilinde, Bertha Mtata, and Victoria Elifanti are all beneficiaries of this initiative, with each managing a communal water point and clean, piped water arriving by way of the Project.
Gender Equality Impact
Besides empowering women in project implementation, the Water Board is implementing an institutional strengthening program, investing $8.5 million in capacity improvements to enhance service delivery.
"When we did the gender assessment in 2019 at LWB, we found that women were con­sistently underrepresented, particularly in skilled occupations and managerial and leadership positions, and we made a deliberate effort to invest in institutional capacity, which included gender-specific activities," said Odete Muximpua, the World Bank's Task Team Leader on the project.
Among other things, the Lilongwe Water Board has developed a women's chapter. This runs a mentorship and scholarship program, in partnership with local universities, that aims to break the chain of gender barriers that begin in education. It has also built a childcare room which allows female employees to bring their children under the age of five to work, with space for nursing and a caregiver. Through the initiative, the number of female employees rose from 69 in 2019 to 104 in 2022.