"Our families have enough food to eat. We manage our farms and breed poultry to serve both subsistence and commercial purposes. This is what happens when a group of determined women come together to champion their development and help improve the welfare of other women in the Jeoma Falaba community," boasts 52-year-old Kadiatu Kamara, CEO of the Sanda Women Development Association (SWDA), a farmer-based group in Sierra Leone's second-largest city of Bo.
The group started as a 'savings club' in 2014, providing micro-credits to its members. In 2018, it transformed into an agribusiness enterprise, focusing on poultry, fish farming, vegetable production, and livestock.
The group supports other business initiatives that generate additional income for its core members – more than 50 women – as well as employ other women and young men who help with poultry and vegetable farming. Sanda Women is a beneficiary of a $30,000 grant support from the Smallholder Commercialization and Agribusiness Development Project (SCADeP), a program by the Government of Sierra Leone financed by the World Bank. The program promotes smallholder commercialization by fostering productive business linkages between smallholder farmers and agribusiness firms, and other commodity buyers.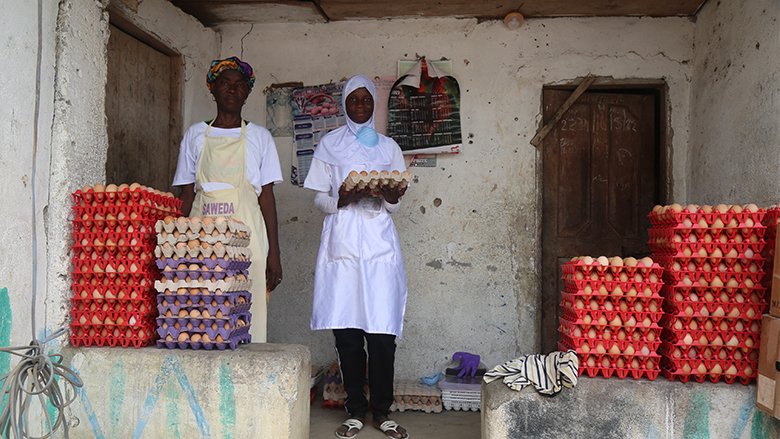 Since 2017, 102 groups (55 farmers groups and 47 Micro, Small, and Medium Enterprises - MSMEs) have benefited from small-scale grants that have enhanced incomes, jobs, and agriculture productivity.
"With the hammer mill, labor time to process the animal feed has reduced considerably," said Kadiatu, pointing to a machine procured through grant funding, which has helped the group to transition from hand-pounding of feed inputs (including oyster shells) with locally-made wooden mortars and pestles. The number of poultry birds has increased from 1,000 before SCADeP's intervention to 10,000 (8,000 layers and 2,000 broilers). The group's business operations have transformed, and its productivity scaled up.