Nina, a middle-aged woman from Chernihiv, Ukraine, was experiencing shortness of breath and could barely walk.
"I would walk two meters and didn't have the strength anymore. Now, it's easier to breathe," says Nina.
Nina's heart problems were appropriately diagnosed, and she received care at the Chernihiv Oblast Hospital in the fall of 2022.
Chernihiv, a city in the north of the country, was under Russia's siege during February and March 2022. During this time, the Chernihiv region suffered multiple attacks on its healthcare facilities and over 15 percent of its healthcare infrastructure was damaged or destroyed.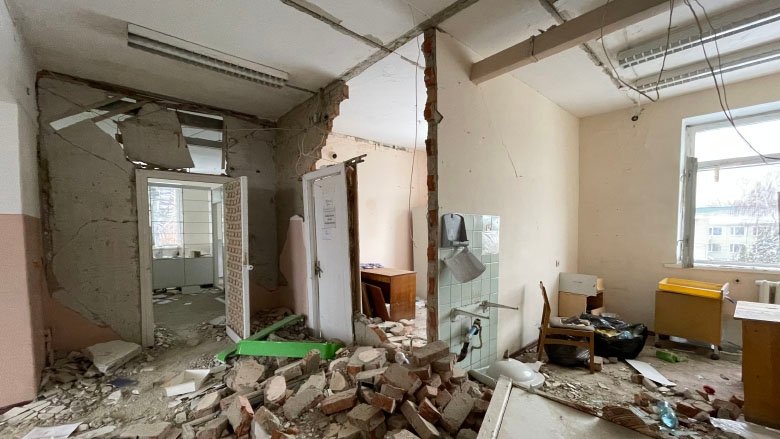 However, making sure people continue receiving basic health services (such as prenatal care, blood tests, acute care, cancer screenings and regular checkups) and that healthcare facilities function to provide these services has been one of the Government's priorities and a sign that essential public services keep running, whether in peace time or during war.
Helping the Government of Ukraine deliver these essential services by providing budgetary support, along with investments to cover these needs, has been among the World Bank's top priorities since the start of invasion.
The Bank assisted the Government in redirecting resources from existing projects to cover immediate needs, as well as preparing new projects and technical assistance.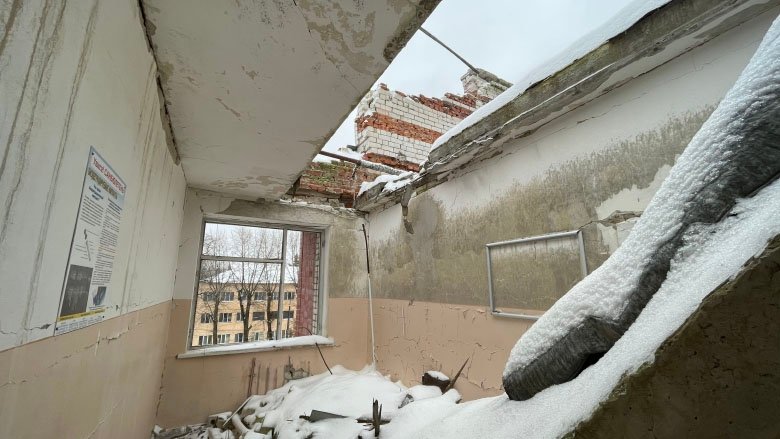 Paying for essential healthcare services
After Russia's invasion, the Bank started channeling its own resources and that of other donors, to sustain essential public services, including healthcare services through the Public Expenditures for Administrative Capacity Endurance (PEACE) project. This project has also been funding many of the Government's social transfers for vulnerable people, including pensions, disability grants, programs for the poor, and payments to internally-displaced persons. To ensure that money goes to the intended beneficiaries, the project is structured so that it retroactively disburses funds to the Government, after the Government has made its payments and following an expenditure verification process.
This flagship financing instrument has been crucial for the country to continue providing essential public services as well as to coordinate other donors to provide fast, targeted and predictable support.
Delivering emergency medical equipment to hospitals
Also, by swiftly pivoting and redirecting resources from existing health projects, such as the Serving People, Improving Health Project, the Bank supported delivery of $38 million worth of emergency medical equipment and supplies to more than 530 hospitals in 2022.
Chernihiv Oblast Hospital, where Nina was treated for her heart problems, is one of them. Nina is thankful for the care the cardiology team provided.
"We received a modern ultrasound machine that allows us to examine a patient immediately in bed, which is very important, because patients in cardiological intensive care are the most difficult, most serious patients. Because the device is portable, it can be taken to the bed quickly. Examine a patient, make a diagnosis, and prescribe treatment accordingly. And sometimes these minutes, they really save the patient's life," says Igor Filipov, Head of the Cardiology Department in Chernihiv Oblast Hospital.

In the early days of the war, while Chernihiv was under a month-long siege, doctors continued treating about 250 patients each day in this hospital, often operating under the light of flashlights or mobile phones.
The situation has significantly improved since then.
"The programs that are currently being implemented with the support of the Ministry of Health and international donors give us the opportunity to conduct examinations and treat our patients much better. The X-ray equipment, ECG, anesthesia and breathing machines – all this equipment is helping to provide high-quality medical care in such difficult times," says Andriy Zhydenko, General Director of Chernihiv Oblast Hospital.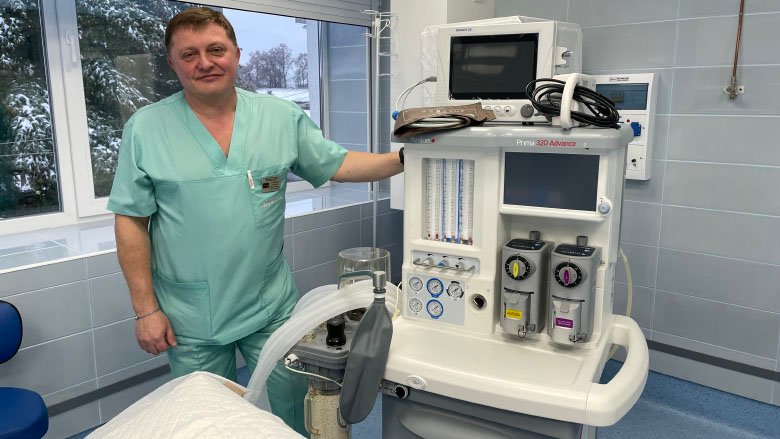 Before the war, the Serving People, Improving Health Project had invested nearly $300 million to reform Ukraine's healthcare sector, improve the quality of medical services, develop medical infrastructure, and fight the COVID-19 pandemic. During this time, the project supported a major health reform, which helped to define a health benefit package, called the Program of Medical Guarantees, implemented by the newly established National Health Service of Ukraine, which contracted health facilities to deliver health services.
These improvements to the health system were instrumental during wartime as well.
"When the Program of Medical Guarantees came into effect, we experienced great changes. The National Health Service began to finance a separate package of care for patients with myocardial infarction. And we have significantly increased the amount of assistance provided because it has become available. Now every person, no matter where he lives in our region, when he or she gets sick with an acute myocardial infarction, an ambulance will immediately bring him, and the patient will be provided with appropriate assistance - coronary angiography, stenting, and further rehabilitation. It costs the patient nothing at all," says Igor Filipov, Head of the Cardiology Department in Chernihiv Oblast Hospital.
Ukraine's Ministry of Health is implementing the Serving People, Improving Health Project. It initially covered eight regions - Dnipropetrovsk, Lviv, Poltava, Rivne Vinnytsia, Volyn, Zakarpattia, and Zaporizhzhia - but later was expanded to cover all of Ukraine.
Continuing with COVID-19 vaccination
Continuing with the COVID-19 vaccination program didn't stop because of the war.
Instead, within three weeks of the invasion, the Bank approved an additional $91 million for the Emergency COVID-19 Response and Vaccination Project to help the Government finance the procurement of over 21 million doses of COVID vaccines. The project also supported procurement of refrigerators and waste containers to strengthen the cold chain and waste management systems of providers involved in delivery of COVID-19 services and vaccination.
Also, the COVID-19 emergency hotline, which the Ministry of Health launched with World Bank assistance has received over 2 million calls from citizens and has been expanded to handle requests from both medical institutions and citizens about medicines, medical products, oxygen, bulletproof vests for emergency aid workers and other urgent needs.
In several regions of the country, the ongoing Sustaining Health Sector Reforms in Ukraine project supports citizen engagement and third party monitoring activities, which focus on examining and addressing key barriers to vaccination, and piloting interventions to improve access to medical services and COVID-19 vaccines for vulnerable groups, including the Roma, the elderly and internally-displaced persons.
Investing in the future of Ukraine's health sector
In December 2022, the World Bank and the Ministry of Health launched a new project, the Ukraine Health Enhancement and Lifesaving (HEAL) project, which will cover immediate needs of the health sector, focusing on restoring and strengthening the country's health infrastructure and service delivery. The project will also address increased demand for mental health and rehabilitation services due to the war.