Mr. Ibukun Fadiya is a community leader in Ikorodu, Lagos State. He experiences the effects of air pollution in the community on a firsthand basis and having lived in Ikorodu for most of his life as a resident and an informal worker, he laments about the health and physical effects of smoke exhausted from the steel plants around the area.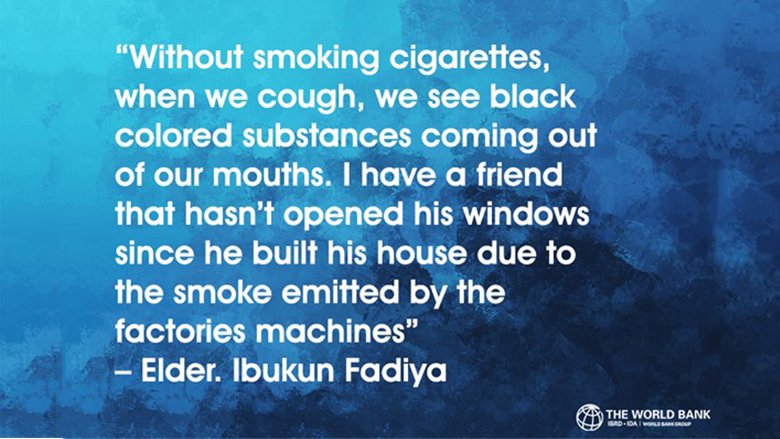 Pollution is a major problem in many cities around the world, but it is especially bad in some of the world's biggest cities. Notorious for its large population, high concentration of motor vehicles and industrial pollution, Lagos, the largest city in West Africa and the 21st largest city in the world is no exception. The mega city on the west coast of Africa is also one of the most densely populated cities on the planet, with an estimated 20 million people living on an area of less than 100 square kilometers and the result is a suffocating mix of air pollution, single-use plastic pollution and solid waste in the city's streets causing respiratory problems, floodings and other illnesses among the locals. The causes of the pollution are many, and the pollution has many effects on the environment. It is estimated that at least 30,000 people die every year in Lagos due to pollution. The economic costs of exposure to lead aerosol in Ikorodu are estimated at an additional US$300–600 million or US$400–600 for every resident of that LGA.
Ikorodu is a sub-urban area in Lagos State populated with many industrial steel plants and a solid waste dumpsite and residents wake up to flooded houses and thick fogs that emanate from the exhaust pipes of industrial plants while single use plastics block the drainages and cause floods. Ikorodu is just one of the many areas in Lagos plagued with at least one form of pollution or the other and has now benefited from the World Bank's installation of an Air Quality Monitoring Station which has provided a scientific basis to develop an air quality management plan for the Lagos State Government.
The private sector has not been resting on their oars when it comes to getting rid of pollutants in the state, WeCyclers has created a business model where they pay locals to turn in their trash. The aim is to create a circular economy where single use plastics turn from waste to wealth.