BAMAKO, May 24, 2022 - According to the World Bank Mali Economic Update 2022 entitled Resilience in Uncertain Times: Renewing the Social Contract, the country's growing insecurity and socio-political crisis resulted in a timid, lower than expected, economic recovery in 2021. Growth prospect for 2022 has been further undermined by the economic sanctions, regional food insecurity, and the war in Ukraine.
A weaker than expected growth recovery in 2021
The report points out that the Malian economy rebounded only slightly in 2021 (real growth estimated at 3.1% or 0.2% per capita) driven by the recovery in the sectors of agriculture and services, after the 2020 recession (-1.2%). The improvement in terms of trade during 2019-2020 as a result of the surge in gold prices, has considerably tampered in 2021 and removed one the main growth momentums.
The outlook for 2022 remains contingent on the duration of the sanctions
The economic and financial sanctions imposed by the Economic Community of West African States (ECOWAS) and West African Economic and Monetary Union (WAEMU) on January 9, 2022, have considerably clouded the economic outlook for 2022. The report conjectures that if the sanctions were to be lifted by the end of the first quarter, real GDP growth could still reach around 3 percent in 2022 – some 2 percentage points lower than what it was projected to be pre-sanctions. However, if the sanctions were to remain in place during the second quarter of the year, the economy could re-enter in recession in 2022.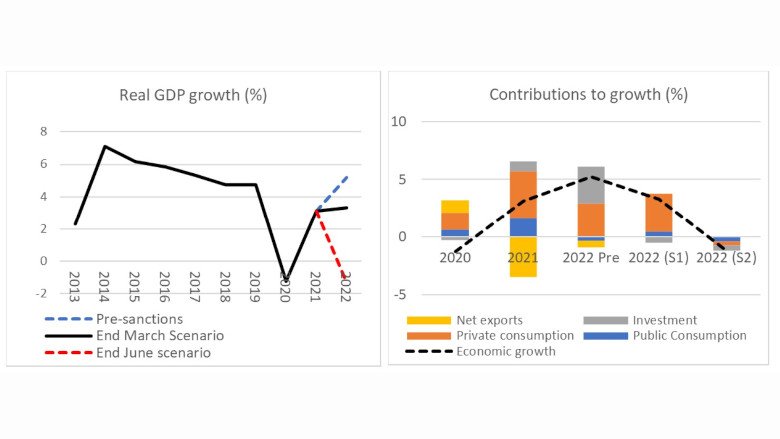 Living conditions and poverty reduction are affected by low growth and high inflation
Living conditions of the population, especially poor and vulnerable households, are affected by low growth and high inflation. Given the rapid demographic growth, the modest growth performance since 2020 translated into almost stagnation of income per capita in the past two years. Meanwhile, the inflation rate picked up from 0.5% in 2020 to 3.9% in 2021 and is projected at 7% in 2022. With lower income and higher prices, Mali's national poverty rate is estimated to have increased from 42.5% in 2019 to 44.4% in 2021, pushing an additional 375,000 people into extreme poverty. Food insecurity is emerging as a major threat, especially under prolonged sanctions and aggravated insecurity. The effect of inflation on poverty seems to be particularly adverse in rural areas.
The security crisis and political uncertainty represent a major downside risk to the medium-term outlook
Social instability and persistent expansion of conflict zones will continue to weigh on the economic growth. If unaddressed, it will continue to fuel uncertainty and affect investments, including public investment because of a shrinking fiscal space. Armed attacks and intercommunal conflicts will further hamper agricultural and pastoral activities leading to further food insecurity
To address conflict risk and build resilience in Mali, the report highlights the need for rebuilding the social contract between the citizens and the state. This will require re-establishing a positive state presence in conflict-affected and fragile areas, especially security and justice, by increasing human and financial resources outside Bamako. Expanding services and public investments towards underserved territories and increasing access to quality health and education services in rural areas would also constitute key steppingstones toward a new social contract.