NAIROBI, May 6, 2022—When Kennedy Sanya first walked into a blood donation booth to donate blood, his motivation was far from saving lives but to get a free bottle of cold, refreshing soda. That was over 41 years ago. Though he does not care much for sodas anymore, the 58-year-old father of three still walks into blood donation clinics up to three times a year knowing that his selfless act can be the difference between life and death for someone else. Kennedy is Kenya's top blood donor having donated an impressive 98 times.
"It is a blessing to donate blood. It is a joy to give blood and save a patient's life," he said.
Aisha Dafalla, Kenya's top female blood donor, echoes Kennedy's sentiments adding, "somebody somewhere needs blood. We have a lot of people in hospitals waiting for blood. It is so sad to hear someone is dying because of lack of blood. That's why I donate."
Kennedy and Aisha are among the many selfless heroes in Kenya who voluntarily participate in blood drives every year. These generous acts of blood donation require a well-functioning blood bank system that can translate these donations into a lifeline.
Access to safe blood and blood products remain a vital and core component of saving lives. Every drop counts in a country where seven Kenyans require a blood transfusion every 10 minutes, a situation exacerbated by the COVID-19 (coronavirus) pandemic. In 2020, only 16% of the 1 million units of blood needed in the country collected.
"The COVID-19 pandemic put further strain as donors stayed away from blood drives in fear of contracting the virus," said Dr. Nduku Kilonzo, Director, Kenya National Blood Transfusion Services. "Recovery to pre-COVID levels has started to rebound though shortages of blood and blood products continue to pose a huge risk to patients requiring a blood transfusion, especially pregnant women and individuals living with comorbidities."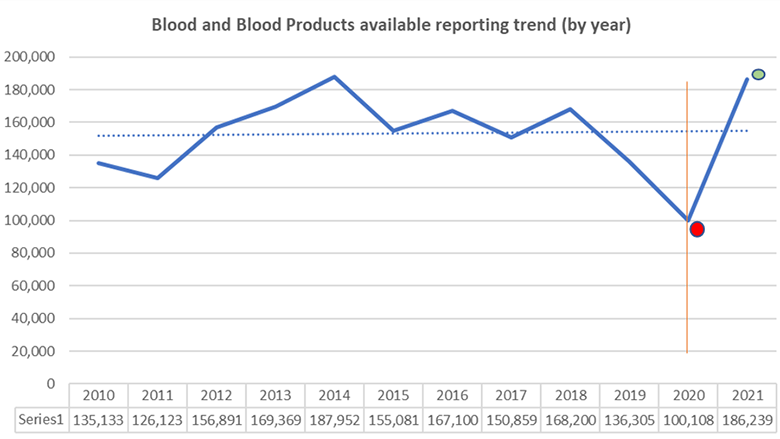 Recognizing this urgent need, the World Bank-financed COVID-19 Health Emergency Response Project (CHERP) is supporting the Kenya National Blood Transfusion Services (KNBTS) with critical assistance to six Regional Blood Transfusion Centers (RBTC) and 14 satellite centers improve the collection of safe, quality and adequate blood in the country. CHERP is one of the first COVID-19 projects to address health system constraints identified as essential to strengthening national public health systems.
Specifically, the project is strengthening blood supply through investments in blood donation and collection, testing, processing, storage, and distribution systems. These include investments in blood donation processes and equipment; expanded capacity of screening for transfusion transmissible infections services; enhanced the efficiency of blood component processing systems through automation; strengthened quality assurance systems; and strengthened coordination in blood collection and supply services.
"Blood is core to all clinical aspects of health system. Blood transfusion saves lives, and improves health, said Jane Chuma, World Bank Senior Health Economist and Task Team Leader. "We are delighted that CHERP interventions have strengthened Kenya's capacity to provide safe blood and blood products."
In addition to leading to a 47% increase in the number of blood donors, CHERP interventions have achieved the following:
An 86% rise in the amount of blood collected, from 100,018 units in June 2020 to 186,239 units in June 2021, benefiting over 214,187 patients
Reduced frequent supply stock outs, blood drive cancellations and donor waiting time through procurement of 144 blood donor couches (chairs) for six RBTC and 47 satellites and 12 mobile blood drive customized vehicles, two of which are refrigerated; and ample supply of assorted blood bags
Enhanced blood processing through the procurement of adequate component preparation equipment for RBTCs
Improved platelet preparation and safe storage capacity to about 388 units from zero in eight satellite centers through procurement of platelet apheresis machines, apheresis kits and platelet agitators
Doubled the storage capacity of eight facilities and eight sites from 25,000 to 50,000 units through the equipping refrigerators and freezers: renovation and installation of additional cold rooms in the KNBTS headquarters and satellites
Increased capacity to freeze and archive 10,000 samples with procurement of a biobank
Reduced turnaround time of availing safe blood at transfusing centers from 96 hours (four days) to 48 hours (about two days) through seamless supply of testing reagents at testing laboratories
Improved data capture and quality of reports in transfusing centers by availing reporting tools
Facilitated uninterrupted power supply to equipment and cold rooms in the event of power outage through procurement of air conditioners, generators, and fuel
The project also aims to address the misconceptions and myths that stop Kenyans from donating blood in high numbers, including through public awareness campaigns focused on the importance of safe and sufficient blood for has in the overall health and survival of Kenyans in need.