BENIN CITY, Edo State, Nigeria, December 8, 2021—When the COVID-19 pandemic abruptly forced schools and businesses to close across Nigeria in March 2020, school girl Aisosa thought Christmas had come early.
Like for most students worldwide, her school closure presented an extended period of holiday and unlimited hours of playtime with her friends.
But the Edo state government in south-south Nigeria had other plans. It saw an opportunity to further the development of its digital education drive and used WhatsApp, among other platforms, to organize e-classes.
"When we come online, we exchange greetings with our teacher, after which she sends a lesson to us and explains it; we solve, snap and send it to her", explained Aisosa. "Then, later at 11 a.m., we have a virtual class."
Despite her initial hopes of an endless holiday being dashed, she never missed any of her virtual classes – which became her new way of schooling – as 11 a.m. on weekdays became her favorite time of the day.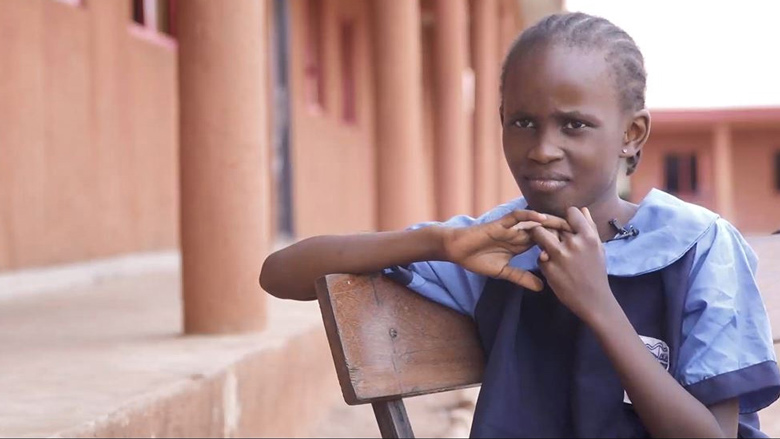 Aisosa, a pupil of Obaseki Primary School, Benin City, Edo State, Nigeria. © Sanumioluwa Modupe Dawodu, The World Bank
The Pandemic Offered an Opportunity to Do Things Differently
Aisosa's online class is part of the EdoBEST initiative, launched in 2018 by the Edo State Government to improve the public education system by building teacher capacity, expanding the curriculum, and developing infrastructure in schools. The program was in its second year when the COVID-19 pandemic struck in 2020, necessitating a switch in its implementation.
With the World Bank's financial and technical support to the tune of $75m over four years, through the International Development Association, things moved fast to include digital learning. "We had to quickly launch EdoBEST@home, our online learning alternative to offline schooling," stated Dr. Joan Osa Oviawe, the chairperson of Edo State Universal Basic Education Board (SUBEB).
Learning materials such as study guides, interactive storybooks, questions, and audio lessons were uploaded through the agency's website. Teachers created more than 7,000 virtual classrooms. "Our interactive quizzes have been very popular, attracting more than 20,000 pupils per week," said Dr. Joan Osa Oviawe.