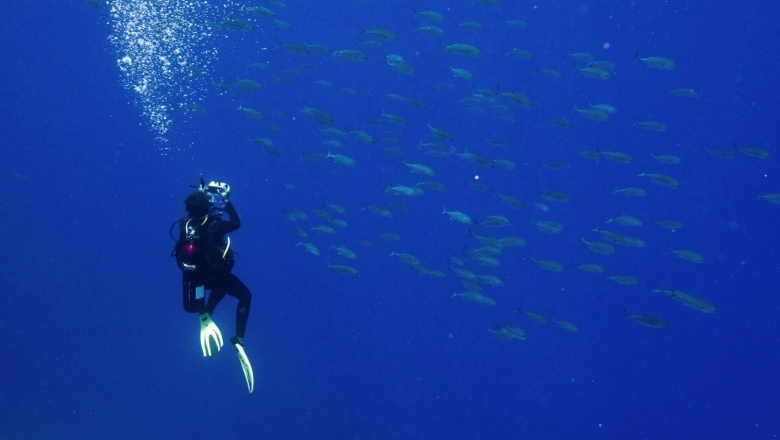 Kalena Kattil-deBrum documents marine life in the waters of Marshall Islands. Photo: Erin Feinblatt
Spanning more than two million square kilometres of the central Pacific Ocean, the Republic of the Marshall Islands is home to some of the most stunning natural beauty anywhere on the planet. Dotted across its oceanscape are 29 atolls and five low-lying coral islands that around 60,000 people call home. Most have settled in the urban centres of Majuro, Ebeye, and Kwajalein; while a third of the population can still be found on the outer islands. Yet no matter where they live, the ocean is entwined with the lives and livelihoods of all Marshall Islanders.
In recent decades, climate change, land-based pollution, and resource exploitation have had a significant impact on the delicate environmental balance of the country. Looking ahead to safeguard their precious resources, RMI joined 4 neighbouring nations in 2006 to commit to the Micronesia Challenge, an ambitious goal with each partner aiming to effectively manage 30% of their coastal resources and 20% of their land resources by 2020. The strategy developed by the Marshallese government to meet the challenge is called the Reimaanlok Framework.