Growing hunger and food insecurity are making headlines around the world.
Hunger has been rising since 2014, due to conflict, economic shocks, and weather extremes. According to the FAO, 688 million people were hungry in 2019, compared to 624 million in 2014.
The COVID-19 pandemic has worsened food insecurity by disrupting supply chains. Together with currency depreciation and other factors, this in turn has driven up the prices of staples such as wheat and maize. Global agricultural commodity prices are 40% higher now than in January 2020. At the same time, the pandemic has upended livelihoods, eliminated jobs, and slashed incomes, leaving more and more people unable to buy food for their families. As a result, the number of people facing "acute food insecurity" – defined as when a person's life or livelihood is in immediate danger because of lack of food – is poised to double to 272 million people according to the United Nations World Food Programme.
The Bank is working with countries around the world to ensure food systems continue to function despite COVID-19's challenges, and to help improve food security for the most vulnerable people now and in the future.
"Addressing food insecurity requires actions to ensure that people get sufficient, nutritious food in the near and long-term," says Martien van Nieuwkoop, Global Director of Agriculture and Food. "Social safety nets and livelihood support programs can boost food security for vulnerable people as they cope with and rebuild from COVID-19's devastating impacts. But we also need actions to transform the food system so that it can support healthy people, as well as a healthy planet and healthy economies for decades to come."
Supporting farmers in the Kyrgyz Republic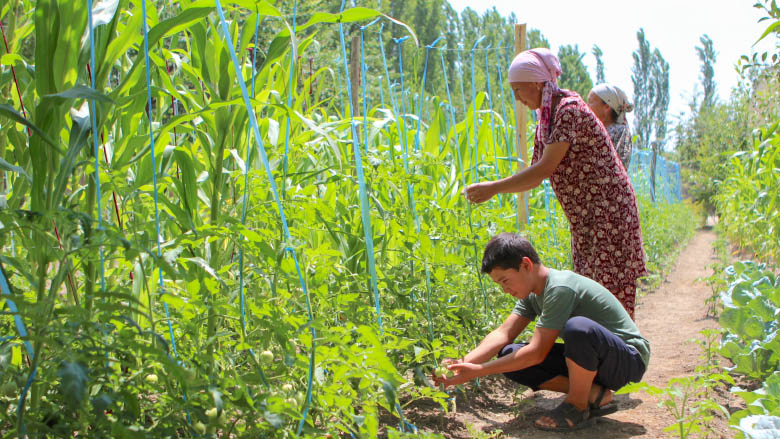 Gulzat Saibiddinova from Batken region learned a vertical gardening technique to grow vegetables, thanks to the Agricultural Productivity and Nutrition Improvement Project, and she shares her skills with her son.
According to the World Food Programme, the Kyrgyz Republic's agricultural workers, are particularly vulnerable to food insecurity. The Bank, with funding from the Global Agriculture and Food Security Program (GAFSP), is supporting farmers in the long term with improved irrigation techniques to conserve water and boost productivity on over 10,000 hectares of farmland. Over 5,000 farmers have benefited so far. "Water is precious for us, and we value every drop. With every drop, the quality of life in our families is improving," says Rabykan Syunova, a farmer from the Djalal-Abad region.
The project will also distribute vegetable seeds and fertilizers to around 5,380 farmers to support a robust harvest in 2021. This income-boosting support will help farmers earn enough money to buy basic necessities and support their families. This is particularly important now, as close to 40,000 people lost their jobs, including many migrant workers, due to the COVID-19 pandemic.
Finally, community-based nutrition education programs are being administered in several communities to help people learn practical steps to improve nutrition for themselves and their families. To date, over 2,000 people have received vegetable seeds and learned how to grow nutritious food in their backyards.
Supporting farmers in Haiti
In Haiti, a significant drop in overseas remittances has compromised people's ability to buy food and farmers' ability to finance upcoming cropping seasons.
IDA is supporting over 21,000 agricultural households – more than 100,000 beneficiaries – to obtain seeds, inputs and finance other costs of production.
"I benefited from 350 plantain banana trees from the project during the spring 2020 crop year. Today these banana trees are in the harvest phase, and I plan to harvest more than 300 banana bunches. With the sale on the market, I will collect more than US$3,200. Part of the resources generated from this sale will be used to take care of my family and the other part will be reinvested in the plantation," says Mr. Thompson Dabresil from Nippes Region.
This assistance is helping safeguard two agricultural seasons. In the first season, through the spring and summer 2020 campaign, 16,000 agricultural households in the regions of Nippes and South, representing more than 80,800 beneficiaries received inputs, seeds, land preparation, and technical support and more than 11,300 hectares of cropland were developed. During this first season, 163 metric tons of seeds and 1,334 metric tons of fertilizer were provided to farmers.
During the second season, the project will support more than 5,000 agricultural households –representing 25,000 beneficiaries – to develop more than 14,000 hectares. This support will boost the local food system and beneficiary communities for years to come.
Sustainable incomes – and stability – for farmers in Cambodia
Falling remittances due to pandemic job losses are also crippling farmers in Cambodia. According to Kao Phalla, from Kratie Province, the support he received from his children in Thailand, Phnom Penh, and Siem Reap dropped to about $60 a month at the height of the pandemic, making it hard to sustain his farm and support his family.
An IDA supported project is securing land for smallholder farmers like Phalla and providing agricultural training. To date, 5,091 smallholder and landless families have received about 16,000 hectares of land. They have also received seeds and training to improve productivity for cash crops – vegetables, cassava, cashew nut, and rubber trees – and livestock.
Farmers are applying what they've learned to the land they now own, boosting their productivity and incomes. This has brought farmers more stability and peace of mind.
Naeng Chheoun, from Prey Thom village says, "This is our second chance in life and I really don't want to lose it again. We used to live in a terrible past where we didn't have enough food to eat and no land to grow. We moved from place to place just to sell our labor for survival."
Leveraging technology to provide relief in Togo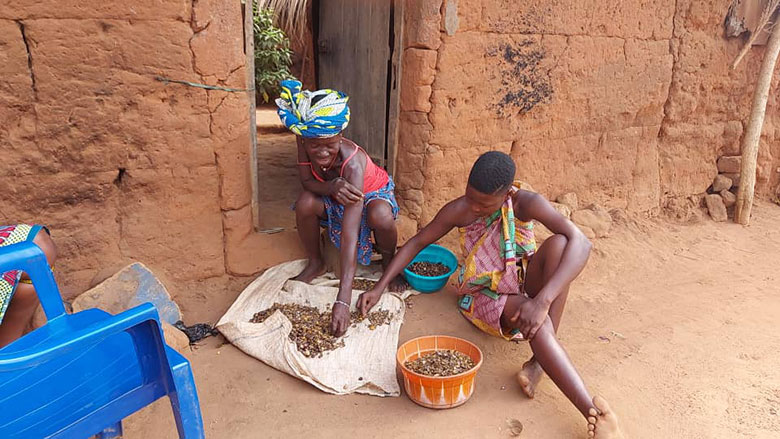 Houenonvissi is a farmer, resident of the village of Fiata Djigbé in Southern Togo and has benefitted from the cash transfer from the Novissi program.
Photo: Floriane Acouetey
Due to COVID-19, nearly 22 percent Togo's population needed humanitarian assistance and 23.8 percent of children under 5 suffered chronic malnutrition in 2020.
In April 2020, Togo started a program called Novissi—which stands for solidarity in the local Ewe language, to provide cash transfers to citizens who lost their income due to the pandemic. The challenge was how to find the people who needed help, and quickly.
Artificial intelligence, phone surveys, and high-resolution satellite imagery helped find households and communities where the need was dire. House sizes, quality of roofing material, absence of roads, and lack of access to bodies of water were key to identifying the most impoverished areas. Through IDA, the Bank supported the deployment of data-driven methods to identify the neediest citizens, and provided US$72 million to finance social protection delivery systems, including the contactless mobile money transfer program.

The first phase of the Novissi emergency social assistance program. from April 7, 2020, until Sept. 1, 2020, provided cash transfers to 572,852 informal sector workers in the greater Lomé area, the Tchaoudjo prefecture and the Soudou canton. More than 373,850 of the beneficiaries were women.
​Eric Dossekpli, a 49-year-old farmer from Anfoin Avele, Togo, was one of the people who benefited from Novissi. With the coronavirus crisis, he no longer earned enough to cover the basic needs of his family and the school fees of his six children. "I didn't know how I was going to buy food, how I was going to buy what I needed for my house," he says. When he heard about Novissi, he applied for the program and qualified. He soon received money that helped him cover his family's basic needs.
RELATED