The 1,590-acre Ultra Mega Solar Park in Rewa's Gurh tehsil is among the largest single-site solar power plants in the world. And This will essentially help DMRC not only reduce its dependence on coal, but also save Rs. 793 crore on its energy bill over the next 25 years.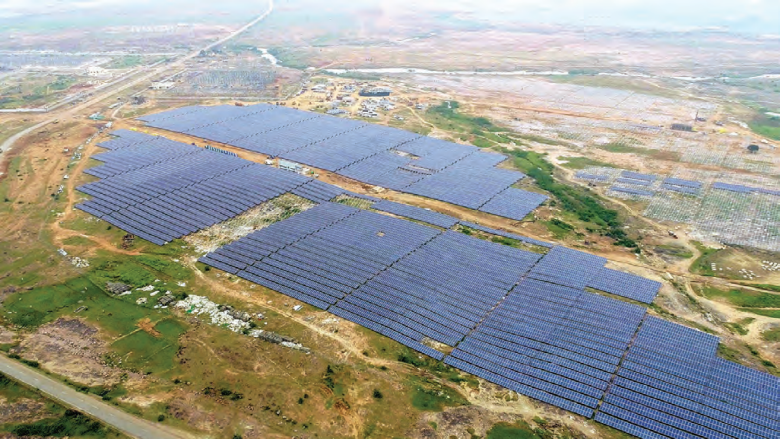 The Madhya Pradesh Power Management Company Ltd, which supplies power to the state electricity distribution companies, will get the remaining 76 per cent of the power produced from the Rewa solar power plant. An innovative scheduling exercise has enabled the solar plant to provide preferential uninterrupted power supply to Delhi Metro first, even on the days without optimum sun availability.
World Bank Group Support
The park, with an installed capacity of 750 megawatt, has been made possible with support from the World Bank and Clean Technology Fund through a US$ 18 million funding as part of a Shared Infrastructure for Solar Parks Project. The International Finance Corporation was the transaction advisor for the project.
The project will contribute immensely towards India's aim of quadrupling its renewable energy capacity to 175 gigawatts (GW) by 2022, including 100 GW of solar power. The Indian government's plan to ramp up solar power generation is among the largest in the world and will help bring sustainable, clean, climate-friendly electricity to millions.
The World Bank-Clean Technology Fund loan financed shared infrastructure facilities including a transmission evacuation system, which ensures the power generated is immediately evacuated to the grid for distribution. Moreover, the solar power has been developed on an unsubsidized basis, underscoring the World Bank Group's commitment to sustainability.
Role of Private Sector
One of key innovations that stands out in this project is how a modern and transparent electronic competitive bidding process that went on for 33 hours achieved first-year tariffs of as low as Rs. 2.97 per unit. This has essentially brought down the cost of solar power to compete with that of coal-based power.
This was also the first time that international players participated in a state bid.
"For the first time, the price of solar power has been brought down to less than Rs. 3 per unit with the use of a modern and transparent bidding process," said Junaid Ahmad, World Bank Country Director in India, adding, "We hope this will further open up a vibrant market for solar investments in India."
The World Bank Group's involvement in the project has helped in further leveraging private-sector investment worth USD 575 million in solar photovoltaic assets.
The project has demonstrated important economies of scale in solar generation, pushed down transaction costs for private players, and increased efficiency while further reducing unit costs of solar power.
"The World Bank investment in the solar park in Rewa has helped boost market confidence in the Indian solar sector in a major way. The park has managed to catalyze commercial funding, contributing towards India's ambitious target of installing 100 GW of solar power capacity by 2022," said Surbhi Goyal, Senior Energy Specialist and World Bank's Task Team Leader for the project.
The model of the Rewa Solar Power Project has been included in Prime Minister's Book of Innovation 2017 and awarded World Bank Group's President award for Innovation and Excellence.
The World Bank Group is now collectively working on replicating the success of the Rewa Solar Park in other such parks in Madhya Pradesh and possibly in Odisha.