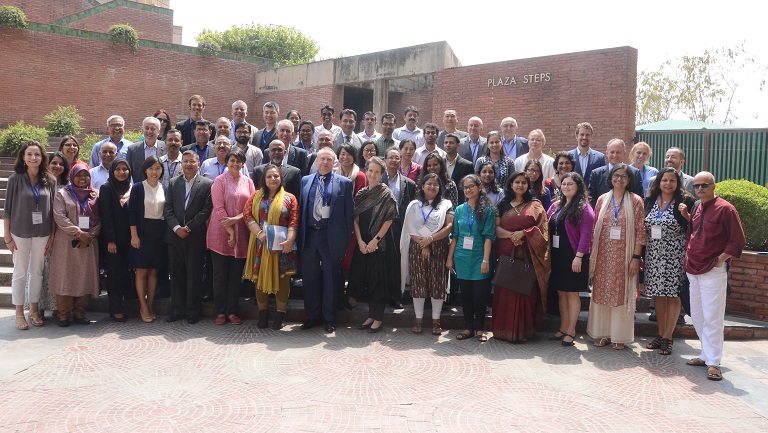 Participants at the South Asia Regional Conference on Using Large-Scale Assessments to Improve Teaching and Learning, which was held in New Delhi, India from April 25-27, 2018. Photo: ©World Bank.
Approximately 2.2 million third, fifth, and eighth graders across all states and districts of India were recently tested for the first time on grade-relevant learning outcomes in math, language, and other subject areas as part of the National Achievement Survey (NAS). Earlier this year, the NAS was administered to over 1.5 million tenth graders. Never before has India (or most other countries for that matter) assessed student learning on such a large scale. It shows that India has grown to value this kind of system-level information on learning as it grapples with a national learning crisis, one that is also affecting other countries in the South Asia region.
The NAS, which aims to provide diagnostic information to help enhance the quality of education in India, has improved over the last decade in terms of the quality of the data it produces. At the same time, if it is to continue to serve as an effective tool in addressing India's learning needs, its design and usage need to improve.
The Russia Education Aid for Development (READ) 2 Trust Fund grant awarded to India in 2017 came at a critical stage in this improvement process. With READ support, the NAS team has made substantial improvements to the quality and utility of the NAS data, including enhancing the use of background data to better understand drivers of learning, collecting new data to support the creation of performance-level benchmarks and descriptors, and designing user-friendly report cards for state and district administrators and school leaders.
India's increased focus on learning outcomes is not unusual and can be observed across South Asia. Other countries in the region have made similar efforts to improve the design and effectiveness of their large-scale assessment programs as valuable inputs to the decision-making process about what education policies and practices get implemented on the ground.
Much of the impetus comes from what the World Bank refers to as "the learning crisis" facing the developing world, including many South Asian countries. In rural India, for example, just under three-quarters of students in grade 3 cannot solve a two-digit subtraction such as 46 – 17, and by grade 5 half still cannot do so. Worldwide, hundreds of millions of children reach young adulthood without even the most basic life skills.
What distinguishes India and other countries in South Asia from other parts of the world is the fact that there has been little to no systematic regional knowledge-sharing or dialogue around measuring student learning.
This was the genesis of the READ-funded South Asia Regional Conference on Using Large-Scale Assessments to Improve Teaching and Learning, which facilitated the sharing of ideas, experiences, knowledge, and practices, and allowed participants to explore collaborative approaches to strengthening assessment systems and improving student learning.
The three-day event, held in New Delhi in April this year, gathered, for the first time, more than one hundred policymakers, assessment officials, and other stakeholders from across South Asia to share their assessment experiences and challenges. A select group of national and international experts on large-scale assessment techniques also joined the conference to discuss topics such as the role of assessments in tracking the Sustainable Development Goal for education; how international, regional, and national assessments can be used to improve teaching and learning; and approaches to measuring 21st century skills. Representatives from countries with established national large-scale assessment systems – Chile, Vietnam, and Indonesia – were invited to talk about the journey their countries took to get there.
In addition, the conference included technical workshops on topics such as large-scale assessment implementation challenges, item and test development, data analysis and reporting, and performance standard setting. The conference concluded with presentations on key capacity building initiatives currently available in the region and future platforms for support.
In their feedback, conference participants focused on how the event not only increased their understanding of large-scale assessment activity in South Asia, but also enhanced their knowledge on ways to use the assessments for improving teaching and learning. The conference marked the beginning of a regional knowledge-sharing partnership on assessments in South Asia and has generated interest in establishing more formal networks or other platforms for continued and systematic dialogue and collaboration in this area.
Presentations and other materials from the South Asia Regional Conference on Using Large-Scale Assessments to Improve Teaching and Learning can be found here.