Uzbekistan has made substantial investment in upgrading its water supply and sanitation services in recent years. From 1995 to 2014, total public borrowing for improvements to these services amounted to US$ 344.1 million, the largest of any country in Central Asia.
Despite these important efforts however, the country's citizens continue to face challenges in accessing clean and reliable water services. For instance, less than half the national population (roughly 32 million people) remain unconnected to a piped water system, and only 17% of urban households receive water 24 hours per day. The situation is even worse in smaller cities and rural areas.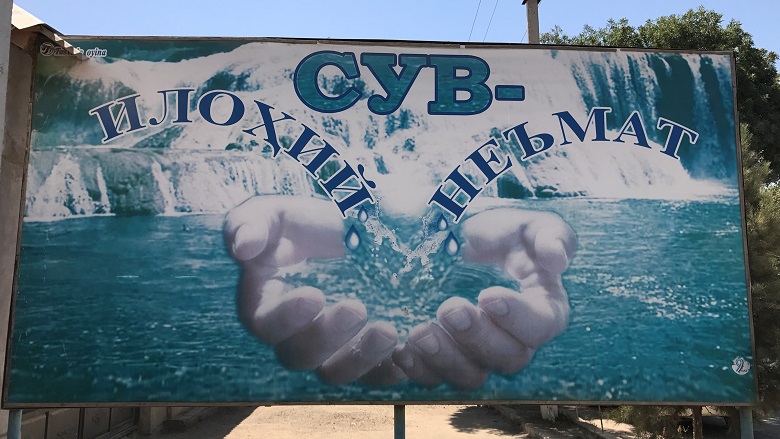 "Water is a divine blessing", says a billboard installed near the Syrdarya Region State Water Management Enterprise (Suvokova) in Gulistan city, an administrative center of the province. But for thousands of local households in the Syrdarya Region, accessing clean drinking water, especially through the harsh summer and deep winter periods, remains a major challenge.
Such households, which are typically of low-income status, also bear additional costs in terms of money and time spent collecting water from various sources. In some rural areas, residents spend up to six hours each day walking as much as two kilometers to a public tap outlet, waiting in line, and then walking back with full containers.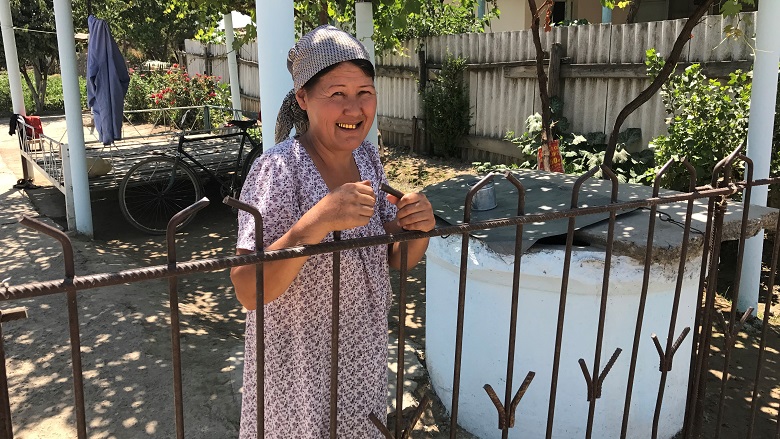 Other households rely on small water storage tanks. One such household is the family of Mutabar Rakhimova, a 45-year-old housewife who lives in Uchtom village, in the Syrdarya Region.
"In the absence of tap water in our village, my family of five, including two adults and three kids, has to use a 700-liter water storage tank, which is refilled by a tanker truck on monthly basis," Mutabar says. "This water is only used for drinking - while for bathing, washing and other household activities, we have to use poor water collected from a local irrigation canal."
Mutabar's family has to pay UZS 12,000 (around US$ 3) for each water refill. For the average low-income family in rural areas like Uchtom, this cost has a significant impact on the tight budget of local households.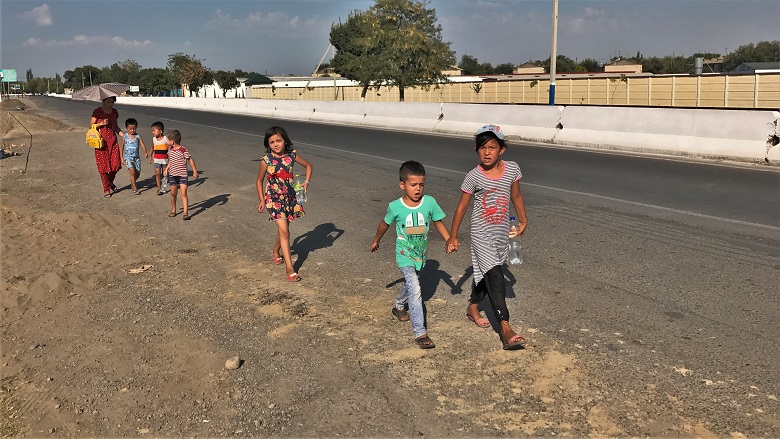 Towns and villages across Syrdarya Region are currently supplied water through regional transmission schemes, or from around 250 individual wells which have reached a state of acute disrepair, resulting in a breakdown of piped water supply in many communities. It is estimated that 25% of the settlements receive no piped water and have to rely on water tankers.
Out of those settlements that have access to piped water, only about 10% receive 24-hour service; for all others, the service is unsafe and costly, with consumers having to invest time and money in alternative supplies, including drawing raw water from irrigation canals. This situation affects women and children the most – those who typically collect the water.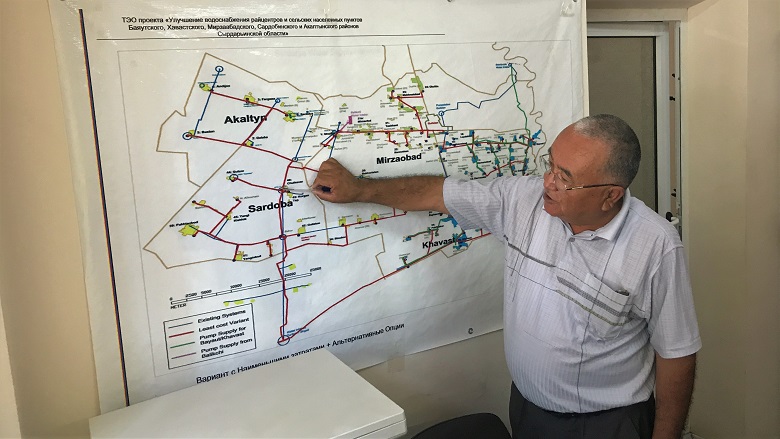 The Syrdarya Water Supply Project, supported by the World Bank, aims to improve the situation in the region and provide access to safe drinking water for its approximately 280,000 residents. The Project will improve the availability, quality and sustainability of public water supply services in the least served communities of Sardoba, Bayaut, Mirzaobad, Akaltyn and Khavast districts of Syrdarya Region.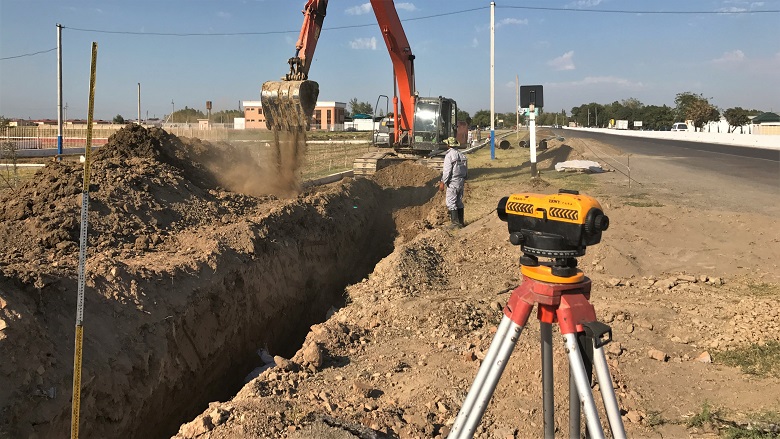 Upon completion, the Project will have significantly improved water supply service delivery, strengthened the capacity of water supply institutions, and enhanced the financial sustainability of water supply operations.
By 2019 it is expected that the expanded water supply infrastructure will provide around 47,000 households in 93 settlements across the five districts with access to water directly through individual metered connections. Water loss during delivery to users will be reduced from 40.2 to 14%, while daily consumption will increase from 15.2 liters to 95 liters per person in rural areas and to 125 liters per person in urban areas.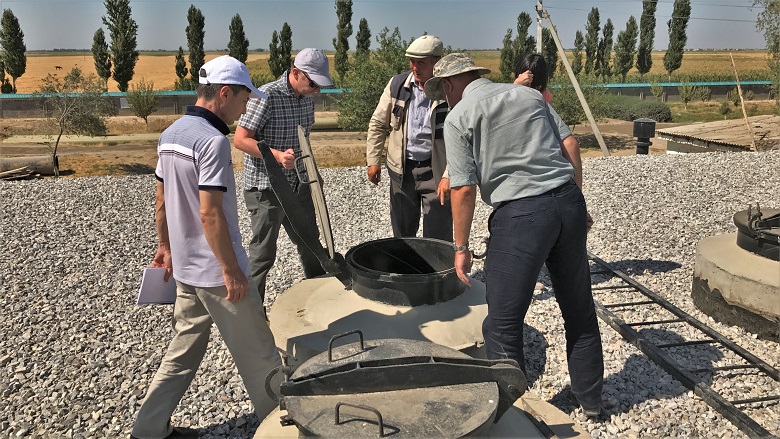 The Project envisages to develop new groundwater sources, with installation of more than 1,500 km of pipes, 40 water distribution centers, 32 water towers, and 2 modular facilities for chlorination disinfection of water across the Syrdarya Region.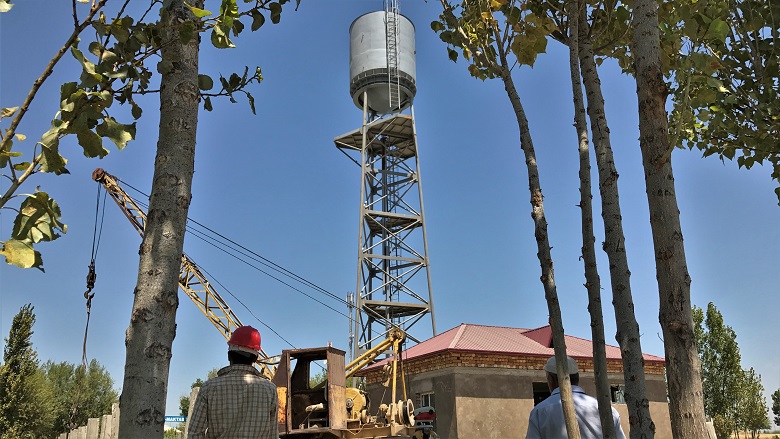 Mutabar's village will also benefit from the Project. Construction works currently in progress there will connect the settlement with a modernized pipeline network that will ensure a 24/7 supply of clean drinking water for locals. Mutabar is looking forward to the day when her family, and almost 200 other families in Uchtom village, will enjoy drinking water that comes from their own taps. This will be one of the best days in her life, she says.