If there is anything that affects almost everyone living in urban areas, regardless of income or social class, it is traffic congestion. Besides the lost time and productivity, traffic congestion also exacerbates pollution and greenhouse gas emissions.
In many developing countries, resource-constrained traffic management agencies are challenged to mitigate congestion when they do not have access to the sophisticated tools commonly used in advanced economies for monitoring real-time traffic conditions and for collecting and analyzing historic travel time data.
So what to do about it?
Back in 2011, with support from Australian Aid, a World Bank team set out to help Filipino officials tackle this challenge. The project team worked with the government of Cebu City to develop an open-source platform for collecting, visualizing, and analyzing traffic speed data derived from taxi drivers' smartphones. This platform, Cebu Traffic, won the Philippines 2013 National E-Governance Competition.
Building on this success, the team partnered with GrabTaxi, the largest on-demand taxi service in Southeast Asia, and Conveyal, an open-source software developer, to improve upon the initial pilot platform, test it with data from six countries, and deploy the platform in Cebu City for live testing. The effort was funded by the World Bank's Big Data Challenge Innovation Grant.
This work-in-progress, Open Traffic, was presented last week at the 9th Asia Pacific Economic Cooperation Transportation Ministerial Meeting in Cebu.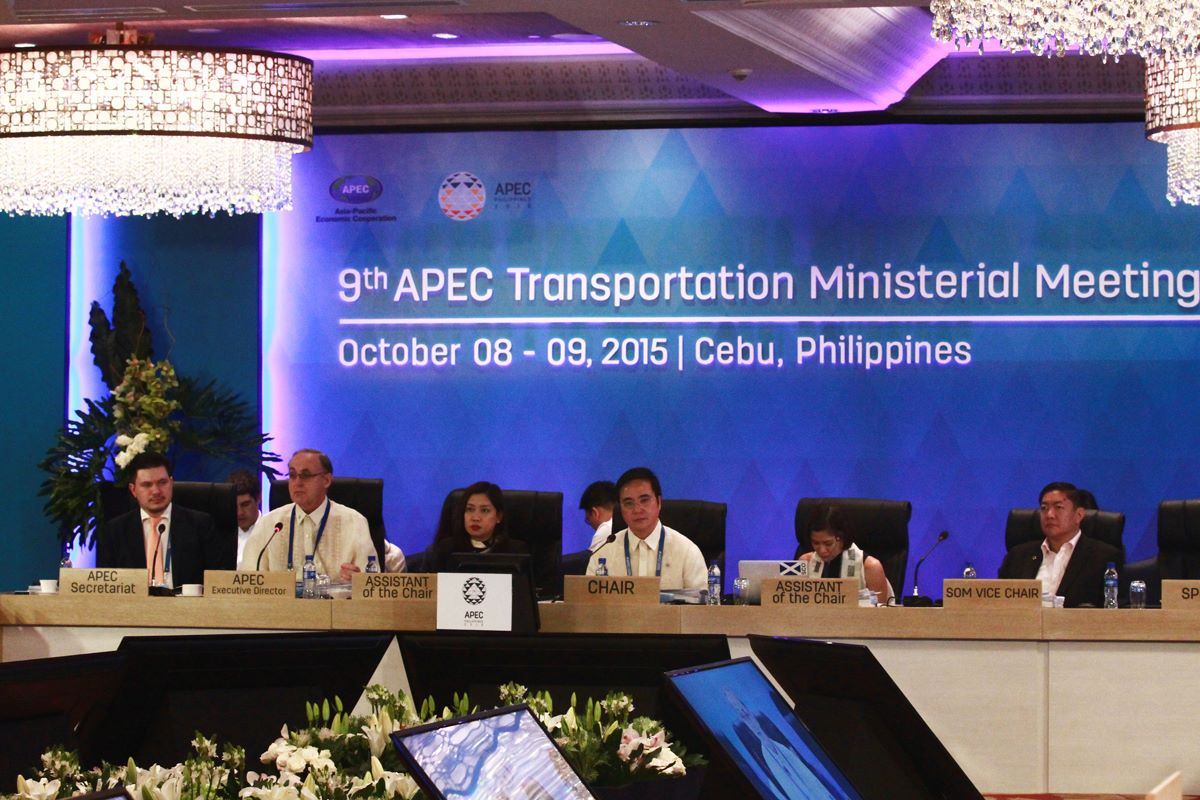 2015 APEC Transportation Ministerial Meeting
Open Traffic is a web-based platform for use by government agencies to easily query and visualize stored traffic statistics derived from GPS data collected from the smartphones of taxi drivers.
"The key objectives of this platform are to empower resource-constrained agencies to make better, evidence-based decisions that previously had been out of reach," explained World Bank Senior Transport Specialist Holly Krambeck, one of the project's Task Team Leaders who presented at the APEC meeting. "These are crucial decisions about traffic signal timing plans, public transit provision, roadway infrastructure needs, emergency traffic management, and travel demand management, among others."
Thanks to Big Data
Traditionally, to collect data on traffic volumes and flows, transport agencies rely on a combination of manual survey methods and installed physical sensors – underground inductive detector loops, pneumatic tubes, laser-based sensors, cameras with video recognition software, and/or Bluetooth device detectors.
These methods require substantial initial capital outlays, as well as on-going maintenance and technical expertise that may be beyond the capacity of many cities. Further, even where these methods are viable, their efficacy is limited because manual surveys and equipment can only record data in places where they are deployed – select corridors during select time periods.
In recent years, however, the growing ubiquity of smartphone use (over a third of the world's population is expected to have a smartphone by 2017) has created a new source of traffic data, derived from handset GPS signals and Wi-Fi pings.
In this context, thinking of smartphones as "traffic probes", it is now possible to see a sensor network that:
Is not limited to specific corridors;
Is continuously updated in real time;
Does not require any maintenance or upkeep;
And provides a sampling level that is not achievable through manual methods and not possible for secondary roads not covered by sensors.
Also, even more recently, we have seen the rapid rise of international smartphone-based taxi hailing application (app) services. These companies are relevant because not only do they maintain databases of millions of GPS points that crisscross urban areas, but each company's individual database may span hundreds of cities, even across several countries.
This means, for the purpose of developing traffic management applications, that relying on GPS data in lieu of installed fixed-location equipment, one application could be applied across hundreds of cities, without the need for additional local data partnerships or equipment installation – or even software installation since, in theory, a single cloud-based traffic management application could support services in many cities simultaneously.
"If that software were 'open-source' – that is, software that can be freely used, changed, and shared by anyone – then the achievement in economies of scale in capturing and analyzing traffic data for use by transport agencies would be
unprecedented," explained Krambeck. "And it is this very unprecedented ends that the project team seeks to achieve."
The Way Forward
The team is continuing to refine the Open Traffic platform, with the first iteration to be completed by late 2015. In parallel, the team is undertaking research, funded by the Korean Green Growth Trust Fund (KGGTF) and the Energy Sector Management
Assistance Program (ESMAP), on developing and testing a methodology for optimizing traffic signal timing plans using GPS data in lieu of traditional sensors, as well as a standardized methodology for estimating the cost of congestion (in terms of fuel usage, GHG emissions, and economic impact) that can be applied across multiple cities and countries.
In preparation for the completion of the platform, future plans include discussions with GrabTaxi and other country teams in East Asia to launch the platform in other cities.
For further information, the Big Data Completion Report may be found here