In the hustle and bustle of the crowded Disability Resource Center in Vanadzor, a small town in Armenia's Lori province, nobody seemed to notice the strangers entering with their ledgers and cameras. A social worker at the Center later explained that they are getting ready for the celebration of the International Day of the Elderly – and for that occasion a coiffeur is being arranged for ladies to look their best.
On any given day, the Center provides free lunch and other services to about 170 people in the town. Many of these people are elderly, poor and with disabilities. More than half are unable to visit the Center themselves, so social workers deliver food to their homes on a daily basis, but they also receive other important care, such as health screenings and emotional support. For those who can get to the Center, amenities are available to enjoy such as a playroom with puzzles and games, and all in a convivial and lively social setting.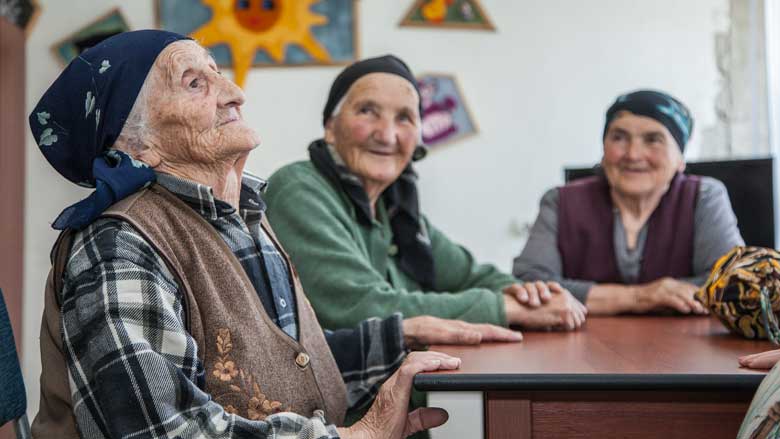 While we were being guided through the Center, a remarkably familiar smell took the reins of our temporal lobes. The Spas – a porridge made from traditional Armenian matsun (sour crème) – was being served: the Center was getting ready for lunch-time.
In Armenia, hot meals and other vital services have been available to people in need for almost three decades – since a group of volunteers decided to give a helping hand to those people who had suffered from a major earthquake and to refugees who had lost their homes in the conflict.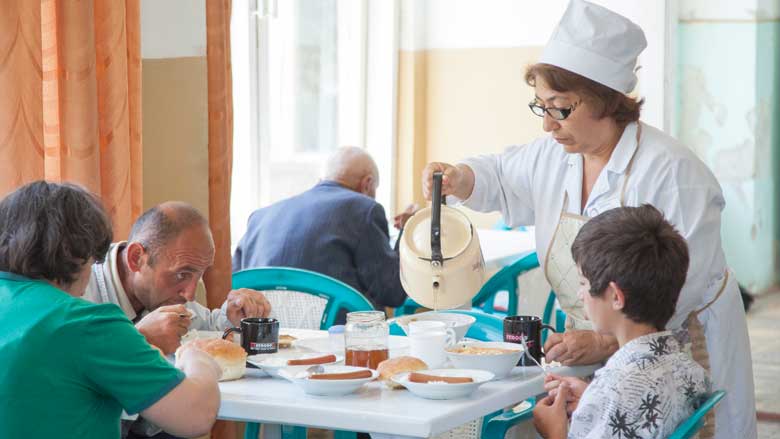 This group would later become known as Mission Armenia – a unique NGO dedicated to community-based social and healthcare needs. With a total of 256 staff members working in 22 towns around Armenia, the NGO provides a range of community-based services to about 10,000 beneficiaries on a daily basis.
The Japanese Social Development Fund, which is managed by the World Bank, has built upon the successes of Mission Armenia. One of the Fund's projects, Strengthening the Livelihoods and Voice of Vulnerable and Disabled Persons in Armenia, which is supported by 40 staff members and 14 social workers, works to generate employment opportunities and engender self-reliance for the most vulnerable people in the country.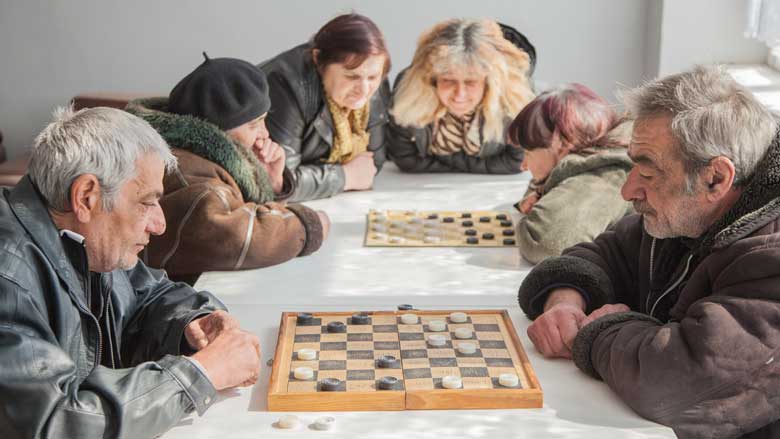 "It is an exciting moment for us, as we are embarking not on only supporting people throughout their daily struggles, but most of all, helping them to get hold of their lives," says Hripsime Kirakosyan, a founding member and President of Mission Armenia. "Through various vocational and self-employment trainings and improved access to information for our beneficiaries, we hope to help them in finding employment or starting their very own business initiative. This is a way to go and be done with poverty for good."
Downtown in Vanadzor, a private college by the name of "Dpratun" provides lessons about the intricate art of pastry to a group of women with disabilities. Tatevik, one of the women attending the training, showed us photos of the pastries the class had learned to cook together. She was so excited at the idea that she and her class-mates could now think of working from home and even starting a business together.
In a goldsmith's shop in town, Vahe Derdzyan is training apprentices to mold and shape silver into delicate jewelry. Creating a filigrane bracelet is an important objective for Babken, a trainee who is confined to a wheel chair, and who has set his eyes on becoming a goldsmith. The owner of the shop is already considering to keep two of the trainees upon the completion of the course, in order to help him in the design of pieces of art.
"We need programs like this to help people get back on track and have a decent life," says Sargis Markosyan, the owner of a 2,000 square meter greenhouse in the town of Spitak in Lori province. "I think helping people to learn new skills and find jobs is the right way to go." Markosyan's business currently employs three on-the-job trainees, with another two individuals being considered for future employment.
In the town of Chambarak in Tavush province, Mission Armenia has hired a small local firm to provide on-the-job training to interested beneficiaries, most of whom have disabilities. The day of my visit coincided with the final exam of three individuals enrolled in door and window frame training. Arsen Sargsyan, one of the trainees, who has a hand impairment, was working with Aghabek Gevorgyan, who has learning difficulties. Together, they make an excellent team: one helping with moving and cutting the items, the other making instantaneous calculations.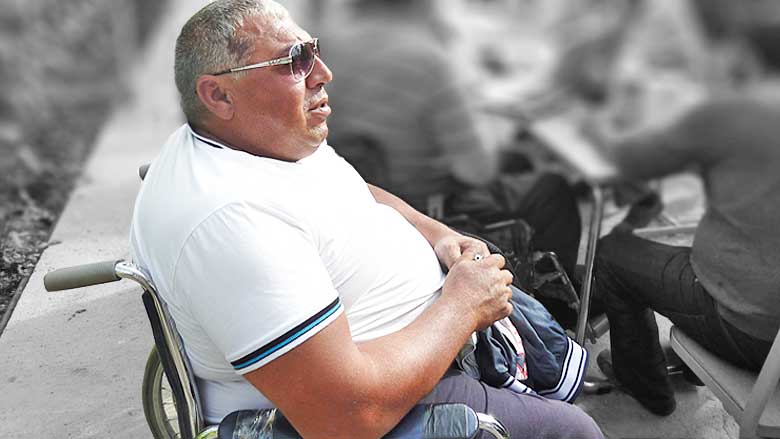 When speaking with the beneficiaries and listening to their experiences – many of which sound like an escape from a kind of a lethargy – the words of one person in particular resonated strongly. "After being enrolled in this on-the-job training I am now confident that in the near future I will have a full life … which I used to know," says Arsen Sargsyan, who for many years was recovering from a paralysis that had left him wholly dependent on his family.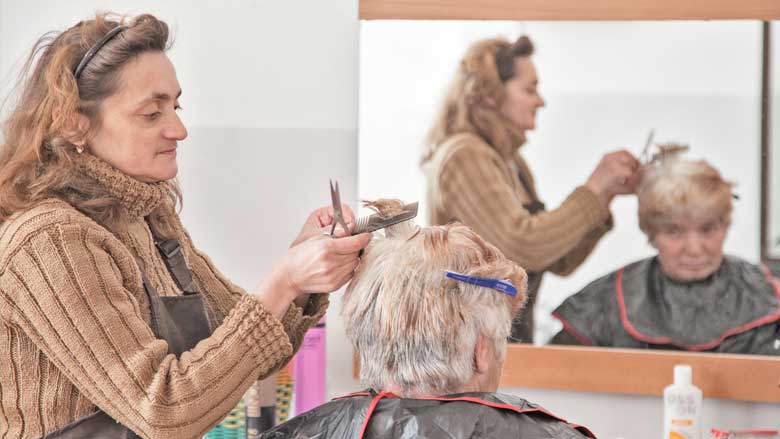 The innovative grant project, a first of its kind for the World Bank Armenia Office, has financed a local non-governmental structure in delivering community-based services and support for employment opportunities at a grass roots level. Over the past two years, 521 people have benefited directly from various vocational trainings, with 203 currently enrolled in colleges in Yerevan, Gyumri and Vanadzor. In six large Armenian cities, 104 beneficiaries are currently working on the development of business proposals that could be considered for further support, ultimately opening new and exciting prospects for the lucky recipients.