Returning for its 10th edition, the World Bank Group Youth Summit engaged youth on the most pressing topics facing their generation, bringing together thousands of participants from around the world.
The Summit took take place on May 25-26, 2023, with activities and engagements in different regions and at the World Bank Group headquarters in Washington DC.
Congratulations to the 3 winners of the 2023 Pitch Competition!

Nicholas Kee is the Winner of the Jury's Choice Award for his initiative, Kee Farms which focuses on Combating Climate Change Through Ocean Regeneration & Restoration.
Krish Yadav, the Jury's Choice runner-up, has developed a project called BhashaX, which aims to facilitate coding in individuals' mother tongues, accessible to anyone with internet connectivity.
Amal El Najjar won the Audience Choice Award for her project, TAMAS Lebanon, a reintegrative initiative that strives to build bridges between juvenile detainees and the local society.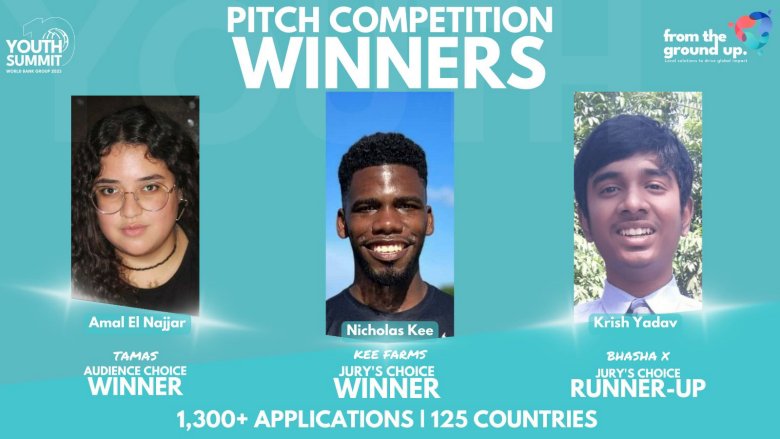 About the World Bank Group Youth Summit
Established in 2013, the Youth Summit is an annual event hosted by the World Bank Group to engage with youth globally on the most pressing issues facing their generation. As the largest youth worldwide annual gathering at the World Bank Group, the primary goals of the Youth Summit are to:
Empower youth to explore innovative ideas to tackle development challenges​
Provide youth with the tools to build and engage in impactful projects​
Promote dialogue between youth, the WBG, and other key stakeholders globally