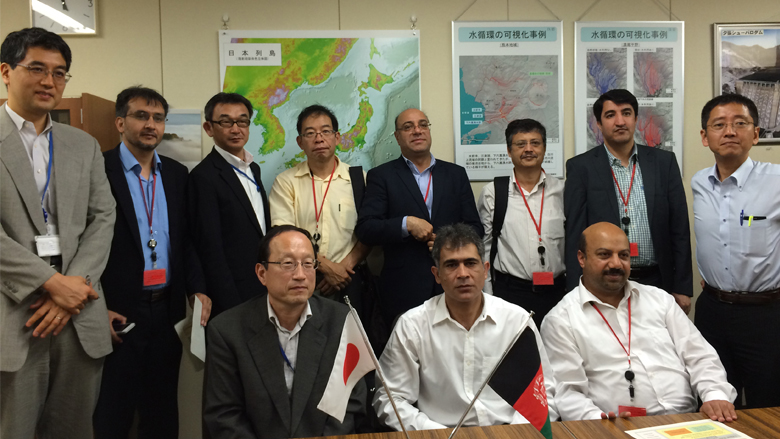 Afghanistan is highly exposed to natural hazards. Flooding and avalanches caused by heavy rains and snowfall earlier in 2015 affected over 8,000 families and claimed nearly 300 lives. In spite of these recurring events, the country lacks adequate mechanisms for response and recovery, putting many lives and livelihoods at risk.
Eight delegates from Afghanistan's MEW, including Deputy Minister H.E. Fahimullah Ziaee, visited the DRM Hub, Ministry of Land, Infrastructure, Transport, and Tourism (MLIT), and Japan Water Agency (JWA) as part of the World Bank's Irrigation Restoration and Development Project (IRDP) (P152892). The team and clients have been working to improve MEW's capacity to increase resilience to flood events through optimizing technical designs for irrigation facilities under the DRM Hub's "South Asia: Promotion of Resilient Infrastructure" grant. These outputs will be incorporated under the World Bank-financed investment projects, which funded these knowledge exchange activities in Japan.
During the visit, the MEW's Deputy Minister also participated in JICA's training program on Yamada-Zeki, a traditional flood-resilient irrigation dam in Fukuoka. The DRM Hub organized and facilitated roundtables between Afghan delegates, MLIT's Director General for Water Resources Department, and JWA to exchange knowledge and expertise on Integrated Water Resources Management (IWRM), including legislation and institutions, as well as operation and maintenance of multi-purpose dams.
The DRM Hub Tokyo will continue facilitate the collaboration between Japan and Afghanistan on dam safety and IWRM.