Watch the recorded webcast of the event including the Keynote Speech from the President of Estonia and the discussions among panelists and experts.
In recent years Estonia has emerged as one of the leaders in the area of innovative digital initiatives, especially in digital public service delivery. Estonian government is one of the most tech-savvy governments in the world, including its X-Road interoperability platform, mobile ID, online voting platform, online tax filings, and, most recently, its unprecedented e-residence initiative.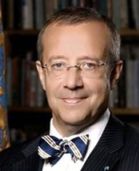 This one-day, knowledge-sharing event titled "Estonia ICT Day – Digitally Smart Solutions for Sustainable Development" will be an excellent opportunity to learn about Estonia's digital transformation initiatives. The event will be preceded by a Keynote Speech from the President of Estonia, His Excellency Toomas Hendrik Ilves.

A presentation by the World Bank team that authored the World Development Report 2016: Digital Dividends will help place Estonia's experience in the global context, providing an overview of the report's main findings. The event participants will also hear from Estonian government and private sector leaders, and discuss how the Estonian experience can be leveraged in the World Bank activities for the benefit of developing countries.

Given the timing of this event – scheduled shortly after the launch of the new Sustainable Development Goals 2030 at the UN General Assembly – and the emerging consensus that data-driven digital solutions are critical for their success, the wider objective of this event is to generate a discussion about what it means to become a digitally smart nation and how digital, data-driven solutions can help accelerate sustainable development.