The EU's new Common Agricultural Policy (CAP) introduces a shift towards environmental and climate objectives. It reserves the established objectives of sustaining farmers' incomes, supporting rural communities, guaranteeing food supplies, and offering more flexibility to member state governments in their implementation of the CAP.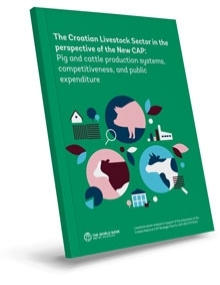 This new report focuses on the production systems, profitability and economic sustainability of the pig, dairy and beef subsectors in Croatia, and on the efficiency and equity of public funding.
General trends in all subsectors indicate either a strong and steady decline, or stagnation in production and productivity, a decrease in the numbers of cattle farmers, pig farmers and farmed animals. Lack of competitiveness and market connections among small and medium-sized family farms has led to a gradual movement towards larger farming units. Hence, this report calls for implementing measures that would support medium-sized family farms.
Croatia's self-sufficiency in beef, pork and dairy products is relatively low and has been decreasing in the face of competition from other EU countries. On-farm processing would boost farm incomes. All three subsectors would benefit from stronger producer organizations, while support in marketing and technical development and easing administrative burdens would also be welcome.
Beef and dairy farmers depend significantly on direct payments, while almost no pig subsector-specific direct support is available. All the subsectors, especially in the small and medium-sized units, are underutilizing rural development funds that could be used for investment, farm expansion and modernization. Stable and predictable administrative procedures and rules would make it easier for farmers to access such funding.
The livestock sector should make use of the new CAP, which is heavily influenced by the EU Green Deal and the "Farm-to-Fork" strategy. It offers opportunities for member states to allocate funds for organic farming, improved animal welfare and other environmentally friendly practices such as the protection of the countryside. The objective is to make food systems fair, healthy, and environmentally friendly, while generating better economic returns, fostering competitiveness in the EU supply sector, and promoting fair trade.
This new emphasis on the environment and on sustainability could lead to job creation and the development of significant opportunities for Croatian farmers in the pig, dairy and beef agriculture subsectors.
This report is also available in Croatian.