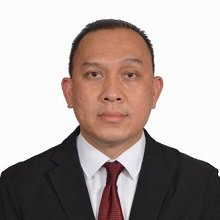 Executive Director: EDS16
EDS Executive Directors
Mr. Wempi Saputra serves as the Executive Director of the Office Executive Director of the World Bank Group of Southeast Asia, which represents Brunei Darussalam, Fiji, Indonesia, Lao PDR, Malaysia, Myanmar, Nepal, Singapore, Thailand, Tonga, and Vietnam, since November 2022.
Prior to this position, Mr. Saputra served as the Assistant Minister for Macro Economy and International Finance of the Ministry of Finance of the Government of Indonesia since October 5, 2021.
He started his career with the Ministry of Finance of Indonesia in 1995, and has served the Ministry in various capacities, including Director of the Center for Policy Analysis and Harmonization and Chief of Staff of the Minister of Finance (2017); Head of the Business Process Division, Organization and Business Process Bureau (2017); Chief Change Management Officer of the Central Transformation Office (2014); and Deputy Cheif of Staff of the Ministry of Finance (2012); and at the Directorate General of Customs as Head of Customs Patro Office (2011). He has extensive experience on the transformation and reform program of the Ministry of Finance.
In addition to his role at the Ministry, he has also been appointed as Indonesia G20 Finance Deputy (2021-present), Ex officio governor of International Fund for Agricultural Development (IFAD) (2021-present), Ex Officio Director for Constituency 11 of Asian Infrastructure Investment Bank (AIIB) (2021-June 2022), Head of Secretariat of National Committee for Islamic Economic and Finance (KNEKS) (2021-present).
He has a Deploma degree in Customs and Excise from State College of Accountancy (1995), BS in economics from the University of Indonesia (1999), an MA in public finance from the National Graduate Institute for Policy Studies (2003), and a PhD in Economics from Nagoya University (2021).