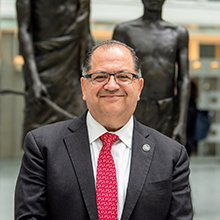 Global Director, Poverty and Equity Global Practice, World Bank Group
Luis Felipe López-Calva is the Global Director for the World Bank Group's Poverty and Equity Global Practice (GP) in the Equitable Growth, Finance, and Institutions (EFI) Vice Presidency.
López-Calva has over 30 years of professional experience working with international institutions and advising national governments. He rejoined the World Bank in 2022 from the United Nations Development Programme, where he served as UN Assistant Secretary General and Regional Director for Latin America and the Caribbean since 2018.
In his previous tenure at the World Bank, he held various positions including Practice Manager of the Poverty and Equity GP for Europe and Central Asia, Co-Director of the World Development Report 2017 on Governance and the Law, Lead Economist and Regional Poverty Advisor in the Poverty and Equity GP for Europe and Central Asia, and Lead Economist in the Poverty, Equity and Gender Unit in the PREM Directorate for Latin America and the Caribbean. He has led lending projects in policy operations for 1.1 billion USD.
López-Calva is a Board Member at the Global Development Network (GDN), a Fellow of the Human Development and Capabilities Association, and a member of the Global Future Council on the Future of Economics of Equitable Transition at the World Economic Forum He has held research and teaching positions (permanent and visiting) at El Colegio de Mexico, ITESM-Mexico and the University of California in San Diego. He has also held visiting scholar positions at Harvard University (Ivy League Exchange Scholar), Stanford University (Stanford Center for International Development), and the World Institute for Development Economics Research (WIDER, United Nations University).
His research interests focus on labor markets, poverty and inequality, institutions, and the microeconomics of development. He has published on these issues in peer-reviewed academic journals, such as The Journal of Development Economics, The Journal of Economic Inequality, World Development, Economics Letters, Oxford Economic Papers, and Oxford Development Studies, among others. He has also published widely cited books and policy reports. He holds a Master's degree in Economics from Boston University, as well as a Master's and a PhD in Economics from Cornell University.
López-Calva comes to the position of Global Director for the Poverty and Equity GP with a commitment to advancing four key priorities: (i) to elevate poverty reduction and equitable growth to the top of the international development agenda; (ii) to expand the GP's technical expertise from measurement and monitoring of poverty and inequality to cutting-edge policy analysis for pro-poor development; (iii) to formulate clear strategic directions for the GP, implement these priorities in global and regional programs using both formal and informal authority, and represent the World Bank Group externally; and (iv) to bring conceptual clarity and operational implications to the discussion about the links between climate action and equity.