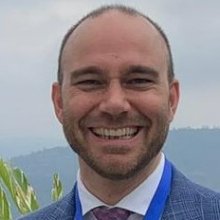 Geographer, Development Data Group
DEC Development Economics
Brian Blankespoor works as an Environmental Specialist in the World Bank's Development Data Group and Co-Chair of the Bank's Geospatial Community of Practice. In this capacity he leads and coordinates geospatial activities.
Brian has been an active leader in the global geospatial community, serving as an alternate representative to the United Nations Geospatial Network, and an active contributor to the POPGRID Data Collaborative. He applies spatial data science to the development of spatial data products and tools, the integration of large data by workflow automation, and economic analysis. He is an author of articles in peer-reviewed journals on issues of population, environment, transportation, and transboundary water. Prior to the World Bank, he held analytical positions in the private sector and World Wildlife Fund.
Brian holds a M.Sc. in Applied Economics from Johns Hopkins University, a M.Sc. in Geography from Oregon State University, and a B.Sc. in Computer Science from Calvin College.