Directions in Urban Development Series
Directions in Urban Development, launched in October 2008, provides an opportunity to address, in a timely and focused manner, emerging trends and topics of relevance to cities, towns, national governments, and development agencies as they face the challenges of urbanization.
Those who wish to receive regular updates and emailed versions upon issuance of new notes should provide their email contact information to the Urban Help Desk to be included on the e-mail list. Suggestions for topics that are timely and relevant to our global urban community are welcome.
The Directions series was initiated with several objectives in mind:
• To respond to a combination of requests by client countries and cities, donor partners and both Urban and non-Urban World Bank staff who seek timely and more accessible knowledge and thinking on urban challenges and responses of relevance to policy makers, practitioners and development partners.
• To respond to requests for more short and focused messages; the presentation is oriented toward an executive-style 4-6 page format that is issues-focused and usually responding to an urgent topic of debate or interest.
• To provide an ideal platform for the exchange and communication of ideas, innovations, good practice, and emerging trends that have a bearing on urban development.
• To draw attention to recent research of the Bank and other development agencies. Such reports, research papers and publications can often be overlooked because their messages are not reaching the right audiences.
Issues:
Tokyo's Emissions Trading System: A Review of Its Operations Since 2010, June 2013, by Marcus Lee, Urban Economist
City Brand, December 2012, by Dr. Belinda Yuen, Vice-president (Southeast Asia), Commonwealth of Association of Planners
Rio de Janeiro Low Carbon City Development Program, November 2012, by Sebastian Scholz, Environmental Economist, and Lorraine Sugar, Junior Professional Associate, Latin America and Caribbean Region, World Bank
Tokyo's Emissions Trading System: A Case Study, June 2010, by Marcus Lee, Urban Economist, and Kimberly Colopinto, Junior Professional Associate, Urban Development and Local Government Unit, World Bank
The Global City Indicators Program: A More Credible Voice for Cities, June 2009, by Perinaz Bhada, Junior Professional Associate, and Dan Hoornweg, Lead Urban Specialist, Urban Development Unit, World Bank
Infrastructure and Heritage Conservation: Opportunities for Urban Revitilization and Economic Development, February 2009, by Katrinka Ebbe, Consultant, World Bank
Impacts of Financial, Food, and Fuel Crisis on the Urban Poor, December 2008, by Judy L. Baker, Lead Economist, Urban Development Unit, World Bank
City Regions: Emerging Lessons from England, October 2008, by Kieran Larkin and Adam Marshall, Centre for Cities (UK)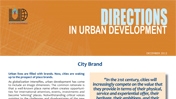 Directions in Urban Development addresses emerging trends and topics relevant to cities, towns, and development agencies.