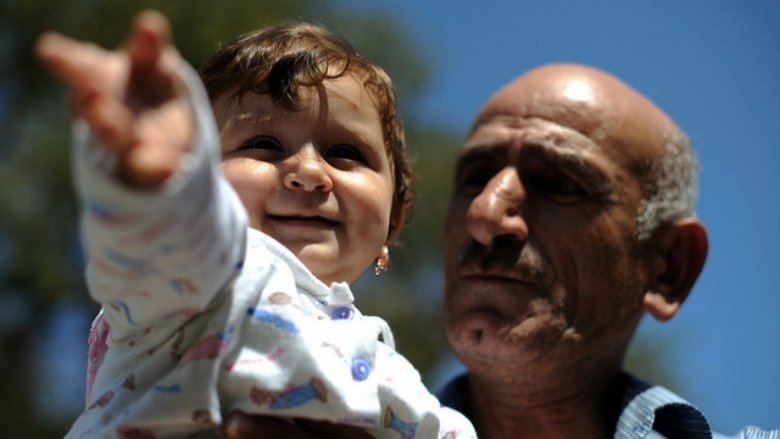 FEATURE STORY
Seeking Solutions to Fill the Savings Gap
: How to persuade people to save during their working years, so they can gradually build up the savings they will need in retirement?
----------------------------------------------------------------------------------------------------------------------
Overview
The world's population is rapidly aging. By 2050, the share of the population over the age of 65 will have doubled from about 10% to about 20%. This is happening fastest in lower-income countries: Already, one in five of those living on under $1.25 day are over age 60 and, in the future, 80% of the elderly will be living in low- and middle-income countries.
Low- and middle-income countries are the least prepared for the coming economic changes. Traditional family-based care for the elderly is increasingly breaking down, and it is often not being replaced by other forms of health-care delivery. In low-income countries, only one in nine workers contributes to a pension program, while middle-income states have large gaps for lower-income and informal-sector workers. This problem is compounded by demographic pressures that are straining the ability of pension systems to finance benefits. And when publicly funded pensions are well-funded, their financing is often regressive and tends to crowd out spending on other deserving social programs.
Figure 1: The need to expand pension coverage is global and increasing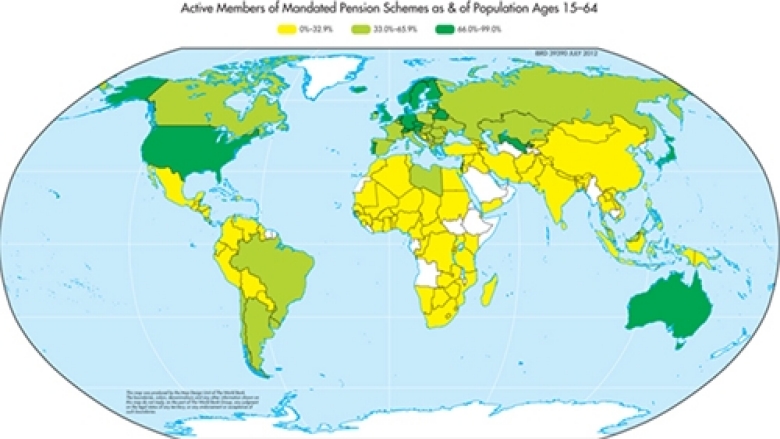 What We Do
The Pensions and Insurance business line aims to improve the coverage of high-quality pensions and to increase the supply of pension assets that can safely provide long-term investment. To meet those challenges, the World Bank Group's pension financing team focuses on two main areas:
Improving the coverage of good quality pensions: Our goal is to ensure that poverty among the elderly is alleviated by the provision of income in retirement through pension systems that have broad coverage and are adequate, efficient, sustainable and secure. Our work supports financial inclusion and financial integrity.
Increasing the supply of pension assets that can safely fund long-term investment: Promoting the productive investment of pension-fund assets not only supports the goal of providing adequate and secure pensions, but also provides important sources of long-term finance for development.
To achieve our goals, we work through country and regional engagements. We also produce research and conduct an external outreach program to build awareness and share best practices.
Technical Assistance
Over the last 15 years, the World Bank Group has helped countries diagnose weak points in their pension systems, has provided them with the technical assistance necessary to strengthen those systems, and has offered policy advice to bring them into compliance with international standards.
We are currently working in about 60 countries, conducting diagnostics, designing reforms, building and modernizing payment and securities settlement systems operated by central banks, providing advice on the necessary legal and regulatory frameworks, updating retail and government payment systems, and helping implement oversight policies that will enable reliable and low-cost transfers.
Policy Advice
The World Bank Group works directly with countries to bring their public pension systems in line with international best practices. The team designs, reviews and reforms pension policy frameworks, which often requires drafting, reviewing and revising countries' pension legislation and regulatory frameworks. We help supervisors build capacity, work on improving market structure and dynamics, and review and reform the fiscal environment supporting the pension systems.
Research and Outreach
We work to develop and share new solutions. This work is done independently or with our broad coalition of partners – including the International Organization of Pension Supervisors, the OECD, the IMF, academic scholars and the pension industry. We work on a wide range of topics from reducing costs and improving investment performance to expanding coverage among informal workers. We then disseminate the new approaches, in publications and in person, through conferences and training.
Results
The World Bank Group has helped more than 90 countries reform their pension systems and has financially supported more than 70 countries' reforms.
In Turkey, we helped design a new auto-enrollment pension pillar that has added 800,000 new savers in 3 months and that has cut costs by more than 50% .
In India, we piloted an innovative digital pension inclusion initiative that brings enrollment and contributions to the village level while improving the governance and investment of the assets.
We helped Kenya establish an independent pension regulator, the Retirement Benefits Authority, helping strengthen its authority and improve its oversight capacity.
We helped Ghana design and implement its Informal Sector Fund, which provides informal-sector workers flexibility with withdrawals and contributions, which uses a broad range of service providers, and which encourages those who are capable of saving additional sums by providing them with incentives for saving.
Who We Work With
In client countries, we work with financial-sector authorities, supervisory and regulatory authorities, pension agencies, finance ministries, and regional development banks and regulatory agencies.
Globally, we work with multilateral and private organizations to develop and share best practices for pension systems, including the International Organization of Pension Supervisors, the OECD, the IMF, academic scholars and the pension industry.
Figure 2: Key Topics for Pension Research and Technical Assistance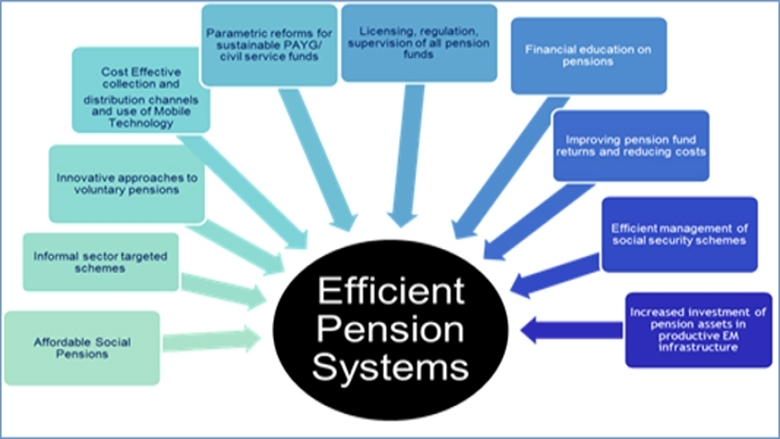 Last Updated: Jun 09, 2017