BRIEF
Gender in Extractive Industries
November 21, 2013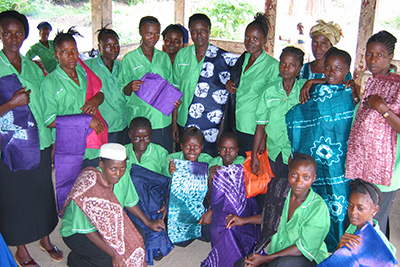 GENDER FOCUS
Often, men have better access to benefits via employment, while the costs such as family/social disruption fall most heavily on women.
Sustainability of extractive industries could increase significantly by identifying bias and defining strategies to ensure equal benefits.
Client countries and extractive companies are increasingly mainstreaming gender into mining policy and services. Women are increasingly included in community consultations.
CONTEXT
The World Bank Gender and Extractive Industries (EI) Program works with governments, communities and companies to better understand and address how mining, oil and gas differently impact women and men. Global evidence suggests that while the benefits of extractive industry projects are captured primarily by men, women often bear a disproportionate share of social, economic, and environmental risks. The Gender and EI program gathers knowledge and builds awareness of the gender dimensions of the extractives sector through research, analysis, and publications, and then deploys this knowledge to help mainstream gender in policy and operational activities.

With the Bank's increasing focus on gender, and governments' and companies' growing understanding that community support is essential, this is an exciting time to be working with and for women in extractive communities.


Katherine Heller
Social Development Specialist, Gender in Extractive Industries, Energy Department, The World Bank
STRATEGY
Oil, gas, and mining can—potentially—transform life in resource-rich developing countries. They can help drive economic growth. They can create jobs. They can reduce poverty.
For women in particular, extractive industries can provide opportunities for a better life, including increased employment opportunities, access to revenues, and expanded investment in the local community. Women-led businesses can flourish in the extractives supply chain. Working with and investing in women also makes good business sense - for example, many companies are recruiting women to drive trucks and operate machinery, as they have often found women employees to have an impressive safety record and reduced maintenance of equipment.
Too often, however, these opportunities don't materialize and extractive industries deliver as much, or more damage than benefit. Achieving the development gains that extractive industries promise in particular for women depends on understanding and managing such risks.
Mining, oil drilling and gas extraction all have environmental, social and economic impacts that change women's lives, often in ways that are dramatically different from their effects on men. Ensuring that men and women have equitable access to the benefits of resource development, and that neither are disproportionately placed at risk, requires commitment
to understanding and acting on the gender dimensions of the sector. This means including women in community-level project consultations, and national-level policy dialogues on extractive industries.
Women must have equitable access to jobs, education, and participation. They must be included in making the decisions that affect their lives. Gender-sensitive consultation is essential to ensure that analysis, training and policies in the extractive industries not only meet the needs of women, but enhance their well-being. The World Bank Group helps countries and companies develop their extractive industries so that they become engines of growth and poverty reduction. It promotes good governance, along with equitable and inclusive sharing of benefits. It works with stakeholders to reduce potential
environmental, social, and economic risks. The Gender and Extractive Industries Program, managed by the Bank's Oil, Gas and Mining unit, raises awareness of the gender dimensions of the extractive industries, to ensure that all Bank-supported projects consider the needs and contributions of both men and women.

Benefits of Including Women's Perspectives in Extractive Industries


Employment of women brings community gains: Where women have access to employment, or are empowered regarding household finances, evidence shows that women are more likely to invest in education, health, and nutrition for their families. Where women have decreased access to employment, and to cash, families suffer.


Consultation of women in spending leads to more sustainable investment: Where women are involved in community consultations to decide priorities for investment of EI resources – outcomes often have more sustainable development impacts.


Women can make better employees: Opening job opportunities to women can increase productivity and reduce costs. Women are often more reliable, follow rules, obey health and safety regulations, and can be more reliable employees. Women make-up half the productive labor-force. Discrimination against women in the labor market is an impediment to private sector development and economic growth.


Gender responsiveness can improve management efficiency: A proactive gender equity approach can free up management time for core business activities rather than responding to investor concerns or conflict resolution within the community.


Gender equity can reduce community disruption or protest: Employing women, and incorporating women into consultations can create a more predictable business environment with fewer production disruptions, thus avoiding cost increases and loss of income.


Women's economic empowerment can be good for community development: Women have a better track record of starting successful business and repaying micro-credit loans, and show a greater willingness to respect safety and environmental safeguards.
Risk of Not Including Women in the Extractive Industries Dialog
Lack of voice and representation in the formal decision making process.
Loss of ownership or use of fertile land or gardens.

Loss of water resources and depleted fish stocks.

Limited control over productive resources.

Rise in violence and sexual abuse as a result of domestic disputes, alcoholism, drug use, or gambling.

Rise in prostitution and HIV/AIDS and other STDs.

Poor working conditions and incidences of sexual abuse for women in the project workforce.

Environmental damage such as loss of forest and water sources and/or airborne or noise pollution which impacts women's lives and livelihood.


Loss of safety and security due to influx of construction workers.
OUTLOOK
The Bank is developing new opportunities to engage with country governments and the private sector to ensure that women in communities are increasingly a part of the consultations and community discussions. Women are now a part of the global development dialog across multiple sectors and their inclusion in the extractive industries outlook spells better opportunities, reduced poverty, and shared prosperity.