Challenge
Ghana had experienced a period of significant economic growth, with Gross Domestic Product (GDP) growth rates rising from 4.0% to 15.0% between 2005 and 2013. Ghana met the Millennium Development Goal One (1) target of having halved poverty since 1990, with poverty rates dropping from 56% to 24.6% (and again from 28.5% in 2002/03), and extreme poverty rates dropping to 8.4% (from 18.2% in 2002/03). Enrolment in primary schools also increased, and access to preventive health care was improved.
However, the benefits of economic growth and poverty reduction have not been equally distributed across the nation. Ghana's relatively high level of income inequality continues to rise (the Gini coefficient in 2016 was 42.3), with significant differences existing both between regions and between rural and urban areas. Poverty rates in northern regions of the country are two to three times the national average, and chronic food insecurity remains a critical challenge. There are also pockets of extreme poverty in the south. Despite positive strides made in developing an effective social protection system, the system is still in its nascent stages, and requires further focus to strengthen it. There is room to improve the accuracy of targeting (to ensure the intended target beneficiaries receive the needed assistance), as well as to promote better coordination between social protection programs to reduce the duplication of effort, and to enhance citizen feedback mechanisms so that beneficiaries' grievances are heard and addressed. Additionally, more resources will be required to generate sustainable livelihood activities for the social assistance beneficiaries who have labor capacity, and to promote youth access to more productive jobs.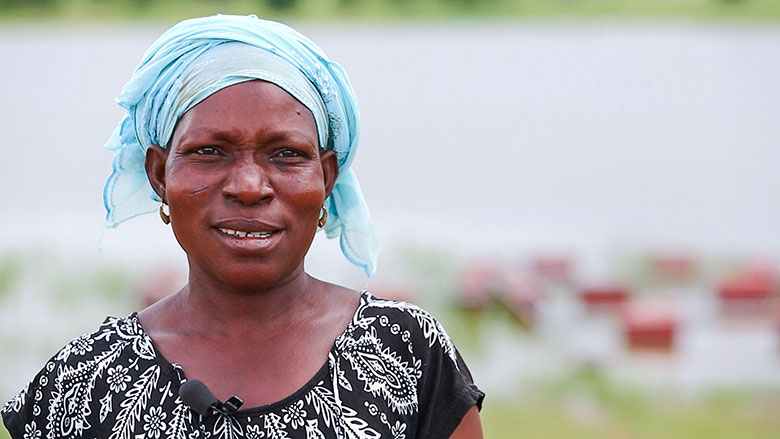 Approach
The GSOP project has 3 main components: (i) Social Protection Systems Strengthening, which improve the overall social protection system through increased capacity building and the development of the Ghana National Household Registry to assist social protection and poverty alleviation programs in Ghana, to identify, prioritize, and appropriately select households living in extreme poverty and vulnerable conditions; (ii) LEAP Cash Transfers Implementation and Capacity Building and (iii) Labor-intensive Public Works Implementation and Capacity Building.
The latter two focus on leveraging technology to improve the efficiencies of the two, flagship safety net interventions through the introduction of management information systems, electronic payments, the development of a single-window case management system, and improved monitoring and evaluation systems—all aimed at improving the efficiency of service delivery. These three key areas have been supported through the $138.6 million project ($88.6 original credit and $50 million in additional financing).
The World Bank team also used the following approaches to augment their support:
coordinating different development partners and organizing joint missions;
instituting strong grievance redress and citizenship feedback mechanisms;
undertaking regular environmental audits to ensure compliance and sustainable benefits to communities; and
restructuring the project development objective at the mid-term review to ensure that the project is outcome focused; and completing the Ghana Social Protection Assessment and Public Expenditure Review in 2016.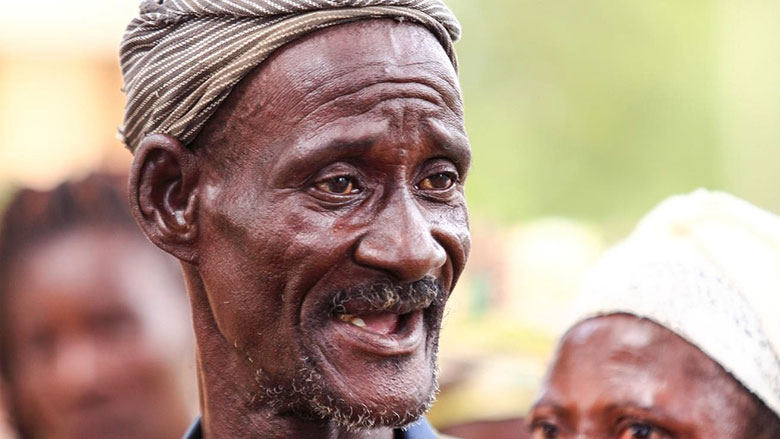 Results
Through technical and financial support from IDA and trust funds in the last 6 years, the GSOP project has contributed to:
On LIPW:
Unskilled beneficiaries earned wages totalling $19 million since project inception;
The rehabilitation of 250 (25,485,869.2 cubic meters) Small Earth Dams and Dugouts (water catchment holes dug in the ground);
338 (1,266 kilometres) of Feeder Roads;
2283.64 ha of degraded land placed under rehabilitation through the planting of tree crops; and 40 social infrastructure sub-projects rehabilitated
According to a 2016 Impact Evaluation, LIPW projects decreased individual unemployment rates in intervention communities, by 15% under feeder road and small-earth dam/dugout sub-projects respectively, and by 11.5% for communities that benefited from the climate change sub-project during the study period. Furthermore, labor force participation increased by 21%, 14.6%, and 22.6% for individuals in households that benefited from the feeder roads; climate change and small-earth dam and dugout sub-projects were improved respectively during the off-farming season; and beneficiary households in the three northern regions had a significant reduction in out-migration. The likelihood of at least one household member out-migrating due to paid work reduced by 3.1 percentage points.
On LEAP:
Coverage of the LEAP beneficiaries had increased from 78,000 in 2013 to 213,000 by June 2017; 60% were female.
61% (372,844) beneficiaries for Livelihood Empowerment Against Poverty (LIPW) are female;
The 2012 impact evaluation posits that LEAP has increased school enrollment among secondary school-age children by 7 percentage points, and reduced grade repetition among both primary and secondary aged children. Among primary aged children, LEAP has reduced absenteeism by 10 percentage points. At the household level, the project has impacted positively on both food security and happiness, especially among female headed households.
Productive Inclusion Pilot:
Furthermore, in an effort to examine opportunities for reducing vulnerabilities through productive inclusion interventions through a grant by the Japanese Social Development Fund administered by the World Bank, 4,200 LEAP and LIPW beneficiaries have been trained and provided with cash grants to support income generating activities like shea-butter processing, basket weaving, and the rearing of small ruminants in the Upper East Region of Ghana.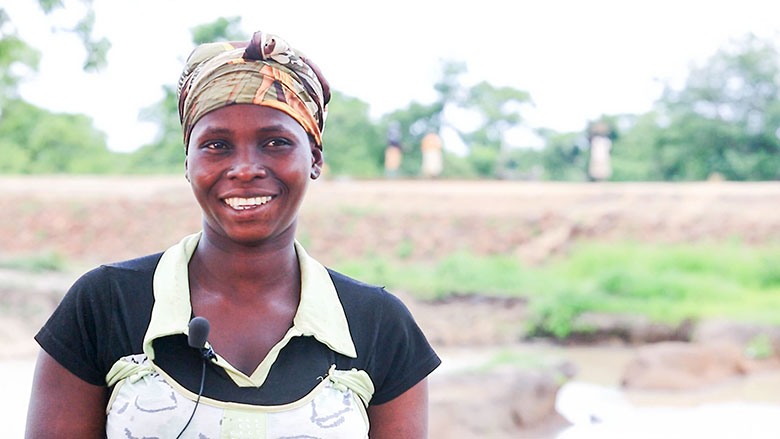 IDA Box on results
The project has contributed to the achievement of Pillar Three of the CPF (as documented in the 2016 performance and learning review of the CPF) and prior actions and triggers of the DPL series. In particular, progress under pillar three of the CPS has been strong overall, with one objective already achieved, and the other on track for completion by the new CPS end date (June 2018). In broad terms, results have been positive with respect to social protection, in part because of the continuing emphasis on maintaining an adequate safety net (as reflected in the prior action and triggers of the DPL series) despite the fiscal difficulties that Ghana has had to overcome. Developments within this Pillar are discussed below in more detail.
As part of the effort to address growing inequality along the North–South divide in Ghana, the CPS sought to expand the safety net and increase its effectiveness in the poorer northern part of the country, as well as to improve the targeting of benefits to women, children, and disabled persons. IDA support for this objective has been provided through the Ghana Social Opportunities Project (GSOP), for which Additional Financing was approved in 2015. The GSOP has been helping strengthen Ghana's premier social protection programs, including programs for labor-intensive public works and cash transfers, with respect to overall management and operations, payment mechanisms, and monitoring and evaluation. These improvements, in turn, have enabled the significant, appropriate expansion of both safety net programs: as a result, cash transfer beneficiaries have more than tripled from 70,000 (2014) to 213,000 beneficiary households by 2017, significantly improving the coverage of orphans/vulnerable children, the elderly and the disabled. The public works program completed a total of 802 sub-projects with 13,339,502 person days of employment created by September 2017 versus a CPS target of 45,000 person days for 2016. In addition to improvements in beneficiary reach, the project has also benefited from the strengthening of the social protection system with the introduction of Management Information Systems (MIS), electronic payments, and the launch of the Ghana National Household Registry. These new systems have led to efficiencies in program management and implementation.
Bank Group Contribution
IDA funding of $138.6 million for the GSOP project (including $$88.6 million original IDA credit, plus $50 million AF) and two RSR Trust funds of $900,000; Japanese Social Development Fund of $2.8 million.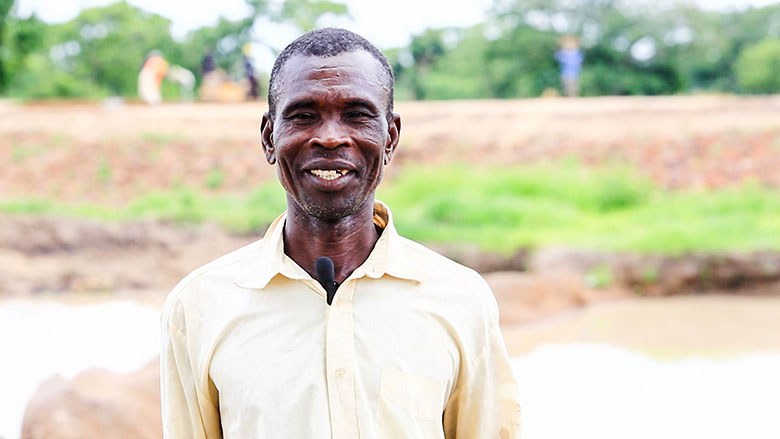 Partners
IDA has maintained close partnerships with other development partners on the implementation of LEAP, including with the United Kingdom's Agency for International Development (DFID), which provides parallel funding of approximately GBP 50 million per year to the LEAP cash transfers program, and the United States Agency for International Development (USAID) and United Nations Children Fund (UNICEF), which also provide funding and technical assistance towards the LEAP program. Additionally, IDA has partnered with ILO to provide capacity building and technical support on LIPW activities. IDA organizes joint missions, and development partners meet periodically to identify ways to coordinate programming and reporting in order to promote efficiencies. Country Ownership was ensured through the support of the SP Policy that was built based on the lessons from among others GSOP. The policy was supported by DFID, UNICEF, and the Bank. The Bank leveraged its convening role to bring together donor partners, and also ensured that international and regional research and experiences were identified and the knowledge shared for implementation, as applicable. National consultations across the country, briefs to legislatures, and approval by cabinet all ensured strong country ownership. Furthermore, a Social Protection Sector Working group has been established to bring together key stakeholders within the sector, including government, civil society organizations, private sector and development partners, to discuss challenges, good practices, and how to collaborate on implementation. The sector working group is currently co-chaired by the Ministry of Gender, Children and Social Protection, and the World Bank.
Moving Forward
In line with the Ghana Country Partnership Strategy, the Ghana Social Opportunities Project (GSOP) contributes to addressing: (i) the improvement of economic institutions; (ii) the improvement of competitiveness and job creation; and (iii) protecting the poor and vulnerable. For sustainability, productive inclusion is being promoted through livelihood enhancing activities supported by the Japanese Social Development Grant.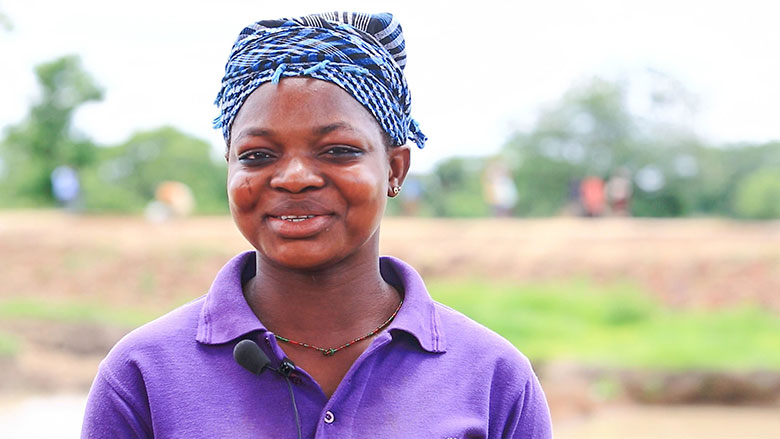 Beneficiaries
Azunne Asakiboba: At about 65 years old, Azunne is from Gamborongo community in the Bongo District of the Upper East Region, and the sole breadwinner of her household. She benefits from the national cash transfers program—the Livelihood Empowerment Against Poverty (LEAP) program, and had benefited from the Labor-Intensive Public Works (LIPW) program, which provided seasonal employment in 2014. Madam Azunne enrolled in the Complementary Income Generation Support Scheme, supported by the Japanese Social Development Fund and implemented through the World Bank in 2016, where she was provided with vocational skills training in straw basket and hat weaving, and was subsequently provided with a start-up grant of Ghc.645.00 ($147) to commence a trade in basket weaving. The JSDF productive inclusion initiative was established as part of efforts to strengthen the Social Protection system in Ghana to ensure that beneficiaries can escape from poverty through access to coordinated services and a sustainable livelihood.
With the support she has received, Madam Azunne is now able to produce three baskets on average per week, from which she makes a profit of Ghc.30.00 ($7). From this supplementary income, she can pay the school fees of three children in basic education, and also provide three square meals a day for her household. Additionally, she has joined a village savings (susu) scheme, where she can access credit to in times of emergency.