Water for All in India
1.6 Million People in Rural Punjab Receive Safe Drinking Water at Home
April 10, 2014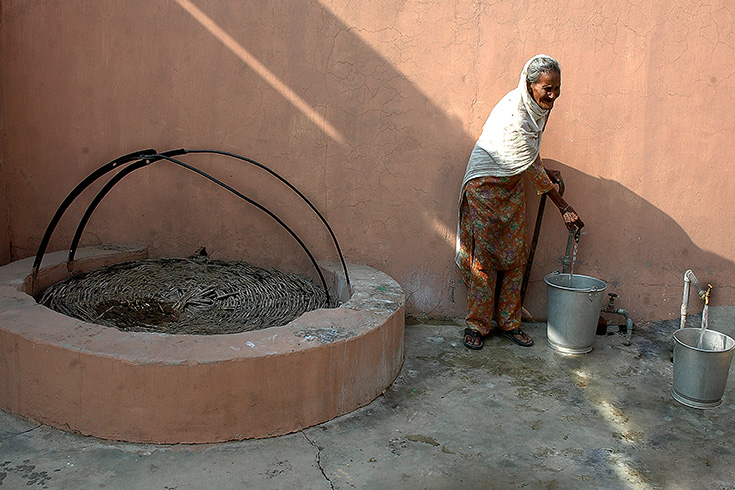 In 2007, when the project first started, most Punjab villages received only intermittent water supply, mostly from public stand posts and hand pumps. Almost a third had no water supply system at all. Today, 1.6 million people in rural Punjab get safe drinking water through piped connections at home - more than in any other part of the country.

1.6 million
people now receive safe drinking water 24/7 through piped connections at home.
By January 2014, households in 100 villages had installed water meters, helping reduce the amount of water wasted. And, over 40 villages received round-the-clock water supply, something that few urban areas in India have been able to do so far.

Challenge
Even though a number of rivers flow through Punjab's fertile heartland, the ground water table was falling and many villages faced acute shortages of drinking water. Most families fetched water from shallow wells and hand pumps that often ran dry in summer, and water-borne infections were common. Alarmingly, the water in some places was contaminated with arsenic and fluoride and, in six districts, the presence of heavy metals such as uranium was reported. Since this was the first time that Punjab was adopting a community managed, demand-led project, the commitment of the state's political leadership and senior bureaucracy was critical. Moreover, to deliver high quality services sustainably, a small section of villagers needed to be convinced to shift to metered connections with volumetric tariffs that charged consumers on the basis of water actually consumed. This also allowed the poor, who consume less water, to pay less than the normal flat rate. Furthermore, while the project called for the active participation of communities, the state had few NGOs that could help create strong community institutions and build the capacity to deliver services.

"We had no choice but to fetch water from unsafe sources. Getting water would become even more difficult in summer when the handpumps would either run dry or pump out muddy water. no longer worries about obtaining clean water. The project has helped me get round-the-clock supply of clean water from a tap installed inside my home.

Dayal Singh
Villager and Beneficiary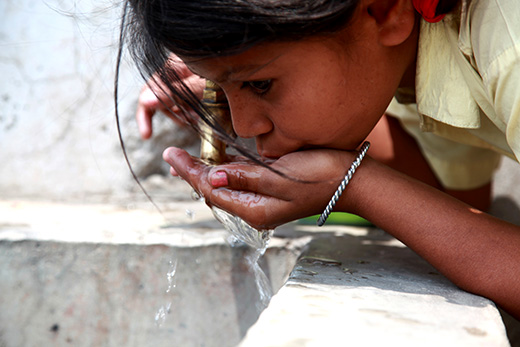 Solution
· Project functionaries worked very hard to win the support of the political leadership by creating awareness about the long-term benefits of decentralization. Given the absence of civil society organizations in the state, government engineers took on the role of community mobilisers and worked closely with the people in creating strong local institutions to implement the program.

· To convince villagers to shift to metered connections and pay for the water they consumed, an innovative communication campaign that included workshops, competitions, radio, TV and print publications was adopted. Mobile water testing kits that provided quick feedback on the quality of drinking water available, helped spark community interest in the new system.

· To encourage the use of meters, the Punjab government financed the purchase of water meters in the first 100 villages on a pilot basis.

· Proactive village committees that included women and the weakest sections of society demonstrated that metered connections could indeed deliver 24X7 water supply. By doing so, they could conserve water and reduce recurrent expenditures as the provision of 24X7 water supply also reduces power consumption.


"Nothing new is easy. But I knew the water supply system was for our good and I took it upon myself to make it a reality. I was confident that people would pay me back once the system was up and running."

Balbir Singh
Retired Military Man
Results
Drinking water needs of villagers met: With 1.6 million people gaining access to improved water supply since 2007, the project has been successful in meeting the drinking water needs of Punjab's villages. It has freed women from the drudgery of carrying of water from public stand posts about 100-400 m away from their homes at odd hours of the day.
Metered connections reduced the wastage of water: By January 2014, 100 villages had opted for metered connections, a unique achievement in India. Metering and billing of water use has helped reduce the amount of water wasted from 30 percent or more, to just 8 percent.
Systems have become financially sustainable: Measuring water use and charging for the quantity of water consumed has helped make village water supply systems financially sustainable. About 90 percent of consumers are paying their water bills regularly. Some villages now have sizable savings in their O&M accounts—varying from Rs. 35,000 to Rs. 0.5 million. These savings are being re-invested to extend distribution networks, procure diesel generators, and implement community works.
24/7 water supply in 15 villages: By January 2014, forty villages had round-the-clock (24/7) metered water supply. This has made illegal connections redundant, reduced the chances of water contamination, and enabled households at the tail end of the system to get their fair share of water at good pressure.
Accountability has increased: The new telephone based, toll-free complaint redressal system is reaching out to some 15 million people in over 15,000 habitations. It is helping check absenteeism or non-performance of staff in remote villages, making the management of water supply more transparent, accountable and citizen-friendly, and boosting people's confidence in the system.
Bank Group Contribution

The International Development Association (IDA) has committed US$ 154.00 million of the total project cost of US$ 261.40 million. The project, approved in December, 2006, will end on 31 December, 2014.

Partners
The Water and Sanitation Program (WSP) in India provided valuable support through two staff working on the project. The WSP also funded a study on water quality; another study on measuring impact is under consideration.
The government of Australia through AUSAID funded a study to assess opportunities to use PPPs in the rural water sector. The study has been completed and a national level workshop was organized in 2013. The recommendations and model bid documents have been shared with the Government of India's Ministry of Drinking Water and Sanitation. Piloting Public-Private Partnerships in some villages is being considered.
Moving Forward
Punjab is now promoting metered water connections in all rural areas and, where possible, providing 24/7 water supply. Accordingly, the state government is seeking a follow-on project to improve water supply schemes that are delivering less than the minimum requirement of 40 liters per capita per day (lpcd) and to hand them over to communities to manage. In addition, a large number of villages are being considered for the installation of sewerage schemes, building on a successful pilot under the project. The project will prioritize villages where water quality is affected. The state government has also requested the Bank for similar support in two cities – that is, to shift to using surface water sources, and provide households with 24x7 metered water supply.