Trade Logistics Program Enhances Private-Sector Competitiveness in More Than 50 Countries
April 7, 2014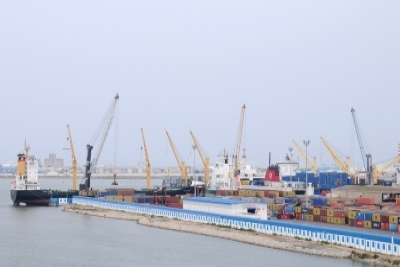 The trade logistics program – part of the World Bank Group's Investment Climate practice – helps developing countries build efficient trade logistics systems and services that enhance private-sector competitiveness, potentially leading to increased investments, increased trade and greater job creation. Seven years after its launch, the program now manages projects in all six regions and in more than 50 countries, including IDA countries and fragile and conflict-affected situations.
Challenge
Inefficient border-management systems and cumbersome trade procedures have cost traders valuable time and money. In Colombia, merchants faced obstacles and serious delays when clearing customs and importing goods into the country. According to Doing Business data for 2008, the import process required 20 days, while the export process required 24 days. In Liberia, importing and exporting had been a long, cumbersome and paper-intensive process involving more than 40 customs-clearance steps and a myriad of required documents. These inefficient and unpredictable trade logistics inflated transaction times and costs for traders trying to gain access to global markets.
Solution
The trade logistics program addresses these challenges by simplifying and harmonizing trade procedures and documentation, by integrating risk-management systems in border clearance and inspections, and by supporting implementation of trade-related automation and single-window systems. Investment Climate teams provide advice and technical assistance tailored to client needs through the following framework:
Rapid Response Program (10–12 months): Identifies and achieves "quick wins" that build trust, catalyze reforms and establish the basis for medium- and long-term reforms.
Systematic Reform Program (about 3 years): Extends rapid-response work, addresses key constraints and promotes best practices for efficient trade logistics supply chains.
Regional Program (4–5 years): Eases access to regional and global markets and provides solutions to land-locked, transit and island economies.
Results
With projects in more than 50 countries, the program has expanded its technical assistance to support the implementation of the World Trade Organization's Trade Facilitation Agreement, address trade logistics barriers along agribusiness supply chains, improve national logistics and distribution services, and integrate across regions. Bolstered by a strong monitoring and evaluation framework that is designed to capture the outcome and impact of trade-logistics reforms, the program has proven successful in generating significant results for clients.
In Colombia, the program generated an estimated $200 million in private-sector savings by designing a national cargo risk-management policy for the country's ports and by improving the single window for foreign trade. In Nepal, trade reforms harmonized the customs working hours of Nepal with those of neighboring India and China, prompting banks in the major customs offices to follow suit – which, in turn, increased the number of active trading days by 14 percent. In Liberia, customs-clearance steps were reduced by 74 percent from 42 to 10. Automation of the customs-clearance system resulted in an 80-percent increase in customs revenue, from $5 million in 2009 to $9 million in 2011.
In Armenia, traders now enjoy reduced trade transaction times for getting their goods to markets. The removal of the export license and technical certificates reduced export documents from seven to five and reduced export time by 56 percent in three years. Armenian exporters are no longer required to have Expertise Test Reports to obtain a Certificate of Origin. This saves them four days and $100 per export transaction.

The trade logistics team's support and expertise have been crucial for addressing bottlenecks to import and export in Armenia. A dozen customs and technical-control regulations were removed or modified, leading to a more streamlined trade-transaction process and an improved environment for traders. We are extremely delighted that this work has made Armenia a more attractive destination for investments.

Karine Minasyan
First Deputy Minister of Economy, Min. of Economy of the Republic of Armenia
In Burkina Faso, trading across borders is now easier following the automation of the rail transit process between Burkina Faso and Cote d'Ivoire, and the elimination of the transit document requirement for import and export. Traders moving goods from Burkina Faso to Togo have also benefited from a newly interconnected customs clearance system. The number of truck trips between Lomé and Ouagadougou was up 17 percent in the first month alone, from 3,993 to 4,686. In interviews, truckers indicate they expect the number of trips they can manage in a given time period to double. More recently, upon accepting recommendations made by the WBG project team, the Government of Burkina Faso issued a decree on October 3, 2013 establishing a national committee mandated with monitoring and removing any barriers to the free movement of people and goods along the corridors connecting the country to the West Africa region.

The international expertise and the professionalism of the global trade logistics team of the World Bank Group have been central in implementing a complex reform agenda that has enabled several improvements in trade-facilitation services in Burkina Faso. We appreciate the team's forthcoming efforts to support regional solutions that would help create more growth opportunities in Burkina Faso.

Ousmane Guiro
Director General of Customs, Burkina Faso
Bank Group Contribution
IFC contributed $598,000 and IBRD contributed $775,000 ($729,000 from Norway Norwegian Trust Fund (NTF) and $45,000 from the West Africa Region trade Grant Funding Request (GFR). Catalonia contributed $165,000, the Netherlands contributed $77,000, the Austria Cooperation TF contributed $62,000, Japan contributed $27,000, and the Facility for Investment Climate Advisory Services (FIAS) core (FIAS donors: Australia, Austria, Canada, France, Ireland, Italy, Luxembourg, Netherlands, New Zealand, Norway, Sweden, Switzerland, United Kingdom) contributed $150,000.
Partners
The program coordinates closely with the International Monetary Fund, the Inter-American Development Bank, the United States Agency for International Development, the World Trade Organization, the World Customs Organization, the United Nations Conference on Trade and Development, the United States Department of Commerce, and other development partners – including Australia, Austria, Canada, Catalonia, the European Union, France, Ireland, Italy, Japan, Luxembourg, the Netherlands, New Zealand, Norway, Spain, Sweden, Switzerland, and the United Kingdom.
Moving Forward
The World Bank Group's Investment Climate practice is beginning a technical assistance (TA) program in support of developing countries' efforts to reform their trade-facilitation practices in a manner consistent with the main components in the new Trade Facilitation Agreement (TFA), agreed upon at the 9th WTO Ministerial Conference in Bali, Indonesia, in December 2013. The TFA support program builds on the Bank Group's existing trade logistics advisory services work. The program has an initial duration of five years (2014-2018) and expects to raise $20 million to $50 million of funding from multiple donors and partners. It will focus on supporting developing countries in the effective implementation of the TFA, with a view to enhancing private-sector competitiveness that leads to increased trade, increased investments and stronger job creation.