Mexico Seeks to Adapt to Climate Change and Mitigate its Effects
April 17, 2013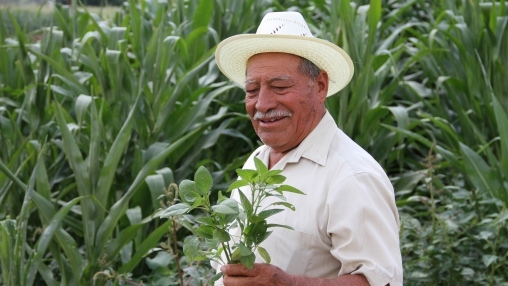 For more than a decade, Mexico, with World Bank support, has worked to develop ambitious policies to mitigate and adapt to climate change. The financial, knowledge, and coordination services facilitated by the Bank have contributed to increasing the areas under environmental management by 20 percent, to improving air quality in Mexico City, and to increasing water availability.

22.9
million free energy-saving light bulbs have been distributed as part of the Efficient Lighting Project in Mexico.
Challenge
Mexico is the 12th largest greenhouse gas emitter in the world, and the second largest in Latin America. The country is already experiencing longer and hotter periods, more droughts, more intense rains and hurricanes, and frequent floods and mudslides. If climate change is not addressed, the Mexican economy is expected to decline by between 3.5 and 4 percent and suffer significant costs of up to 6.2 percent of GDP.
Mexico has a sound record of addressing climate change challenges and is considered a global leader in the area. The country's comprehensive strategy for climate resilient and low carbon economic growth is one of the most ambitious in the world. Driven in part by the country's vulnerability to climate impacts, the Mexican Government has demonstrated its commitment, long-term vision, and political will to addressing climate change through its policies and its active role in global negotiations.
Environmental change will continue to have negative effects on poorer and, in particular, on indigenous groups, who depend on sources of income threatened by the effects of climate change.
Solution
The Mexican Government and the World Bank have a consistent and long-standing partnership in climate change mitigation and adaptation. Traditional finance is only one piece of this relationship. Beyond traditional single projects, the Bank uses the full range of instruments, generating tailored and timely development solutions.
The instruments include:
Financial Services: investment lending, development policy loans, grants, credit enhancement, hedging swaps, and catastrophe risk management.
Knowledge Services: advice on development options, capacity building, research, and technical assistance, and acting as an incubator for innovation.
Convening and Coordination Services: knowledge sharing, South-South exchange, event organization, high-level coordination, and facilitating the issue of multi-catastrophic bonds using the Bank's positioning in capital markets.
Results
This comprehensive and long-term engagement positions Mexico as one of the world's leaders in the effort to mitigate and adapt to climate change. The main areas of collaboration include energy efficiency and renewable energy, water management, disaster risk management, clean and efficient transport, forests management, and sustainable productive rural development.
Policy level support
Since 2003, the Bank has been supporting political actions related to climate change through seven Development Policy Loans to Mexico. Some of the supported prior policy actions include:
Mainstreaming of social resilience to climate change considerations in public policy.
Approval and publication of the Special Program for Climate Change.
Submission of National Reports on implementation of the Convention to the Conference of the Parties to the United Nations Framework Convention on Climate Change.
Subnational collaboration
This collaboration, in the form of technical support, has also been evolving with the states and municipalities. This is in recognition of the fact that most actions are at the local level and require local inputs. It also recognizes that there are greater capacity constraints in the states. Thus far, the Bank has assisted the state Governments of Campeche, Michoacán, Oaxaca and Zacatecas.
At this level, climate change engagement is now moving into assistance for promoting Green and Inclusive Growth in the state of Quintana Roo, where the Bank is supporting the development of policy planning tools for greening tourism and building climate resilience.
Institutional strengthening
The institutional support to the Mexican Government has also been a central pillar of the Bank's engagement. This support has created, strengthened, and consolidated a number of institutions, such as the Ministry of Environment and Natural Resources, the Commission for Natural Protected Areas, and the National Institute of Ecology and Forestry Commission.
Other outcomes include:
Improved air quality in Mexico City, due to clean and efficient transport, as recognized in 2010 by the prestigious Local Climate Action Leadership Award for its Climate Action Plan.
Participation of Mexico City at the Mayor's Task Force, including the development of a case study for dealing with climate change, disaster risk, and the urban poor.
Distribution of 22.9 million free energy-saving light bulbs as part of the Efficient Lighting Project Mexico, recognized by the Guinness Book of World Records.

"My sister-in-law did it because I told her to and [the electricity bill] went down 40 percent."

María Elena Nogueda
says she has changed her light bulbs to save energy and money.
Bank Group Contribution
This comprehensive engagement included a variety of financial, knowledge, and convening services supported by the Global Environment Facility, the Climate Investment Funds, development policy loans, hedging swaps, and catastrophe risk management instruments, in addition to components in traditional investment loans.
Partners
Due to the cross-sectoral nature of the engagement, Government counterparts represent a variety of sectors, including the Ministry of Finance, Ministry of Environment and Natural Resources, the Ministry of Energy, Ministry of Social Development, Ministry of Transport, Ministry of Internal Affairs, and a variety of national development banks. The implementing agencies include the Water Commission, Forest Commission, Institute of Ecology and Climate Change, Commission for Biodiversity Knowledge and Use, and Commission of Natural Protected Areas.
Some innovative partnerships are:
Social Resilience to Climate Change DPL, which supported collaboration with the French Development Agency.
The Forests and Climate Change Package, which aligned 12 donor countries in the Forest Investment Program and Forest Carbon Partnership Facility.
The Natural Protected Areas Project, which launched the Fund for Protected Areas, a unique private-public partnership. The Mexican Fund for the Conservation of Nature, a local civil society organization, managed the endowment portion of US$40.9 million.
Moving Forward
Because of the issue's importance for the Government and civil society, the climate change agenda will continue to play a central role in Government policies. During the upcoming years, the Bank's engagement will incorporate new sectors and instruments, delivering tailored and timely development solutions. Support for states and municipalities will also be enhanced, mainly in improving adaptation to climate change effects. Moreover, the Bank's approach will shift towards the theme of green and inclusive growth and will support actions that reduce the ecological footprint of economic growth and manage natural resources in an optimal way.
Beneficiaries
The types of beneficiaries are broad in nature, from indigenous poor forest-dependent communities to urban populations, users of clean and efficient transport. For example,
María Elena Nogueda, 65, is an architect and she has changed her light bulbs to save energy and money. "My sister-in-law did it because I told her to and [the electricity bill] went down 40 percent." she explained.
"These are the indicators that in each water utility are increasing: more input, for more time, better quality," says Gerardo Toledo Nuñez, Coordinator of the PROME program in Conagua.