Philippines: Autonomous Region in Muslim Mindanao (ARMM) Social Fund Project
Reducing Poverty, Promoting Peace and Development in Muslim Mindanao
April 10, 2013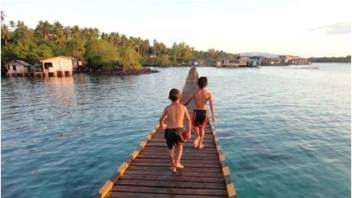 The project helps to foster development in the Autonomous Region in Muslim Mindanao (ARMM), while promoting a safe and peaceful environment in the conflict-affected areas of the region. The completion of close to 2,000 community-based infrastructure projects is improving access to social and economic services for 755,656 residents. Communities are also benefiting from the completion of 13 large infrastructure projects such as port facilities and hospitals.
755,656
People have greater access to services including water supply and sanitation, farm-to-market roads, learning centers and schools.
Challenge

The main challenge in the region is reducing poverty and achieving lasting peace to help ensure inclusive growth. The provinces of ARMM (Maguindanao, Lanao del Sur, Sulu, Basilan and Tawi-Tawi) are among the poorest in the Philippines with poverty incidence ranging from 29.8 percent to 53.7 percent in 2009, compared to a 26.5 percent poverty incidence for the entire country for the same period.

The region suffers from poor infrastructure and inadequate basic services, such as health and education, poor local governance and a weak private sector. Armed conflicts, including the struggle for self-determination by Moro groups, clan disputes, communist insurgency, and banditry, among others cause severe economic and social displacement. This situation in turn results in long-term poverty and deprivation from adequate schooling and healthcare and drives the population to sell their valuables or go into deeper debt to meet basic needs. Hostilities in 2000 and 2008, for instance, displaced about 900,000 people.
Solution
Using a community-driven development approach, communities identify their own problems and design and implement their own solutions for projects that include water supply and sanitation, small-scale irrigation, community health stations, schools, post-harvest facilities, farm-to-market roads, bridges and rehabilitation of homes damaged by armed conflict. In addition to community infrastructure, the program promotes literacy and numeracy for older women and widows, as well as for out-of-school youth and orphans.
An equally important approach to improve governance and strengthen institutions, especially in conflict-affected areas, was recognizing the efforts of local officials in the ARMM who promoted transparency and accountability in implementing the project. The project in particular, provided a performance-based grant to local authorities who showed effective and transparent allocation and management of public resources related to the project. (Approved in 2002, the project was intended to strengthen the ARMM as part of the national government's commitment to promote greater autonomy, improve local governance and promote peace and development in Muslim Mindanao.)
Results
Implemented by the ARMM Social Fund Project Management Office under the ARMM regional government, the project has achieved the following results so far:
• Approximately 755,656 people in conflict-affected areas have greater access to social and economic services from completed community-based projects such as water supply and sanitation, farm-to-market roads, learning centers and schools.

• Approximately 23,000 older women, including widows and indigenous peoples, and almost 5,000 out-of-school youth and orphans participated in functional numeracy and literacy classes to give them the basic skills needed for jobs and increased incomes.

• Completion of 13 infrastructure projects: construction or rehabilitation of 5 hospitals, 3 port facilities, 3 Education and Manpower Development Centers, 1 Social Support Facility and 1 building for Information and Communication Technology. This infrastructure includes a major vocational training center for the Technical Education and Skills Development Authority in ARMM to provide skills training for youth in the region.

• Technical assistance extended to an estimated 28,000 (mostly women) supports small business planning for livelihood activities such as selling agricultural goods and running small retail stores.

• The project promotes food self-sufficiency and nutrition through home gardening, livestock-raising and fish-pond tendering.


That pathway is a big help to this community. Even when rains are heavy and typhoons hit us, people no longer would have to risk wading on the seashore and get drenched. They can now walk safely along the timber pathway.

Basal Uddah
Village Leader, North Gaunan in Basilan
Bank Group Contribution
The International Bank for Reconstruction and Development (IBRD) has provided US$64 million to support community development assistance (US$49 million), strategic regional infrastructure (US$5 million), and institutional strengthening and governance (US$10 million). More importantly, the IBRD has introduced the use of community-driven development (CDD) approach to empower communities to select, plan, implement and sustain community infrastructure projects and social services that help reduce poverty.
Partners
Work on this project is carried out in close coordination with the ARMM regional government and villages, municipalities and provinces in the Autonomous Region. The project is also coordinated with nongovernmental organizations and other foreign development agencies, particularly the Japan International Cooperation Agency, which provides parallel financing to the project.
Moving Forward
The project is due to close in May 2013, but the government has requested a one-year extension to complete activities and ensure full coverage in all ARMM municipalities. A baseline assessment has been completed as the first step in a rigorous impact evaluation that will measure project outcomes for the additional financing phase.