Kosovo: Moving toward the Dream of European Integration
Promoting Growth and Environmental Management
April 8, 2013
The World Bank Group has worked closely with other development partners to help Kosovo—a full member since mid-2009—to recover from the 1999 war, reinforce the economic foundation supporting its political independence in 2008, and strengthen public institutions en route to eventual European Union (EU) membership. The Government of Kosovo and the World Bank Group have achieved results in the last 10 years, especially in the financial sector, the business environment, education, and agriculture.

14,000
tons of hazardous substances were treated and neutralized in Kosovo between 2009 and end-2012
Challenge
A potential candidate for EU membership, Kosovo has weathered the euro crisis fairly well, with growth rates consistently above those in neighboring countries, strong fiscal fundamentals, and a healthy banking sector. However, high rates of poverty and unemployment, reflecting weak domestic productivity growth in a euroized economy, define the central development challenge.
Kosovo's growth model, based on the availability of external financing and the implementation of budget-financed public investments, cannot be sustained in the long term. Private sector investment to increase overall productivity offers an effective avenue for generating growth and jobs, but Kosovo is constrained by weaknesses in the business climate and public infrastructure, including in the unreliable, inefficient, and polluting coal-based energy sector.

Treatment was necessary because the waste represented a permanent hazard for human health and the environment, since the tanks where the waste was stored began to leak with time.

Behxhet Shala
clean-up expert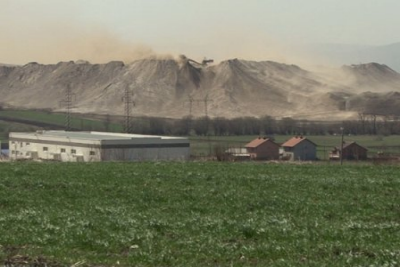 Kosovo's development strategy rests on healthy public financing and a liquid and profitable banking sector. Still, despite low external and public debt, its debt sustainability could be jeopardized by worsening fiscal deficits or a deceleration in growth rates. While the International Monetary Fund's (IMF) debt sustainability analysis shows that all debt indicators remain on a sustainable path over the next two decades, the trajectory is subject to risks from fiscal issues and/or growth shocks.
Kosovo's unresolved political status remains a key obstacle to its achieving political integration with the EU and more advanced socioeconomic development. Overall, governance, public institutions, and political structures remain fragile—notwithstanding recent improvements in Doing Business—and could destabilize in the event of political upheaval. Despite progress, Kosovo has not yet secured full transparency, accountability, and viability in its governance system.
Solution
The World Bank Group's (WBG) first Country Partnership Strategy 2012–15 (CPS) aims at (i) accelerating broad-based economic growth and employment generation; and (ii) improving environmental management. The CPS builds on earlier growth priorities via macro-financial stability, infrastructure development (especially energy), an improved business environment, better governance, and investments in agriculture and human capital. The CPS also seeks to improve environmental management by supporting the sustainable use of Kosovo's natural resources, especially lignite, in order to (i) improve the population's health and living standards; and (ii) comply with the EU's environmental acquis communautaire. Related projects include investments in energy efficiency and renewable energy, the clean-up of historic environmental hazards from energy generation and mining, and securing the water supply in central Kosovo.

Eliminating these pollutants will make the environment cleaner for those living near the power plants. At the same time it will allow the corporation to operate in a way that's better for the environment.


Arben Gjukaj
CEO, Kosovo Energy Korporation
Results
Through the Business Environment Technical Assistance Project (2005–12), Kosovo's business environment has improved, reflected in its jump of 28 places to 98 (out of 183 countries) in Doing Business 2013. Improvements in the business climate include:
registering a new business, which now takes about three days;

establishing a one-stop shop for business registration, with joint tax and business registration;

reducing the average time to start a business by six days in 2011, from 58 to 52 days;

developing new legislation requiring the Business Registration Agency to process required documents within three rather than 10 days, as in 2009;

amending the Laws on Business Organizations to increase minority investor protection.
In the education sector (Institutional Development for Education Project 2007–13), the Bank has supported the implementation of the Strategy for Development of Pre-University Education in Kosovo and the Strategy for the Development of Higher Education:
two framework laws—on Pre-University Education and Higher Education—were approved, clarifying the roles and responsibilities in education delivery;

a total of 180 schools received School Development Grants to implement quality improvements, including training in school management, planning, and procurement;

improvements in resource use were realized through strengthening the financing mechanism for pre-university education and implementing nation-wide school-financing autonomy;

capacities were strengthened for planning and evidence-based policy making by supporting the development of key databases, such as the Education Management and Information System (EMIS) for pre-university education, the capacities of central, municipal, and school staff to use the software, and a comprehensive database of all school facilities that will guide planning and investments in infrastructure needs.
In the energy sector, air pollution, particularly from the power stations and ash dumps near the capital Pristina, has remained a critical problem. Activities in clean-up and land reclamation have achieved the following results:
14,000 tons of hazardous substances were treated and neutralized between 2009 and end-2012;

almost 30,000 hectares of ash have been covered;

almost 100,000 trees were planted on 30 hectares and
overburdened dumps were leveled.
Since 2006, there has been continuous support for the financial sector to strengthen its stability and infrastructure. The central bank has:
seen its institutions and sustainability strengthened, following the implementation of a strategy based on market development trends and a review of its funding-source options;

revised the banking sector's regulatory framework;

provided assistance to the insurance sector, preparing a legal framework for third-party liability.

I consider that the work and engagement in the public sector is rewarded on days like today. First, the change has to be visible physically, and second it has to be felt in procedures which will directly benefit the private sector, businesses and Kosovo's economy in general.

Mimoza Kusari Lila
Deputy Prime Minister
Bank Group Contribution
Since 1999, the World Bank has provided to Kosovo and/or managed roughly US$400 million through more than 30 operations, including Trust Funds. As of January 2013, there were six active lending operations with commitments totaling US$70 million and two trust funds totaling US$9 million.
The two Sustainable Employment Development Policy Operations (SEDPO) supported a stable macro-fiscal framework and improved the conditions for sustainable employment. The first SEDPO tranche was US$34 million, and the second, disbursed in June 2012, amounted to US$49 million.
The International Finance Corporation (IFC) has invested US$15 million in the general manufacturing and mining sectors, while the advisory services aim to improve the investment climate and the performance of private sector companies, and to attract private sector participation in the development of infrastructure projects. The Multilateral Investment Guarantee Agency (MIGA) provided one guarantee for the ProCredit Group Central Bank Mandatory Reserves Coverage, which includes Kosovo, as host country.
Partners
The World Bank Group works closely with many external agencies, including through joint analytical work and the parallel or cofinancing of operations. The World Bank is partnering with the IMF and the U.S. Agency for International Development (USAID) to provide technical assistance to Kosovo's financial sector, and with the Netherlands, the United States, and the European Commission in the energy and environment sectors. Austria is providing support to challenges in public financial management, while the UK's Department for International Development (DfID) and the Swedish International Development Cooperation Agency (SIDA) have helped to build capacity for statistical analysis. The World Bank and other partners worked toward developing a Sector-Wide Approach (SWAP) for education, partly by conducting a joint feasibility study under the leadership of Kosovo's Ministry of Education, Science, and Technology. A group of nine external partners have been closely involved in the design and implementation of the two Sustainable Employment Development Policy Operations and have contributed substantial grant resources for its two budget operations. The EU and USAID are the most prominent donors, with over 300 projects at the national and local levels. Other important partners include Austria, the Czech Republic, Denmark, Germany, Italy, the Netherlands, Norway, Sweden, Switzerland, and Turkey.
Moving Forward
The CPS 2012–15 provides selective and targeted financing with the main objective of supporting Kosovo to (i) accelerate broad-based economic growth and employment generation; and (ii) improve environmental management. It is expected that International Development Association (IDA) funding for the CPS would be approximately US$76 million (or roughly US$19 million annually), supplemented by about US$66 million in grant funds channeled through IDA by donors. IFC will provide around US$50 million in direct financing to the private sector as well as additional funds for advisory services.
The energy sector remains the main focus under the CPS, particularly the need to fully address Kosovo's energy crisis, taking adequate account of environmental and social concerns.