Growing Innovation
Supporting new technologies and entrepreneurs through InfoDev's network of specialized business support centers
February 28, 2014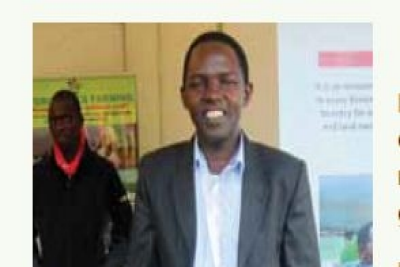 infoDev helps innovative ventures through facilitates a global network of business innovation centers that assists early-stage entrepreneurs—offering mentoring, facilities, and seed funding in the mobile innovation, climate technology and agribusiness sectors. In the past two years, infoDev's mobile innovation program boosted over 100 startups in client countries in Africa and Asia. 57% of the jobs generated by the startups were for women.
Challenge
The global connectivity explosion that infoDev championed throughout the last decade has broken new paths to bring high-quality jobs to the marginalized. Accordingly, infoDev has refocused from ICTs to innovation and entrepreneurship support, designing new tools to help start-ups drive growth, tackle development challenges like climate change, and galvanize would-be entrepreneurs.
The private sector provides 9 out of 10 jobs in developing economies and is a leading engine of development. The main thrust of that comes from micro-, small-, and medium-sized enterprises, especially in technology sectors—a recent study argues that 3 jobs are created in a community for every new high-tech job.
However, entrepreneurs in developing countries often face barriers as they shepherd their ideas from mind to market. Notably, new ventures in emerging and frontier markets frequently lack affordable infrastructure, business mentors, training opportunities, access to financing, connections with regional and global marketing channels, and even a favorable innovation ecosystem.
Multiple parties—entrepreneurs, business support centers, investors, technology leaders, regulators, academia, development partners, and others—have developed granular solutions and insights with currency across sectors, countries, and stages of growth. infoDev's unique grassroots network of business support centers allows the program to crystallize that knowledge, share it, and use it to set up cutting-edge innovation centers across the globe.
Approach
In response to the many hurdles faced by entrepreneurs in developing countries, infoDev works to improve competitiveness, employment and sustainable, inclusive growth by helping innovative technology ventures. infoDev serves its clients, donors, partners, and the wider development community by:
Experimenting and pioneering on-the-ground approaches to supporting growth-oriented entrepreneurs in developing countries.
Influencing the global innovation and technology entrepreneurship agenda.
Developing and implementing scalable programs specifically targeted for mobile, climate and agribusiness enterprises.
Promoting inclusive strategies that benefit marginalized groups, women, people living in extreme poverty, minorities, youth, and others.
infoDev has a number of major projects underway for FY14-15. infoDev has secured funding from the Canadian Department of Foreign Affairs, Trade and Development, UK's DfID, the governments of Denmark and Norway, AusAID, the Ministry for Foreign Affairs of Finland, and the Swedish International Development Cooperation Agency (SIDA) to develop specialized networks of Mobile Applications Laboratories and mobile Hubs, Climate Innovation Centers, Agribusiness Innovation and Entrepreneurship Centers , and seed-stage financing facilities across Africa, East and South Asia, Eastern Europe, and the Caribbean.
infoDev supports nine mHubs and four mLabs that provide app developers with networking, tutoring, and an array of business resources, including access to finance, and capacity building.
In addition to two operational Climate Innovation Centers (CICs) in Kenya and South Africa, the Caribbean CIC and the Ethiopia CIC launched in the first quarter of 2014 to accelerate the development, deployment, and transfer of locally relevant climate technologies in the region. Business plans for four other centers in Africa and Asia were created and planned for implementation within two years.
Following consultations with hundreds of local stakeholders, infoDev completed in-depth business plans for Agribusiness Innovation Centers (AICs) in Ethiopia, Mozambique, Nepal, Senegal, and Tanzania. The implementation of the AICs will begin in 2014 with Nepal and Tanzania, offering a suite of services ranging from technology, facilitiesand business coaching.
To ease the leap from framework to implementation, infoDev trains public officials, regulatory agencies, and business incubation leaders from Moldova to South Africa. Currently, there are more than 60 certified trainers around the world who have gone through infoDev's Business Incubation Management Training Program, the first of its kind, which improves its curriculum with graduates' experiences.
Results
infoDev projects are contributing to achievement of the following results:
Over 100 startups came out of infoDev's mLabs and mHubs over the past two years. They raised about $5.2 million in external financing. 57 Percent of the jobs created were for women. ,
Between September 2012 and November 2013, infoDev planned and established CICs in eight countries: the Caribbean, Ethiopia, Ghana, India, Kenya, Morocco, South Africa and Vietnam. The Kenya CIC has been fully operational since September 2012. The CICs in the Caribbean and Ethiopia launched in the first quarter of 2014, while the others are in an advanced stage in the project pipeline. All CICs are designed specifically for the markets they serve with input of local stakeholders.
In FY12-13, infoDev commissioned or completed around 35 knowledge products—including in-depth business plans for Climate Innovation Centers and Agribusiness Innovation Centers; studies on using Crowdfunding as an alternative form of financing in the developing world; a Caribbean Diaspora study; and reports about use of mobile technology at the Base of Pyramid, the two billion poorest people in the world.
At the 5th Global Forum on Innovation and Entrepreneurship, organized jointly with South Africa's Department of Science & Technology and the Eastern Cape Province, more than 800 participants from 61 countries assembled in May 2013. All main innovation stakeholders—policymakers, financiers, technology industry leaders, development institutions, civil society, and academia—forged new partnerships. With the theme "harnessing innovative entrepreneurship for social and economic growth," it focused on the needs of African entrepreneurs and innovators. The three-day conference featured interactive sessions on mobile innovation, agribusiness, clean technologies, and women's entrepreneurship
Bank Contribution
infoDev does not receive direct funding from IDA and has received only a small IBRD / BB contribution (1% in FY13). It is fully financed by donor-sponsored trust funds.
Partners
infoDev works with a number of important partners and donors:
The Ministry for Foreign Affairs of Finland—In combination with MFA Finland and Nokia, infoDev has created the Creating Sustainable Businesses in the Knowledge Economy program, which has provided support to a variety of initiatives, including Mobile Applications Laboratories (mLabs) and Mobile Hubs (mHubs), the Global Forum on Innovation and Technology Entrepreneurship, the Central Asian Capacity-Building Initiative and the Open Africa Innovation Summit.
The Canadian Department of Foreign Affairs, Trade and Development provided funding to launch the Entrepreneurship Program for Innovation in the Caribbean, a $20 million program over seven years to expand the region's incubation and financing ecosystem and set up support facilities for mobile developers, clean technology start-ups, and women entrepreneurs..
Australia, Denmark, Norway and the United Kingdom - Joining efforts with the Australian Agency for International Development (AusAID), the Danish International Development Agency (DANIDA), the UK's Department for International Development (DFID) and Norway, infoDev launched the Climate Innovation Centers (CICs); facilities designed to bolster the clean technology entrepreneur, and to harness the economic opportunities that climate change presents for start ups and small and medium-sized enterprises in developing countries. UK's DFID also provided in FY14 funding for a global program stimulating knowledge exchange, networking, strengthening M&E and continuous learning between the CICs.
Swedish International Development Cooperation Agency—In FY13 and FY14, Sida provided funds toward infoDev'sMulti-Donor Trust Fund. Its contribution supports new operational and analytical work in the field of mobile applications for the 'Baseof the Pyramid', inclusive innovation and women's entrepreneurship in Africa.
The Republic of Korea—The Republic of Korea established the $15 million Korean Trust Fund on ICT4D, administered by infoDev on behalf of the ICT Department of the World Bank. As of FY13, the Fund has supported 34 projects relating to cutting-edge ICT solutions for development problems.
infoDev has also partnered with the World Bank, IFC, Germany, South Africa, Nokia, the Bill and Melinda Gates Foundation, and the Brazilian Association of Science Parks and Business Incubation, SPARK, Saudi Arabia's KICT BADIR program, among others, on a variety of initiatives.
Moving Forward
infoDev's decade-long experience in business enabling, access to finance, networks and capacity building, and knowledge management is complemented by its unique position within the World Bank Group. infoDev has the agility to pilot new concepts at the grassroots, and to scale workable solutions into larger projects that support the World Bank Group's commitment to innovation and entrepreneurship. It also bridges operations and knowledge through best-practice assessments, research, and publications. infoDev supports the growth of a strong private sector in developing countries in a manner that leverages technology and innovation and feeds growth, competitiveness and inclusion.
Over the past few years, infoDev has built on its success in incubating technology-enabled businesses to launch specialized programs aimed at promoting the growth of new ventures in the mobile, climate and agribusiness sectors. These programs provide technology testing facilities, formal or informal mentorship, training courses, and regular multi-stakeholder networking opportunities, as well as traditional business incubation services. Supporting these strategic sectors contributes to growth and competitiveness, and leads to the development of value-adding jobs suited to the new knowledge economy.
In addition to our incubators, labs and innovation centers, infoDev is piloting acceleration approaches designed to allow a new venture with particularly high potential for growth to increase its investability quickly. Through intensive mentoring, re-evaluation of business strategy and sometimes, a reconfiguration of service and product offerings, we can help startups move from idea to prototype in just a few weeks, and go to market in as little as two months.
Beneficiaries
Stella Kariuki, who participated in infoDev's Mobile Startup Camp, founded Zege Technologies in 2010 to offer small and medium enterprises (SMEs) pay-bill numbers and mobile money point of sales solutions to help make transactions paperless. Zege Technologies focuses on building financial solutions software for mobile, web, and point of sale integration. Its core product is MPAYER, which is a cloud-based payment service that helps local businesses, organizations and shoppers accept and manage real-time cash or mobile money payments, while collecting customer feedback. Thus far Zege Technologies has worked with 100 companies and served about 3,000 clients at the Base of the Pyramid. Stella has plans to expand the Kenyan customer base, promote regional expansion, and positively impact businesses in Kenya and within the region.
Peter Chege initially worked as an analytical chemist at a pharmaceutical company in Kenya, but in 2002 he decided to venture out on his own and produce animal feed. Frustrated by the low quality of raw grain he was receiving from his suppliers, Peter began to utilize hydroponic technology as a more efficient and reliable way of growing the cereals used in his animal feed. Hydroponics grows crops without soil, by using the mineral nutrient solutions in water. Although hydroponics relies primarily on water, a scarce resource in the region, studies have indicated that the system is at least 10 times more efficient in water usage in comparison to field farming. Only starting to install hydroponics systems in 2012, Peter has already built more than 60 sheds in Kenya and a few in Uganda, with plans to expand into Rwanda. With the assistance of the Kenya CIC he has grown and diversified his business offerings while expanding access to his hydroponic systems for interested farmers.
Randa Filfili, who owns and manages Zena Exotic Fruits, is the first Senegalese jam producer to export "niche" products, such as cashew apple butter and baobab jam, to markets in the United States, Europe, and Japan. Initially producing a range of quality fruit spreads for the local market, Randa became aware of an opportunity to expand Zena's offering when she learned that local rural farmers produced cashews for export, but did nothing with the fruit these trees produced. The company seized the opportunity and worked with a team of food technologists, marketers, and chefs to develop a value-added product with a commodity that was viewed as having no commercial value. With a new model and a unique product, Zena is now able to export its all-natural cashew apple butter to satisfied consumers around the world.