Developing Competitiveness: Creating Jobs and Reducing Inequality
Helping firms invest, increase their productivity and contribute to broader access to better services.
February 27, 2014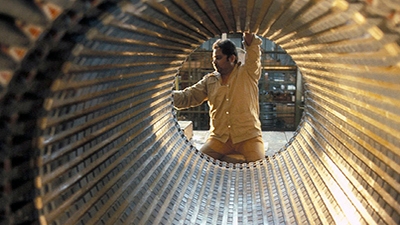 The Competitive Industries (CI) practice helps client countries identify and address public policies and investments that promote competitiveness across economic sectors and industries. Interventions range from budget support operations to reimbursable technical assistance and public investment projects. The CI approach is now being used in about 30 projects worldwide, delivered by teams from across the World Bank Group, with total lending of close to $1.5 billion, with almost $580 million in IDA financing. About 20 projects, with a value of more than $1.5 billion, are being prepared to meet client countries' requests.
Challenge
By 2030, about 600 million jobs must be created in developing countries – mainly in Africa and Asia – to accommodate new entrants to the workforce. Such rapid job growth requires an almost unprecedented pace of job creation. To meet the job-creation challenge, macroeconomic and investment-climate reforms, while necessary, will not be sufficient. An approach to job creation that goes beyond macroeconomic policies to develop job markets – focusing on specific industrial sectors and clusters, chosen because of their competitive potential – is a more targeted way to promote job growth. Unlike earlier efforts in industrial policy, the Competitive Industries approach relies on on rigorous methodologies and continuous measurement to demonstrate results, manage fiscal costs and limit the risk of "regulatory capture."
Solution
The context of each particular client country, the key issues in the local economic environment, and the available resources are key factors that help determine the customized approach that is designed for each Competitive Industries engagement. Engagements often include sector or industry diagnostics; inclusive dialogue between the public and private sectors; strategic prioritization of public investments; the sequencing of reforms across sectors; and measures to ensure strict accountability during implementation.
To maximize the job-creating potential of each client country's particular economy, Competitive Industries interventions include the following:
Growth poles, which aim to unlock the growth potential of specific industries in a spatially delimited area. Public investments are multi-sectoral in nature and aim at providing the adequate investment climate for the private sector to invest;
Economic zones, which pilot policy reforms (such as tax-favored status) and the provision of common goods (such as the concentration of companies in industrial parks or in economic clusters) to attract private-sector investors, and to maximize the "spillover effects" among similar industries and thus promote growth;
Value chains and industrial clusters, which typically include support and investments to raise the local economy's share of an industrial supply chain that moves products from producers to consumers, and to help local industries shift to producing higher-profit-margin goods and services – for example, not just to grow food or raise animal herds, but also to process and transport them; and
Competitive cities, an analytical approach that aims to enable more resilient urban economies that are able to maximize the comparative advantages of each urban area's "economic vocation" – the specific area of industrial activity that it decides to make its specialty (such as the fishing and maritime-services industries; agricultural production and food processing; or automobile assembly and auto-parts manufacturing).
Results
Examples of the WBG's competitiveness programs include the following:
1. In Bangladesh: A combined World Bank and IFC investment of $98 million in a Special Economic Zones project encouraged private-sector investment to spur job creation through the Bangladesh Export Processing Zones Authority (BEPZA) and the IFC-funded Bangladesh Investment Climate Facility (BICF) programs.
Results: The eight BICF Export Processing Zones resulted in $1.8 billion in investment, more than 262,000 jobs, and almost $22 billion in exports. BEPZA, with the support from BICF, has contributed to increases in investment of $113 million and to the employment of about 15,000 workers between 2007 and 2010.
2. In Madagascar: A $129.8 million growth-poles project, to support the creation of a tourism pole around Port Dauphin and a light manufacturing pole around Antananarivo, led to strong interest from private investors. The World Bank financed public infrastructure components of the project, while IFC invested in targeted high-potential private developments (e.g., hotels), offered lines of credit to SMEs, provided guarantee facilities, and financed technical assistance to financial institutions.
Results: By the end of 2013, the number of businesses registered in the two poles exceeded 4,000, with more than 14,000 formal jobs created. More than 21,000 individuals benefited directly from the project.

The World Bank money will help me transport my cattle across the border to Nigeria.

Hassane Bola
Beneficiary of WBG-supported agribusiness value chain in Niger
Bank Group Contribution
More than $1.45 billion in competitiveness projects have been sourced from the competitiveness programs through 27 projects under active implementation, almost entirely sourced from IDA/IBRD funds. An additional 19 projects worth $1.566 billion are in the design phase. Together these 40 projects are spread worldwide: 53 percent are located in Africa, 5 percent in East Asia and the Pacific, 8 percent in Europe and Central Asia, 15 percent in Latin America or the Caribbean, 8 percent in the Middle East and North Africa, and 13 percent in South Asia. The Competitive Industries practice is also leading 56 analytical and advisory activities spread through various countries and regions: 66 percent are in Africa, 2 percent in East Asia and the Pacific, 5 percent in Europe and Central Asia, 7 percent in Latin America or the Caribbean, 11 percent in the Middle East and North Africa, 7 percent in South Asia, and 2 percent in global initiatives.
The CI practice leverages the Competitive Industries and Innovation Program (CIIP), a new multi-donor partnership, which serves as a global delivery platform to complement World Bank Group contributions to the Competitive Industries practice – mobilizing global expertise, operational know-how and investment resources. Over its five-year time frame – since its launch in Fiscal Year 2013 – CIIP's partners are seeking to mobilize a total of $100 million in direct support, which will in turn leverage an additional $6 billion to $8 billion in public investments (including World Bank Group lending) and a significant amount of private investment. Currently, 12 CIIP-supported country operations are under preparation (worth almost $12.5 million), along with four global knowledge products (valued at almost $3 million) and additional cross-cutting knowledge products (worth an additional $3 million).
Partners
Along with the World Bank Group, many partners, including the European Commission, Austria and Switzerland – the funders of the CIIP – have embraced the CI approach. A "brains trust" of academic scholars – including Ricardo Hausmann of Harvard University, Francis Fukuyama of Stanford University, Dani Rodrik of Princeton University, Charles Sabel of Columbia University and Arun Maira of the Planning Commission of India – provides counsel to the Competitive Industries practice. Another group of seasoned practitioners includes senior experts from Malaysia, Spain and Chile. A recent global conference organized by the Competitive Industries practice, with financial support from CIIP, brought together partners and clients engaged in implementing industrial policies, private-sector representatives involved in framing such policy interventions, and distinguished academic scholars researching such policy approaches. The event attracted more than 200 participants and provided a venue to propel the debate in the "how" of growth and competitiveness, studying experiences from around the world.
Moving Forward
The CI practice, along with CIIP, will continue to support the WBG's efforts to promote competitiveness, jobs and prosperity, first by focusing on delivering results on the recently funded operations and then by on enlarging its pool of activities.

Beneficiaries
Hassane Bola, a butcher near Maradi, the agricultural hub of Niger's Hausa region, has benefited – along with others in the 4,000 newly created enterprises – from the World Bank's value-chain project, which has improved road access and meat storage and processing facilities for small and medium-sized businesses operating in the meat and butchery industry.
He says:

[Niger's] meat is famous in the region. Everyone who tastes it says it is excellent. In a good month, I earn enough to support my wife and daughter. I am not rich but, compared to my friends, fate has been kind to me. We have enough millet to eat. The World Bank money will help me transport my cattle across the border to Nigeria. . . . A nicer abattoir will also help convince Nigeria to buy our delicious cut meat. If we have proper veterinary services, our animals will be fatter and [will] fall sick less often.