Developing Competitiveness: Increasing Productivity, Creating Jobs and Reducing Inequality
Goal to Create 1 Million New Jobs in 5 Years
April 3, 2013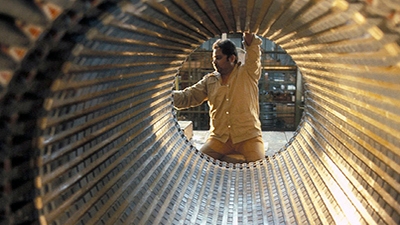 To help strengthen client countries' competitiveness, the World Bank Group is working with clients to develop industry-focused strategies, support entrepreneurship, streamline the regulatory environment and promote robust innovation ecosystems. Such competitiveness-building aims to help clients create about 1 million jobs over the next five years.
262,748 jobs
created by IFC-funded Bangladesh Investment Climate Facility
Challenge
Since the start of the global financial crisis in 2008, about 22 million jobs have been lost in developing countries. The global jobs crisis–documented in the WBG's World Development Report 2013 and in the IFC Jobs Study–will require developing countries to create 600 million jobs over the next 15 years–generating an average of 1 million jobs per month over the next 10 years just in Africa and South Asia alone. Policymakers worldwide thus must focus on strengthening competitiveness and innovation to meet this demand for employment. Clients want to create sustainable jobs that lead to inclusive growth, and are recognizing that shared prosperity and diminished poverty cannot be achieved through traditional approaches: To "bend the arc of history," new and transformative approaches are required.
Approach
Working with clients to create the conditions that will allow their firms and industries to compete successfully, the WBG's competitiveness and innovation programs pursue multi-sectoral "country transformation programs." They focus on firm-level programs to provide mentoring, networking and financing; and industry-level activities to unlock value chains, promote industrial clusters and accelerate growth.
This new approach–complementary to the WBG's traditional focus on macro-level or micro-enterprise strategies for growth–emphasizes the private sector's holistic needs, remaining sensitive to market signals; pursuing a collaborative approach between the Bank and the IFC; and focusing resources through a new multi-donor trust fund, the Competitive Industries and Innovation Program (CIIP). This approach mobilizes all of the WBG's policy, lending and advisory branches – its macroeconomists to design policies, its investment and insurance specialists to develop financial instruments, its environmental specialists to create infrastructure and "green growth" strategies, and its human-development specialists to enhance workplace skills.
Results
Examples of the WBG's competitiveness programs include the following:
In Bangladesh: Increased investment and job creation through the Bangladesh Export Processing Zones Authority (BEPZA) and the IFC-funded Bangladesh Investment Climate Facility (BICF) programs.
Result: The 8 BICF EPZs resulted in $1.8 billion in investment, 262,748 jobs and $21.7 billion in exports. BEPZA, with the support from BICF, has contributed to increases in investment and employment of $113 million and 15,000 workers from 2007 to 2010
In Croatia: Enhanced scientific excellence, commercialization of R&D, and business investments in R&D through collaboration with public research organizations and the private sector.
Result: Income of a participating Croatian public research organization from the private sector has risen by 40%, up from 8% before the project. Contracts between 69 research organizations and private-sector industries were signed. Private-sector R&D amounting to $19,570,450 was mobilized. In addition, 12 licensing agreements were signed with the business sector with total value of $1,075,661, and five spinoff companies were created.
In East Africa: An enhanced regional investment ecosystem, SME growth potential, and climate change mitigation were promoted through infoDev's Climate Innovation Center (CIC).
Result: Three months into its operations, the CIC has mobilized more than 1,000 stakeholders in seven East African countries. With 11 firms receiving support and an additional 24 applications being considered, the CIC is on track to meet its objectives, including creating up to 4,600 jobs over five years, mitigating as much as 0.7 million tons of CO2, generating 90 megawatts of off-grid energy access, and bringing clean water to 110,000 households and better food to 42,000 households.
The World Bank money will help me transport my cattle across the border to Nigeria.
Hassane Bola
Beneficiary of WBG-supported agribusiness value chain in Niger
Bank Group Contribution
More than $4 billion in competitiveness and innovation lending programs have been sourced from the competitiveness and innovation programs, including almost $866 million from IDA/IBRD funds. More than 120 projects are now active worldwide, with 41% of them located in Africa, 20% in Europe and Central Asia, and 13% in the Middle East and North Africa.
In 2011, the Facility for Investment Climate Advisory Services (FIAS) funded 128 initiatives strengthen client countries' investment climate. These efforts contributed to 42 policy, administrative and procedural reforms, including 37 in areas tracked by the WBG's Doing Business indicators.
A new trust fund, the Competitive Industries and Innovation Program (CIIP), became effective in December 2012 with initial contributions of $8 million from Switzerland and Austria. Further contributions are expected.
Partners
The WBG has funding and thought-leadership partnerships with the European Commission, Austria and Switzerland, which have initiated CIIP. The development agencies of the United Kingdom and Finland are major funding partners for the WBG's InfoDev program.
A "brain trust" of scholars, including Ricardo Hausmann, Francis Fukuyama, Dani Rodrik and Charles Sabel, provides counsel to CIIP. Another group of seasoned practitioners includes senior experts from Malaysia, Spain and Chile. In one recent experience, the WBG worked with the Planning Commission of India to organize a colloquium on competitiveness, bringing together experts from Brazil, Korea and Malaysia to exchange lessons learned and to promote South-to-South knowledge exchange.
Moving Forward
CIIP is a new component of the WBG's efforts to promote competitiveness, jobs and prosperity. As a multi-donor trust fund, CIIP leverages existing resources and works across sectors, accelerating project preparation time and fund implementation; drawing on Bank and IFC expertise to develop multi-sectoral approaches; and monitoring impact to ensure optimal results. CIIP aims to leverage $6 billion in lending and public-sector investment over five years; to catalyze more than $100 billion in private-sector investment; and to support 15 to 20 large-scale competitiveness projects, global knowledge platforms and knowledge portals.

Beneficiaries
Hassane Bola, a butcher near Maradi, the agricultural hub of Niger's Hausa region, has been helped by the WBG's value-chain activity, which is improving road access, meat storage and processing facilities for SMEs.
He says: "[Niger's] meat is famous in the region. Everyone who tastes it says it is excellent. In a good month, I earn enough to support my wife and daughter. I am not rich but, compared to my friends, fate has been kind to me. We have enough millet to eat. The World Bank money will help me transport my cattle across the border to Nigeria. . . . A nicer abattoir will also help convince Nigeria to buy our delicious cut meat. If we have proper veterinary services, our animals will be fatter and [will] fall sick less often."