BRIEF
Justice Reform
June 5, 2013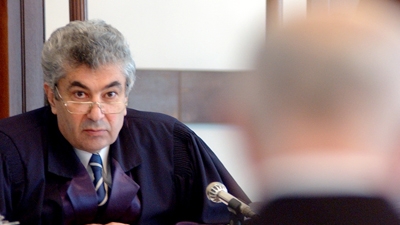 Overview
The challenges facing Justice Sector Institutions vary widely in World Bank client countries across Europe and Central Asia.
The World Bank Group provides funding (loans, credits, grants) as well as analytical and advisory work for justice reform.
Our work in the Justice sector is tailored towards country specific needs and contexts - and based on justice reform approaches, standards, and experiences across the globe.
Starting with the early days of transition in Europe and Central Asia in the late 1980s, the World Bank has supported justice reform efforts throughout the region. The development of the justice reform portfolio and the content of the projects reflect the evolving needs of support for justice sector institutions. The list below includes selected World Bank justice projects and programs in Europe and Central Asia.
Selected Projects
Judicial Functional Review - Romania (2013)
Legal & Judicial Reform Project - Albania (2011)
Judicial Modernization Project - Additional Financing - Azerbaijan (2011)
Judicial Modernization Project - Additional Financing - Azerbaijan (2006/11)
Justice Sector Support Project - Croatia (2010)
Serbia Justice Sector Support Multi Donor Trust Fund - Serbia (2010)
Second Judicial Reform Project - Armenia (2007)
IDF - Combating Corruption: Strengthening Anti Corruption Capacity in the Office of the Prosecutor General - Bulgaria (2007)
Judicial Statistics - Kosovo (2007)
Judicial Reform Support Project - Russian Federation (2007)
Judicial Modernization Project - Azerbaijan (2006), with additional financing (2011)
Legal & Judicial Implementation & Institutional Support Project - FYR Macedonia (2006)
Judicial Reform Project - Romania (2005)
Judicial Reform Project - Armenia (2000)
______________________________________________________
Justice Peer-Assisted Learning Network (JUST-PAL)
The JUST-PAL network is envisaged to complement and expand World Bank, EC and partner-financed justice reform activities, and catalyze the formation of Communities of Practice for (i) Commercial Courts; (ii) Budgeting; (iii) Information Systems; (iv) Physical Infrastructure; and (v) Court Managers and Administrators. It also aims at bringing together groups of such justice professionals via 'real' and virtual forums to share and disseminate reform experiences/methodologies/best practices and conduct peer reviews and self-assessments.
______________________________________________________
Publications and Analytical Work

Alternative Dispute Resolution Guide (2011) - These Guidelines set out criteria and indicators to help addressing key questions pertaining to the use of ADR. They offer guidance on the issues that should be considered for any potential ADR project and the relative importance these factors have. They comprise (i) an assessment of lessons learned in ADR reform, and consequent good practice; (ii) a detailed discussion of the various issues to be considered in ADR interventions; (iii) a wide range of structural options for ADR interventions; (iv) case studies that provide practical examples; and (v) a series of diagnostic tools.
Alternate Dispute Resultion Manual (2011) - A Guide for Practitioners on Establishing and Managing ADR Centers is useful when working on the establishment or improvement of ADR Centers. The Manual specifically: (i) Summarizes good practice guidelines in the establishment of an ADR Center; (ii) provides a rich body of case studies incorporating IFC and non-IFC related ADR Centers globally; and (iii) provides a comprehensive appendix of pro forma documents for use by ADR Centers.
Selected documents focusing on the issues of justice reform in the ECA region:
______________________________________________________
Data
Justice Sector data from World Bank sources:
Actionable Governance Indicators
The Actionable Governance Indicators Data Portal consolidates information and provides a one-stop-shop platform to navigate these indicators and their documents and offers customized tools for data management, analysis and display.
BEEPS (Business Environment and Enterprise Performance Survey)
The BEEPS is an ongoing project that aims to provide feedback from enterprises on the state of the private sector in participating countries by assessing the constraints to private sector growth, including the constraints posed by dysfunctions in the justice system. A primary goal of BEEPS is to capture indicators of the business environment and firm-state interaction. It is a joint initiative of the European Bank for Reconstruction and Development and the World Bank.
The Doing Business database provides estimates for different aspects of the ease of doing business across countries worldwide. One of those aspects is the ease of enforcing a standardized commercial case through the court system, disaggregated according to time, cost, and procedural complexity. The 2013 data on "enforcing contracts" is now available.
The Doing Business chapter on "enforcing contracts" is generally considered to be the most relevant for those working on justice reform. This year's chapter explains why commercial dispute resolution matters and who has carried out reforms in this area. It then looks at what it has identified as common features of judicial reforms relating to commercial dispute resolution, such as updating claim thresholds, introducing case management systems and automation, creating specialized commercial courts and making judgments publicly available.
Governance and Rule of Law Indicators (World Bank Institute)
The World Bank Institute collects and analyzes data on governance for empirical research, capacity-building, and learning programs. The page attached below presents the updated aggregate governance research indicators for six dimensions of governance: Voice and Accountability, Political Stability and Absence of Violence, Government Effectiveness, Regulatory Quality, Rule of Law, and Control of
Justice Sector Data from External Sources:
European Commission for the Efficiency of Justice (CEPEJ) - The European Commission for the Efficiency of Justice (CEPEJ), composed of experts from all the 47 member States of the Council of Europe, aims at improving the functioning of justice systems in these countries. Among other things, the CEPEJ collects and analyzes data. It has established an evaluation scheme comprising more than 100 quantitative and qualitative indicators. A pilot report was published in 2005. Improved and updated reports were published in 2006, 2008, and 2010. The 2012 edition is the most recent one.
The World Justice Project: Rule of Law Index - The Rule of Law Index is a quantitative assessment tool designed by the World Justice Project to measure the extent to which countries around the world adhere to the Rule of Law. The Index provides detailed information regarding a variety of dimensions of the Rule of Law, which enables policy-makers and other users to assess a nation's adherence to the Rule of Law in practice, identify a nation's strengths and weaknesses in comparison to similarly situated countries, and track changes over time. The Index, which constitutes the World Justice Project's definition of the Rule of Law, consists of 16 factors and 68 sub factors.
American Bar Association: Judicial Reform Index - Drawing on standards proposed by the United Nations, the Council of Europe, and other national and international bodies, the American Bar Association's Central European and Eurasian Law Initiative has developed a method for evaluating a nation's progress towards judicial reform. The group rates nations on 30 different indicators divided into six categories: 1) quality, education, and diversity; 2) judicial powers; 3) financial resources; 4) structural safeguards; 5) accountability and transparency; and 6) efficiency. The summary of the index is attached. So are copies of the evaluations completed to date.
The EU Justice Scoreboard - The EU Justice Scorecard is a comparative assessment tool, designed by the European Commission to evaluate the justive systems of all EU Member States. It presents trends on the functioning of national justice systems over time and is designed to be an evolving tool that will gradually expand in the areas is covered, the indicators, and the methodology. The 2013 EU Scorecard is the first to be published.