Speeches & Transcripts
Press Statement by World Bank Group President Jim Yong Kim in Beijing
July 8, 2014
Media Contacts
In Beijing
Li Li
Tel : 86-10-58617850
In Washington
Jane Zhang
Tel : + (202) 473-1376
I would like to thank the Chinese people and Chinese leaders once again for the warm welcome they have extended to me.
My trip reminds me of our common commitment to ending poverty and boosting shared prosperity.
We all know China lifted half a billion people out of poverty in the last 30 years, an incredible feat fueled by record economic growth and rapid urbanization, which sent 260 million rural migrants into the cities.
The World Bank Group is committed to building on more than three decades of a strong and successful partnership with China. In recent years, we have completed two landmark joint studies, China 2030 and the Urban China report. They called for major reforms on everything from the financial sector, to the environment, land sales and the hukou system, and China is moving ahead on many of these.
I just finished my meetings with President Xi Jinping, Premier Li Keqiang, Vice-Premier Liu Yandong and other senior officials, and we have agreed to launch a third major study, this time looking at China's health sector reform.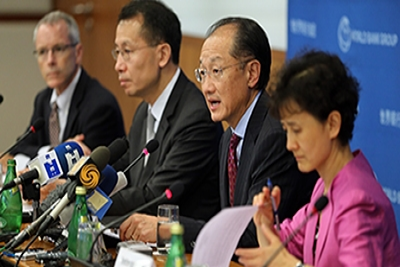 It's clear to me that as China gets wealthier, it's also determined to get healthier. The health sector is growing faster than the general economy. How this growth is managed will have a tremendous impact on China's economy.
We will do this study in collaboration with the Ministry of Finance and the National Health and Family Planning Commission and with the World Health Organization. We hope the study will help China accelerate its efforts to provide affordable, quality care especially for its aging population and rising middle class facing chronic diseases.
With urbanization, longer life expectancy, a more sedentary lifestyle, air pollution and more processed food, people are more prone to various diseases, especially diabetes, hypertension and other chronic diseases.
These chronic conditions now account for a staggering 80 percent of the overall disease burden in the country. More than 200 million patients suffer from hypertension and more than 90 million from diabetes.
Many of the challenges facing China today are similar to those faced by high income countries for decades – non-communicable diseases, aging, rising citizen demand and expectations, and unsatisfactory quality. China has an opportunity to leap frog decades of bad practice by developing new models of health care delivery and implementing them at scale.
In particular, China can move to a people-centered approach providing more health care for the money while tapping emerging information, communication, and medical technologies.
My discussions this morning with the vice ministers from both ministries, WHO Director-General Margaret Chan and others, mark the start of our search for bold, sustainable options for health sector reforms, including in the private sector.
Our study will draw on the best global knowledge and Chinese experience, to offer practical solutions to help China strengthen its performance in health service delivery, at the lowest possible cost, while improving the health of all its citizens.
If China is as successful in this process as we think they can be, we believe its health care reform can become a model for many other countries.
This will not only benefit China's 1.3 billion people. The entire world will benefit.
Thank you. I'm now happy to take your questions.