FEATURE STORY
Project Expands to Offer More Opportunities for Ghana's Poorest Women
August 26, 2014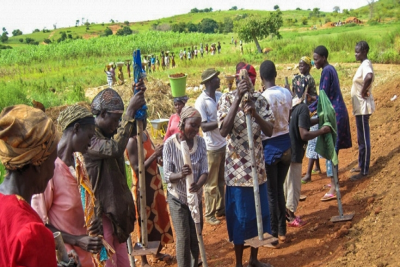 STORY HIGHLIGHTS
The World Bank Group will provide more support for the Ghana Social Opportunities Project to build on its successes of reaching poor households and women
The project includes a public works program which pays people for their afforestation work in climate change mitigation programs, rehabilitation of rural roads and small earth dams and dugouts geared towards improving the country's infrastructure
The additional funding will also be used to expand a registry to help provide more targeted support for Ghana's poorest citizens
ACCRA, August 26, 2014 – On any weekday in deprived districts throughout the country, it is common to see community members helping to rehabilitate roads that lead to rural areas and other community facilities such as small earth dams. Not only are the community members gaining experience and being paid for their work through the Labor-Intensive Public Works (LIPW) program, they are also helping to build the local infrastructure; to date, 69 feeder roads, 50 small earth dams and dugouts, 1,206 hectares of woodlots and tree crops planted have been delivered through the LIPW program, generating 5,132,021 person days of employment, all within the last three years.
The LIPW is just one part of the Ghana Social Opportunities Project (GSOP), which recently received additional financing from the World Bank Group. The project aims to reduce poverty and expand social opportunities for the poorest people through public works employment and grants for poor households.
"The Ghana Social Opportunities Project supports Ghana's efforts to fight poverty in the country's poorest regions and to ensure that poor and vulnerable households are not left behind as the economy grows," said Yusupha Crookes, World Bank Group country director for Ghana. "This will build on Ghana's gains in recent decades, which include reducing the poverty rate from 52% in 1992 to 28% in 2006, and help the country to make faster progress towards the Millennium Development Goals."
The $50 million in additional financing will be used to extend the LIPW program from 49 to 60 districts, as well as increase the number of grants from 100,000 to 150,000 poor households through the Livelihood Empowerment against Poverty (LEAP) program. The LEAP program is designed to help alleviate short-term poverty by providing cash transfers and health insurance to extremely poor households across the country.
In addition, social protection systems will be strengthened through improved targeting and the establishment of a National Household Registry, which seeks to provide a database of poor households across the country to aid the targeting efforts of all social protection programs. The registry will help expand the scope of social protection initiatives, and allow more accurate selection of households based on socioeconomic status.
Janet Kundija, a mother of two, earned GHc168.00 working during the rehabilitation of Gbare-Bombaa-Yibile feeder road in Jirapa District of the Upper West Region. Kundija said she used her earnings to pay for her children's school fees, laborers who prepared a one acre land for her soya beans and groundnut farm, and she also bought seeds and other necessities for her farm. She has also started a business of preparing and selling 'koose,' a local brand of doughnut made from beans, to members of her community every Sunday.
At mid-year review in February 2014, a total of 298 sub-projects made up of school blocks and clinics, feeder roads, small earth dams and dugouts and climate change mitigation activities have been completed. Another 168 sub-projects are under implementation. The ongoing public works program has already exceeded the original 13,000 beneficiaries targeted, with over 80,000 people benefiting directly. Climate change public works projects have been the most labor-intensive, followed by small earth dams and dugouts, roads and social infrastructure.
Both the public works and household grant programs have achieved success in reaching women; 60% of public works beneficiaries and 69% of household grant beneficiaries so far have been female, helping to empower women and increase their income.
"In Sakoti in the Nabdam Distict of the Upper East Region for instance, over 180 women gave testimony of how but for their involvement in the LIPW program, they would have migrated to urban towns to engage in menial jobs such as head potter, a phenomena that is commonly referred to as 'kayayo.'" said Robert Austin, National GSOP coordinator.
In the past three years, the World Bank Group has supported 14 projects in Ghana, totaling $956 million. Of this amount, infrastructure received the most support with $316 million. Education, health, and social protection projects received $274 million, while agriculture and fisheries received $200.3 million and $130 million going to public sector management and reform. The additional financing of the GSOP will be implemented by the Ministry of Local Government and Rural Development and the Ministry of Gender, Children and Social Protection, and will run until 2017.