FEATURE STORY
Community Oversight Boosts Public Services in Conflict-affected North and East
June 25, 2014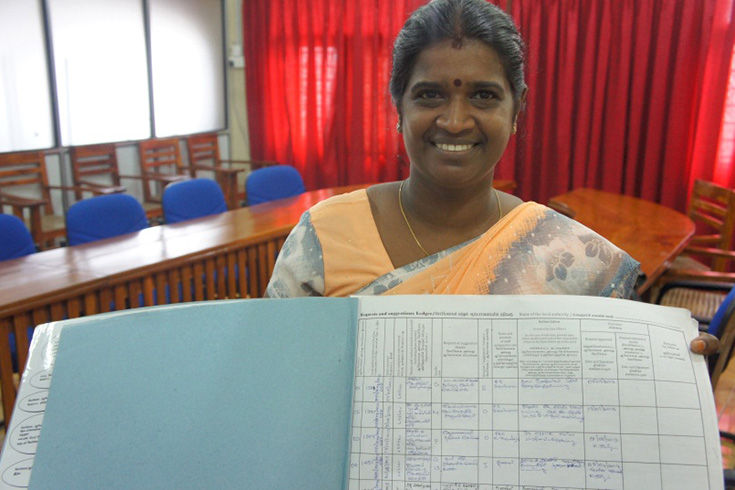 STORY HIGHLIGHTS
The North East Local Services Improvement Project is enhancing local service delivery and livelihoods of communities in Sri Lanka's conflict-affected North and Eastern Provinces.
Work includes upgrades to 493 km of rural roads, 23 km of drainage canals, seven water supply schemes, as well as 66 playgrounds, markets and nurseries.
The project is improving local capacity to deliver better public services by strengthening transparency and community accountability. Community helps to pick which projects get investment priority and can access a ledger for public complaints and requests.
Jaffna, May 10, 2014 - It all gets written down in a big blue book. Every complaint and suggestion on how to improve local services is dutifully recorded in Mrs R. Thavalogini's ledger.
The public relations officer for the local authority of Nallur listed 79 complaints between January and March, 2014, of which 54 are resolved, 23 are pending, and two have been dismissed.
"Before this system, people would have to go directly to the local authority and when they made a complaint there was no way of following up. Now they can telephone or write in, and their case gets a reference number," explained the 36-year old, holding up the ledger for emphasis.
At the end of Sri Lanka's 30-year civil war in 2009 the country faced a huge task to restore damaged infrastructure in the conflict-affected North and East, while quickly delivering better livelihoods for communities that had been repeatedly displaced by the fighting.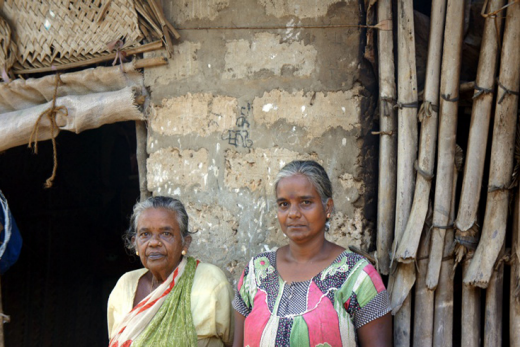 There is no flooding or standing water on the road and I can get to work all year.

On top of that, there was also a real need to support the capacity of local authorities to do a better job of delivering public services, while ensuring accountability and buy-in from the community.
The World Bank's $50 million Credit to North East Local Service Improvement Project, which is augmented by $34 million from the Sri Lankan government, has helped to meet those demands. Australia's DFAT has also offered a further Grant of $20.3 million in co-financing to allow the project to be broadened to four neighboring districts which also suffered during the conflict. The beneficiaries are contributing US$ 2 million.
Repairs and upgrades have been completed on nearly 500 km of rural roads and over 20 km of flood drainage canals, plus seven new water supply schemes and several dozen village nurseries, markets and playgrounds. Most of the money comes from the project. But each community contributes three percent of the cost by providing labor, or utilities like water or electricity.
Pallasuddy, a village of roughly 650 people, is a short drive from Jaffna. The city gives way to narrow village lanes. Chickens pick through the rubble of still-derelict buildings. But for the first time in its 200 year history, thanks to the project, Pallasuddy now has a tarred road.
At 12 feet (3.7 meters) wide, the road is double the width of the track that it replaced, boosting the local economy by improving villagers' access to markets and employment. Also, it is no longer impassable during the rainy season.
Mrs V. Susila, 44, works as a farm laborer for roughly R400 a day. She relies on that road to get to work . "The flood water used to come up to my knees and I would be stuck. Now it is better," she said. "There is no flooding or standing water on the road and I can get to work all year."
Much still needs to be done to improve the quality of her family's life. Standing in front of the hut where she lives with her mother, Mrs A. Nagamma, Susila explains that they don't have an indoor toilet or other modern conveniences. "I want a house with a cement floor and a proper roof," she said.
As well as identifying their own needs, villagers also get to prioritize how the money is spent by voting in public town hall meetings. Each member of the community writes down his or her preference on a colored flashcard, which are collected by local development officers who stick them up on a whiteboard to keep a tally. Most of the requests are to rebuild destroyed homes, improve local roads and street lighting, and to pick up trash. Villagers also lobby for playgrounds and other community amenities.
To ensure the work is done in time, the contractor must lodge a "performance bond" with a local bank, which is forfeited if the work falls behind schedule or is not completed as agreed. There have been several instances of contractors forfeiting hundreds of thousands of rupees to reimburse the local authority. And providing an additional layer of oversight, each subproject beneficiaries elect a social audit committee of up to seven villagers to keep tabs on the work and make sure everything is done according to plan.