FEATURE STORY
Tanzania's Sekenke Road: Now Safer and Faster to Travel
June 6, 2014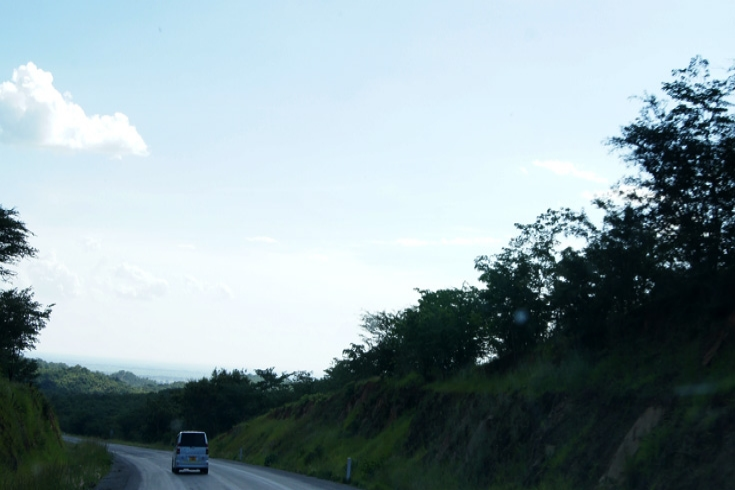 STORY HIGHLIGHTS
With support from the World Bank, Sekenke Road has been rehabilitated, improving the safety and decreasing travel time on the main regional trade route
The road rehabilitation was part of the $122 million Central Transport Corridor Project
The road has also opened up more opportunities for entrepreneurs
SEKENKE, June 6, 2014 – If ever there is a place – or just 33km of road – that commands legendary status among travelers in Tanzania, Sekenke Road would be it.
The rough, narrow, winding road straddling the treacherous Sekenke escarpment was almost always an insurmountable challenge for heavy trucks, which constituted the main traffic on it. At any time, there could be one truck or more to be stalled on the road, ending up stranded for days, with traffic stretching back in both directions. More than a few trucks tumbled over the escarpment, and travel that should have taken hours could take several days.
Martha Njunwa, a Dar es Salaam resident from Kagera region, remembers the one trip she ever made home via the Sekenke Road. It took seven days on bumpy, slippery road, with four days spent in traffic in Sekenke.

I remember closing my eyes for the entire stretch and praying silently all throughout. It was a terrifying experience.

Martha Njunwa
A Dar es Salaam resident from Kagera region
Since the implementation of the $122 million Central Transport Corridor Project (CTCP1), as part of a wider government and multi-donor effort to open up the central transport corridor, this stretch of road has been rehabilitated, making the route easier and safer for trucks and travelers from the western regions of the country.
As the central corridor of the national truck road system, it carries the highest volume of international freight across the country, usually between the strategic Port of Dar es Salaam to the east and western Tanzania, and regional destinations such as Burundi, Rwanda, the Democratic Republic of Congo, and Uganda.
With World Bank financing, the $45 million road construction began in May 2005, and included the creation of a new, all-weather alignment at a much lower altitude than the treacherous old road further up the escarpment. This automatically reduced travel time between Singida and Shelui from an average of five days to a maximum of 50 minutes.
Philippe Dongier, the World Bank's Country Director for Tanzania, Burundi and Uganda, said investments in infrastructure such as roads are core to the World Bank's partnership strategy in Tanzania (2012-2015), whose main objective is to address binding constraints to growth and to make growth more inclusive.
"A road is one of those things on which you can never go wrong because it opens up limitless opportunities, whether you are talking about education, health or trade," he said. "Sekenke is a typical example of how this works."
The road was complete and inaugurated by President Jakaya Kikwete in May 2008, and its impact was almost immediate. The effect on regional trade is visible in the increased cargo traffic that has already exceeded pre-project estimations. At the time of starting construction, the road was recording an average traffic of 200 motor vehicles per day, and the project's target was to raise this to 759 by the end of the project in 2009. By 2013, traffic increased to an average of 1,135 vehicles per day, and to 1,200 by January 2014.
Yonas Mchomvu, the World Bank's Senior Transport Specialist, said the goal of rehabilitating Sekenke Road was to enable through traffic.
"This was achieved as it has fully addressed trade linkages, in which case you are talking about reduced vehicle operating costs and travel time and these translate into reduced transportation as well and doing business costs," he said.
While the project of was meant to address the country's strategic positioning in regional trade, it has also helped entrepreneurs by making the region more accessible, said Parseko Kone, regional commissioner for the Singida region where Sekenke is located.
"People can choose which markets they want to sell their produce to and they are assured of reaching that chosen destination unlike in the past," Kone said. "When they take sunflower oil, honey or cotton to sell in Mwanza, they come back with fish to sell here. All this increased economic activity is visible as with more incomes, people have built better houses. They can easily transport the building materials they need."
Singida region is enjoying a fresh lease of life with the recently improved road access. It has acquired 370km of paved roads in the past 10 years – from zero kilometers in 2003. With the variety of bustling new hotels, the busy bus stand and a planned referral hospital, all signs are that the town is primed for even brighter prospects.
"We expect to be very far in the coming five years," said Kone.