FEATURE STORY
A Polio-Free India Is One of the Biggest Achievements in Global Health
May 29, 2014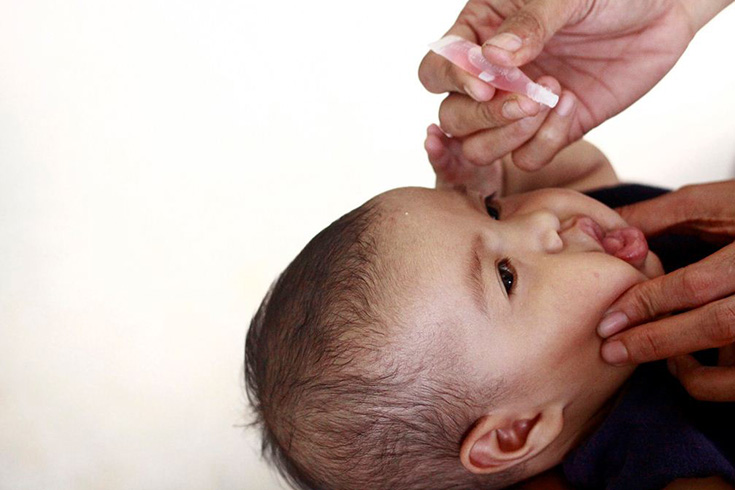 Last month, India achieved one of the biggest achievements in global health: it was certified as polio-free by the World Health Organization after three years without an endemic case of polio. After almost twenty years of fighting the disease, the Government of India (GOI), with the support of the World Bank, UNICEF, WHO, Rotary International, civil society organizations and millions of volunteers, finally graduated from being one of the four last countries in the world where the polio virus remains endemic.

Collaboration at all levels was key to India's success.

Vikram Rajan
World Bank Senior Health Specialist
Defying the challenges

India began aggressively battling the disease in response to the WHO's 1988 Global Polio Eradication Initiative. Despite some progress in the 1990s, many people doubted that India could actually eradicate polio given the enormity of the country's seemingly insurmountable obstacles.
The logistics of delivering and administering the vaccine across a vast, varied terrain with poor health services and roads were incredibly complex. "One of the biggest challenges was maintaining a cold chain for the vaccines all the way to the health centers," recalls Vikram Rajan, Senior Health Specialist, World Bank. To do so required a sustained, streamlined and coordinated effort by all partners. The vaccines were procured on a strictly fixed schedule, and vaccine storage facilities were built nation-wide to ensure timely delivery and an appropriate supply at all times.
"The World Bank's financial and technical assistance contributed to procuring quality vaccines over many years," says Dr. V.K. Manchanda, former Deputy Director General, Ministry of Health and Family Welfare, GOI and Consultant with the World Bank. From 2000-2013, the World Bank provided over $640 million toward polio eradication in India.
The human scale of India's polio eradication effort was also an impressive effort. Over 2.4 million volunteers and 150,000 vaccine administration supervisors helped administer the oral polio vaccine to 170 million children under five years old on two nation-wide immunization days each year. Areas where polio cases were concentrated such as the northeast states saw 5-6 repeat rounds, reaching 70 million children each time.
India did not have enough health workers to administer the vaccine, so the World Health Organization led a large-scale training effort of non-health workers to learn "how to administer the drop, when and how to discard it, and how to maintain records," recalls Mr. Rajan, "many thousands of people touched the data." It was a full-fledged effort, relying on committed people around the country. Early on, according to Dr. Manchanda, the Indian armed forces and Border Security Force even helped transport vaccines to far-flung villages in the mountainous North East of India and inaccessible areas of the Rajasthan desert.
Identifying who had not received the vaccine, and then persuading them to get vaccinated, was yet another herculean challenge. Adding complication was a resurgence of the virus in 2002 and 2007. This required an renewed campaign effort by the Government of India and partners, both in terms of innovation and coordination.
The Government of India and partner organizations adopted an multi-pronged strategy to tackle the polio resurgence. The WHO mapped every house and child in endemic areas. Rotary International launched a massive communication campaign, enlisting the biggest Bollywood stars to spread the message. And UNICEF led the social mobilization effort in India's northern plains where the disease was endemic and resistance to the vaccine the strongest. "Preliminary data at one point showed that minority communities in the north formed 70% of the total caseload of polio outbreaks," recalls Dr. Anis Siddique, Polio Program Specialist, UNICEF India. These communities distrusted the polio eradication campaign due in part to misinformation.
According to Dr. Siddique, parents did not want their children to be vaccinated against polio for a number of reasons, including "general distrust of health services and motivations; suspicion of vaccine as a tool to control population; and belief that the polio vaccine was manufactured with fraudulent materials."
To fight the spread of misinformation and a culture of distrust, UNICEF launched a community campaign that mobilized local champions and volunteers with similar religious, occupational and social backgrounds as the target communities to speak with influencers in each community. The approach also enlisted local mosques and minority universities to issue letters in support of the polio eradication campaign. It worked.
An impressive effort pays off
"Collaboration at all levels was key to India's success", says Mr. Rajan. Strong political will at the highest levels, secure financial resources, and an incredible network of volunteers and supervisors to administer the vaccine across India were critical factors, as was the indefatigable effort by the Indian government from the national to the local levels. "Indian states have fully owned the effort in the past few years," explains Dr. Manchanda.
"Polio elimination in India constitutes a global public good. The Bank is at its best when it partners in such initiatives that go to the heart of eliminating poverty and enhancing shared prosperity," says Ramesh Govindraj, Lead Health Specialist, South Asia Region, World Bank.
Next steps
India must continue its efforts to guard against polio. One potential way for polio to return is through migrant populations. For the past few years, the polio vaccination campaign has targeted train stations where people travel from polio-infected areas. Today, India also enforced travel restrictions to polio-affected countries and requires travelers to carry proof of polio vaccination. Continued surveillance of polio outbreaks is also a critical to maintain polio-free status. "It is a normal tendency to say 'we've done it,' but India must maintain intense focus and a significant effort to maintain the polio-free status," says Mr. Rajan.