FEATURE STORY
Fish Hatchery Breeds Good Business in Nangarhar Province
May 15, 2014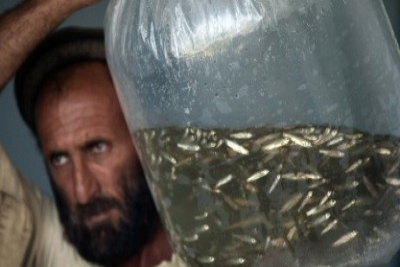 STORY HIGHLIGHTS
A fish hatchery in Nangarhar province is showing the way to success for small- and medium-sized rural businesses.
With technical and training assistance from the Afghanistan Rural Enterprise Development Project, the hatchery is now providing fingerlings to as many as 450 fish pond owners in eastern Afghanistan.
The project, under the Ministry of Rural Rehabilitation and Development, is supported by the World Bank and the Afghanistan Reconstruction Trust Fund.
JALALABAD, Nangarhar Province - Abdul Baqir frequently carries 2,000 nervous passengers in the back seat of his small white car. Called fingerlings, his companions are baby fish that bob and flit around heavy plastic bags filled with water until they can be released into four ponds on Baqir's property in eastern Afghanistan's Nangarhar province.
To replenish his supply, Baqir visits the Rahmat Insaf Fish Hatchery in Bagrami village on the outskirts of Jalalabad. It's a pleasure to make the trip and pick up another batch of fingerlings at the hatchery in Sukhrud district, says Baqir, because he no longer has to make a long, expensive journey to suppliers in Pakistan.
"For me, this is much cheaper, my transportation costs are reduced, it's less time consuming and I am 100 percent supporting my own country and its people," he says.
The hatchery's owner, Haji Ghulam Mohammad, agrees that his business is as much about national pride as it is about practicality. "This is a highly complex process and sometimes we have had to learn by making errors," says Mohammad. "But we are 100 percent trying our best to do this the proper way so we can support our family, but also because we want this industry to be successful in Afghanistan."
He has had setbacks trying to get the company off the ground but he credits the technical and training assistance offered by the Afghanistan Rural Enterprise Development Project (AREDP) with helping his family acquire the necessary skills to run the business. Launched in March 2010, this Ministry of Rural Rehabilitation and Development project is supported by the World Bank and the Afghanistan Reconstruction Trust Fund (ARTF).
AREDP aims to improve participation of the rural poor in economic activities by providing business development services, improving their access to finance, and strengthening market linkages and value chains.
Opportunity to train abroad
Mohammad first became fascinated with fish hatcheries when his family lived in Pakistan more than a decade ago with other refugees from the Afghan conflict. "I saw the hatcheries there and thought it could be a good idea for us. Everyone loves fish in my country."
About eight years ago, on land that his family of six brothers previously used to grow wheat, tomatoes, and other crops, Mohammad had six large ponds dug and inter-connected by a steady supply of water from a nearby canal. They also constructed a building with three circular concrete tanks where the fish hatchery process takes place each spring for three months.
Getting four different species of fish (mori, silver, raho, and grass) to agree to have their babies in this environment takes a mixture of great skill and good luck, he says. The process requires a series of steps that happens quickly and often through the night. Just getting the large fish out of their ponds demands the services of a special fish 'wrangler' who throws large nets over unwilling participants.
Then, expertise is needed to identify the fishes' sex and age (which must be at least three years old) to qualify them as 'breeders.' Once suitable couples are found, they are injected with hormones and released into a tank where mating may or may not happen. "Sometimes we are trying 15 times and still nothing," says Mohammad. "Maybe the water is too cold, or something isn't right. It's a big challenge."
But when the pairing is successful, it can produce as many as 200,000 babies, and business is good. It is Mohammad's son, Ghulam Nabi, 30, who has become the family expert. With the help of AREDP, Nabi has already travelled to India twice for training at fish hatcheries there. "I learned from a man in India who has 27 years of experience in this business, so even now when I have questions, I can phone and take advice from him about what we should do."

This is an important industry for our country, with so much potential. And besides, my children love fish. I do this for them.

Abdul Baqir
Fish pond owner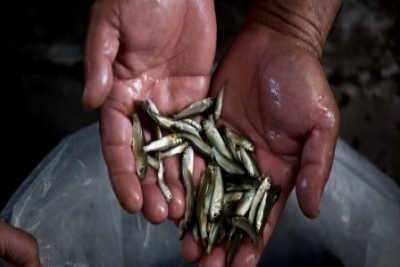 Serving as business model
The AREDP support has been "very helpful," says Nabi. "They are always here checking to see how we might improve." Nabi has also taken business courses in London, England and is eager to apply his skills to the family fish enterprise. "We are doing our level best here, despite the difficulties. If things don't always go well, maybe slowly, slowly it will get better."
Most recently, the family suffered a devastating setback after their entire pond of potential 'breeders' for the 2013 season died in one night. They're not sure what happened. A video taken the next day shows dozens of dead fish floating on the pond's surface.
Now the family will struggle to purchase fish for this breeding season while hoping their next batch, still thriving in another pond, survives until next year. To date, the family has been a key source of fingerlings for as many as 450 owners of fish ponds elsewhere in eastern Afghanistan, says Niamat Rasool, AREDP's business development service officer in Nangarhar province.
AREDP officials hope this fish hatchery will become successful so it can also serve as a training model for others interested in the business, says Rasool. "This family is working very hard on an important project and we want to support them as much as we can."
Strapping a bag of fingerlings into his car's backseat, Baqir says the fish business has already been profitable for him. "After these babies are one year or more, I can sell one kilo of fish for about 200 Afghanis [about $3.50]. It costs me about 75 Afghanis to raise them. So we can make a good profit."
Baqir also employs four people to help run his business. "This is an important industry for our country, with so much potential. And besides, my children love fish. I do this for them."