FEATURE STORY
Community Savings Program in Malawi Helps Women Build Savings, Invest in Businesses and Provide for Their Families' Future
March 31, 2014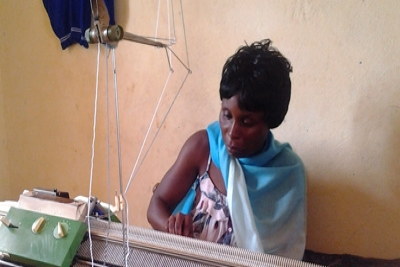 STORY HIGHLIGHTS
What started out as a public works program in Malawi has created a community savings and investments cooperative, COMSIP, with more than 99,000 members in rural areas
Through the cooperative, men and women are able to increase their savings and invest in business, education and other life-changing priorities
The ultimate goal is to help people in rural communities build resilience to sudden losses of income and to hunger
MALAWI, March 31, 2014—"When my daughter and son-in-law passed away and my four grandchildren became my responsibility I didn't know what to do," says Mrs. Gilaselia Denesi. "I was already poor and had nothing and we couldn't even manage a meal a day for all of us."
According to Denesi, a resident of Bongera village in central Malawi's Mchinji District, this was before she joined the Community Savings and Investment Promotion (COMSIP) program, a public works project funded by the World Bank Group.
"Then the public works program started in our area and I was able to join the savings group," said Denesi. "Over time, with my savings from my public works wages, I was able to borrow from the group and set up my own spot for selling small groceries in the village."
Denesi proudly smoothens her brightly colored Chitenji dress and speaks up at a COMSIP meeting in her village.
"Look at me now!" she says. "God be praised, today my grandchildren, are in school, they are not hungry and even I have some time to have tea in my home. Can you imagine that? I am wearing a new dress today and I have some time for tea!"

Look at me now! God be praised, today my grandchildren, are in school, they are not hungry and even I have some time to have tea in my home. Can you imagine that? I am wearing a new dress today and I have some time for tea!

Denesi
Resident of Bongera village
The members of Denesi's savings group–mostly women and many holding babies—assembled at their meeting place on a bright sunny day in September and smiled in amusement at "Mama Denesi's" flair for words. But they were all very serious about her message. Across the country COMSIP members are using their savings to make investments that are increasing their incomes.
COMSIP evolved out of the Malawi Social Action Fund's public works program. Financed by the World Bank, the program encourages savings and investment as a key tool for its members to withstand sudden losses of income and food insecurity in a region often hit by changes in climate that impact agriculture and food production.
The cooperative also plans to provide matching grants to its members' savings. The grants can be used towards training and small investments in a range of areas including health, nutrition and micro businesses.
With the assistance of extension workers from the Ministry of Gender, the program has mobilized 99,153 public works participants into 4,457 savings groups across Malawi's 28 District Councils. Average savings amount to US$20 per individual.
Savings mobilized through COMSIP groups have been invested in lending to members and in some cases for group investments such as retailing, bee keeping and pig, and irrigation farming, among others. The members in turn use the savings to invest in small scale enterprises: buying and selling agricultural produce, investment in livestock, cash crop farming, and production such as bakery, winery, and mushroom growing.
A total of 1,275 groups with 27,252 beneficiaries–65% of them women—have also been trained in financial literacy and business management. Their new skills have helped improve their business performance and leverage more savings.
In Thyolo district, Mrs. Fossy Mkozombo is a member of the Zatonse COMSIP Cooperative. Through her membership, she has increased her income, the number of cows she raises, and her savings in the group. And she has become a model dairy farmer in her community. Through the program she's been able to develop her dairy farming skills, pay her children's and grandchildren's school fees and pay for more nutritious food for her family.
"COMSIP creates opportunities for community members to be able to save and invest in livelihood opportunities which allow them to graduate out of safety nets," says Maniza Naqvi, Task Team leader for the World Bank-supported project. "COMSIP can help people to improve and increase their incomes and in the process become resilient to shocks."
"The ultimate goal," according to Naqvi, "is to graduate most people out of food and cash transfers, reduce the risk of food insecurity and promote alternative sources of income and employment among the members of the cooperatives."
In Southern Malawi's Zomba District, Mrs. C. Mwanyali and other members of the Sakata COMSIP Cooperative, used their savings to invest in a retail shop.
In Northern Malawi, Mrs. Chilani of Mzuzu City, invested her savings in a taxi business and has managed to buy a car with the proceeds from the cooperative. Her fellow COMSIP member Mrs. Joyce Sichali has taken up knitting as a business.
"COMSIP is one example of how to graduate people from safety nets to self-reliance," says Naqvi. "We are proud of the positive changes the program is making in people's lives."