FEATURE STORY
Making Mining Deliver on Development in Latin America
March 13, 2014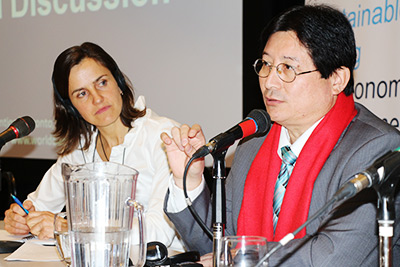 STORY HIGHLIGHTS
Focus on responsible mining practices, transparency and equitable sharing of benefits
Community consultation and dialogue seen as key factors for sustainable development
Institutional and regulatory reforms enhance development contribution of mining
Mining investment has grown exponentially in Latin America over the past decade. In Peru, investment grew from $109 million in 2003 to $3.5 billion in 2013. In Colombia, from 2009 to 2012 the share of public revenues generated by mining doubled from 12% to 25%. This influx of investment has been a welcome economic stimulant but it also poses challenges for governments to manage these investments:
responsibly, in relation to environment and communities;
transparently, in relation to revenues collected and distributed;
equitably, to stimulate local economic development and share benefits with communities.

Latin American countries have become leaders in innovative responses that facilitate the transformation of mining investments into positive development outcomes that contribute to poverty reduction and boost shared prosperity.


Paulo de Sa
Manager of the Sustainable Energy, Gas, Oil, Mining Unit, World Bank
How are Latin American countries managing these boosted revenues and balancing them with community's needs? The World Bank convened leaders from the Latin American mining sector at the PDAC 2014 (Prospectors and Developers Association of Canada) conference in Toronto, Canada, in early March, to discuss ways to seize these opportunities to advance sustainable development.
One answer is through better regulation and institutional reform. "Colombia had to bring order to its mining industry," said Amylkar Acosta, the country's Minister of Energy and Mines. One unique mechanism Colombia has used is the dedication of 2% of mining royalties to the mining regulatory agency. This allows the regulatory agency to be more professional, technical and independent in its oversight of mining operations, which is an effective way to ensure that mining operations are developed responsibly, complying with all social and environmental requirements. In addition, the Colombian Ministry of Mines and Energy has used geological data to identify strategic areas for mining that are to be tendered in an effort to set higher requirements and standards to limit license applications to more technically and financially qualified investors.
Another answer is through consultation and communication. Guillermo Shinno Huamaní, Vice Minister of Mining of Peru, highlighted mesas de desarollo (or development tables) as a mechanism the Peruvian government introduced to address conflict by agreeing on the short, medium and long-term agenda for mining regions' development. The development tables bring together the corresponding levels of government (local, regional, national), companies and communities into one dialogue. Communities' views and concerns are heard, while government and companies are encouraged to engage early on with community representatives.
Communities hosting mining operations in Peru have felt an absence of the state for decades, so many have a long list of grievances. The development tables are a way to engage in this discussion early on, bring state presence to these communities, and not leaving the companies to fill that vacuum.
Vice Minister Shinno highlighted the example of the Cotabambas region where the development tables resulted in the investment of US $100 million of social investment in the region's six districts.
Another mechanism is works for taxes, a program that allows private companies to finance public infrastructure projects identified by regional and local governments in exchange for tax credits. In 2013, $144 million was invested in public infrastructure projects through this mechanism. In Arequipa region, a potable water plant developed by the mining company Cerro Verde provides drinking water to 500,000 people. This investment took over two years and required $90 million in investment.
Central American and Caribbean representatives from the Mining and Energy ministries also highlighted the potential for growing investment in their countries and their initiatives to engage in dialogue at an early stage. Ivanova Ancheta, Vice Minister of Sustainable Development in Guatemala's Ministry of Energy and Mines, outlined strategies for conflict management that include sustained dialogue with communities, comprehensive stakeholder identification and community needs assessments.
"The heated discussions around mining investment that have arisen in Latin America are in large part due to the rapid growth in such a short time period," said Luis Guay, a Canadian former diplomat who moderated the panel on Colombia. "Increased and sustained dialogue among governments, companies and communities will generate the innovative solutions and effective partnerships that will benefit all concerned and reduce conflicts in the future."
All the countries represented at the World Bank session on mining in Latin America at PDAC cited the importance of transparency in efforts to increase understanding and build trust among stakeholders. Peru highlighted its achievement as the first Latin American country compliant with the Extractives Industry Transparency Initiative (EITI), which makes revenue payments from the extractive industries and their management by the government more transparent. Guatemala highlighted that they are close to becoming a compliant country, while Colombia is moving towards becoming an EITI candidate country.
At the conclusion of the conference, Paulo de Sa, Manager of the Sustainable Energy, Gas, Oil, Mining Unit of the World Bank highlighted that "Latin American countries have become leaders in innovative responses that facilitate the transformation of mining investments into positive development outcomes that contribute to poverty reduction and boost shared prosperity."