FEATURE STORY
Growing Together – Coupling Economic Growth with Social Inclusion in Turkey's Health Care Sector
December 18, 2013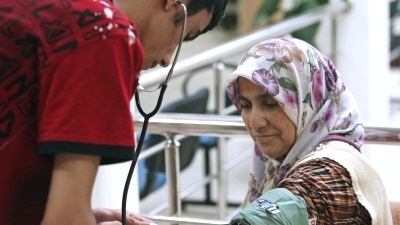 Highlights
Economic and social reforms in Turkey have helped the country emerge from decades of economic crisis.
Improvements in the health care sector have increased life expectancy and decreased infant mortality by more than half in just over a decade.
Turkey is featured as one of 11 case studies in a new report designed to help low-and-middle-income countries learn from each other as they implement universal health care.
Ten years ago Turkey was at the beginning of a long road to economic recovery and social development. Following a decade of political instability, weak macroeconomic management and poor governance, the country entered the 21st century in deep economic crisis, compounded by a devastating earthquake in 1999.
Instead of driving the country into further economic and social decline, however, these difficulties proved to be a catalyst for change. Fast forward to today and one sees a drastically different landscape. The country is now the 18th largest economy in the world, with a Gross Domestic Product (GDP) of more than $780 billon and Foreign Direct Investment of $8.4 billion in 2012.
While Turkey's economic success in terms of rising incomes, in particular in USD terms, and improved macroeconomic stability is well recognized, a less well known aspect of Turkey's achievements since the start of the millennium are the improvements in its social services, focused on providing access to all citizens and recording impressive increases in social outcomes.
Progress made in the country's health care sector – which has all but been transformed over the last decade – provides a vivid example of Turkey's approach to ensuring economic gains are also reflected in social improvements. In 2003, the authorities launched the Health Transformation Program, a ten year health reform initiative designed to bring Turkey's health indicators in line with other middle-income countries and those in the Organization for Economic Cooperation and Development (OECD).

Turkey's example proves that financial constraints—even a major financial crisis—can catalyze the expansion of coverage.

Jim Yong Kim
World Bank Group President
Turkey's health care efforts prioritized primary care in the initial phase and focused on expanding coverage and access to basic health care services. Thus, the level of health insurance coverage increased from 71% in 2003 to 99% in 2011. Performance incentives and improved monitoring enhanced the quality of medical services, while proactive assignment policies greatly reduced the disparities in the availability of health personal between the advanced west and less advanced eastern parts of the country. As a result of these and other efforts, life expectancy in Turkey increased by 5 years to 78 years for women and 6 years to 73 years for men between 2000 and 2011. The infant mortality rate was halved during the lifetime of this program - dropping from 28 per 1000 children born in 2000 to 12 in 2012.
The World Bank has supported the government through the Health Transition Project – which introduced a family medicine model and helped build the Ministry of Health and the Social Security Institute expand health insurance coverage – and the ongoing Project in Support of Restructuring of Health Sector - which supports reforms aimed at increasing hospital autonomy, expanding family medicine services, and strengthening performance management and pay-for-performance initiatives.
With Turkey emerging as one of the world's success stories in the achievement of universal health care, Turkish officials are now looking at ways to share their experience with other countries. The recent Global Conference on Universal Health Coverage (UHC) for Inclusive and Sustainable Growth, held in Japan on December 6-7, provided an excellent opportunity for such knowledge sharing and brought Turkish policy makers together with colleagues from other countries, both successful and less successful ones.
"In Turkey, an economic crisis in the early 2000s prompted major government reforms and laid the groundwork for the 2003 Turkey Health Transformation Program," noted World Bank President Jim Yong Kim during his speech at the Global Conference, "Outcomes are impressive: Today, more than 95 percent of the Turkish population is covered by formal health insurance. The Program now provides a high level of financial protection and equity while ensuring high and rising levels of patient satisfaction."
A comparative study on achievements and remaining challenges in UHC, Global Synthesis: Lessons from 11 Country Case Studies, prepared for the Tokyo UHC conference finds that as countries move toward universal coverage, they continuously face difficult trade-offs between providing complete coverage and maintaining cost-effectiveness, particularly as the provision of health-care services tends over time to create its own demand.
Turkey's achievements in health care reform duly can serve as a model for other countries. But in today's dynamically changing world, Turkey too cannot afford to rest on its laurels, and must learn from the experiences of countries with rising health care bills after the achievement of UHC. This way, Turkey can continue to couple economic growth with improving social outcomes, and inspire many other developing countries to follow in its path.
"Turkey's example proves that financial constraints - even a major financial crisis - can catalyze the expansion of coverage. The Bank Group has been pleased to partner with the Turkish government to support this effort," concluded President Kim.