FEATURE STORY
Strength Through Unity: Working with Civil Society to Improve Service Provision in Ukraine
December 5, 2013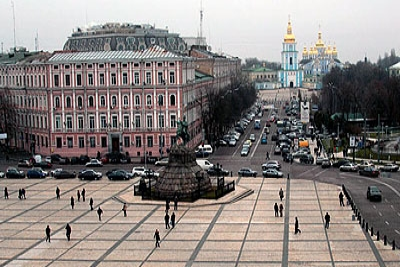 STORY HIGHLIGHTS
The work being carried out in Ukraine by the World Bank Group is benefitting from increased cooperation with Civil Society Organizations (CSOs) in the country.
A number of programs, trainings, and capacity building initiatives are currently underway, including a series of pilot projects through the Ukraine Urban Infrastructure Project (UIP) and other initiatives that are helping to improve the provision of municipal services through increased awareness and participation by consumers.
The success of this partnership is resulting in increased collaboration between the World Bank Group and CSOs in Ukraine and plans are underway to increase CSO participation in future projects.
Ukraine remains an active partner of the World Bank Group. With a collected World Bank Group portfolio that topped US$4 billion in 2013, the country currently maintains the 3rd largest portfolio among Multilateral Investment Guarantee Agency (MIGA) clients, the 13th largest for lending from the International Bank for Reconstruction and Development (IBRD), and is 14th among International Finance Corporation clients.
With such a large portfolio, it is unsurprising that Civil Society Organizations (CSOs) throughout the country actively continue to monitor the operations being implemented by the World Bank Group, in cooperation with the Government of Ukraine. It is also unsurprising that, in an effort to improve the implementation of this portfolio, the World Bank Group is also working to increase its cooperation with the civil society sector.
"The scope of the Bank's activities is immense and its programs have yielded a lot of tangible results, as part of the current Country Strategy," notes Leonid Kozachenko, Chairman of the Council of Entrepreneurs, a civic advisory body at the Cabinet of Ministers of Ukraine.
"However, we feel that you [the World Bank Group] could be bolder in promoting your projects more through public outreach – as information provision is key."
In support of Mr. Kozachenko's opinion, Tetyana Boyko, from the "OPORA" Civil Network, has called on the Bank to continue engaging with CSOs and support CSO-led public information campaigns, especially when it comes to changing legislation and improving Ukraines business environment.

Having a strong public information and outreach component in every Bank-funded project will help deliver results – and we stand ready to support you in this.

Tetyana Boyko
"OPORA" Civil Network
"We have seen how laws in Ukraine - for instance, [one] regulating housing rights of condominium owners - have been adopted because we created public demand and managed to withstand many political lobbyists who were against these changes. Having a strong public information and outreach component in every Bank-funded project will help deliver results – and we stand ready to support you in this," suggests Boyko.
In response to this challenge of bolstering its work in Ukraine through an increased provision of information, the World Bank is deepening its engagement with CSOs in the country.
This engagement is designed to help answer some key questions, including how to improve the World Bank Group's cooperation with Ukraine's civil society and looking at how non-governmental organizations define successful projects.
As part of this increased cooperation, the Word Bank in Kiev recently brought together different representatives from various CSOs – ranging from the Council of Entrepreneurs at the Cabinet of Ministers of Ukraine and the Ukrainian Association of Credit Unions to the Ukrainian Alternative Public Advocacy Club and the OPORA Civil Network – to discuss answers to these questions and more.
This most recent event is just the latest in a series of activities being developed in order to improve the way the World Bank carries out its mission in Ukraine through increased involvement by civil society.
Earlier this year, a team from the World Bank Institute's Open Government and Social Accountability practices organized an initial, two-day capacity building program on the monitoring of municipal services. The event was offered to civil society groups in four cities around the country.
In addition to these trainings and discussions, the World Bank Group is also concurrently implementing a series of projects and programs with CSOs in Ukraine. As part of this work, a new public procurement monitoring framework to assess procurement cost efficiency and transparency has been developed.
The development of this framework – along with the increased cooperation – is already beginning to bear fruit. A series of pilot initiatives to improve the monitoring of municipal services has been introduced in selected cities through the Ukraine Urban Infrastructure Project (UIP).
The results of this engagement can be seen in cities like Ivano-Frankivsk, where the Water Sector Accountability Improvement Project has helped equip residents there with knowledge of how to demand greater responsiveness from their water provider, leading to stronger consumer advocacy and improved service.
The success of these pilots is deepening the engagement between civil society in Ukraine and the Word Bank, so much so the many CSOs are now being invited to engage in the development of an expansion of this project – the Urban Infrastructure Project II – and continue to work in cooperation with the World Bank over forthcoming initiatives.
Tamara Sulukhia, Country Sector Coordinator for Sustainable Development, says that discussing big infrastructure projects with CSOs provides a great opportunity for hearing how Bank-financed projects can strengthen social accountability in the best ways possible.
Engaging CSOs in the design of the new UIP-II project, for example, will allow for demand side governance improvements to be added to the project, including public hearings in partner cites on communal services, increased public participation among cities' selections criteria for participation in the project, and introduction of the feedback mechanism at the level of local government and local utility.
These types of improvements, facilitated through cooperation, are only expected to increase as more projects are designed with inputs from the civil society sector from the outset.
"The World Bank aims to expand the network of CSOs we cooperate with," noted Victoria Siryachenko, Senior Country Officer for Ukraine, during the recent workshop, "we share the same principles when it comes to the quality and openness of our activities."