FEATURE STORY
Uganda Poised to Grow Faster
December 4, 2013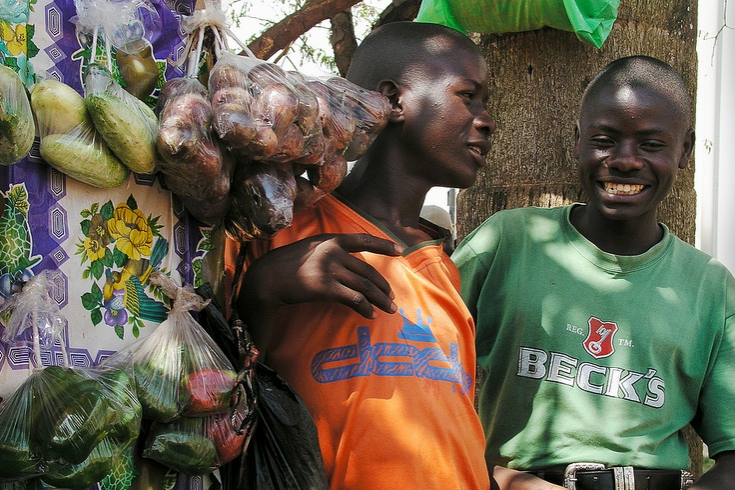 After a Slow Period, Ugandan Economy Picking Up
Uganda's economy has recovered to 5 percent growth, following a dip in 2012 to 3.4 percent, and is poised to improve even further.
The World Bank predicts a growth rate of 6.5 percent in 2014.
The government's challenges will be to create an environment for business growth and to properly manage the exploitation of the country's natural resources.
In a two-part report on Uganda's economic environment, the World Bank found that the country is poised to recover from a brief slump and build back up to previously seen growth rates of 7 percent a year. Uganda will likely benefit from recent oil-related investments, but how it manages these benefits is crucial to its success moving forward. It will need to execute prudent fiscal management and good governance and work to diversify its economic base. The biggest challenge facing the government is one detailed in the second part of the report: creating a business environment that will enable farms and firms to grow and create productive jobs.
Uganda's macroeconomic environment has seen ups and downs. From 2001 to 2008, the country's economy grew at a good clip: an average of 9.3 percent annually. That rate then began declining, reaching a low of 3.4 percent in 2012. This was accompanied by a decrease in per capita income and an increase in the proportion of people living below the poverty line (from 25 percent to as much as 29 percent). The economy picked up again in 2013 and is estimated to have grown at a rate of about 5 percent.
The current, improved stability may make it possible for the government to implement long-term fiscal and structural policies to accelerate growth and ultimately achieve middle-income status. The report forecasts that the country's economic recovery will gain momentum in 2014 reaching 6.5 percent growth. The improvements will be driven primarily by the services sector, including communication and finance. Also strong will be the construction sector and agriculture.
Key to accelerating growth is diversification of Uganda's economic base. Currently, the agricultural sector is the predominant employer – with 73 percent of the labor force – but the labor force is rapidly urbanizing. By 2020, about 20 percent of the total labor force will live in cities. On the one hand, the country will need to modernize its agriculture production. Currently, the government is improving rural infrastructure, facilitating farmers' access to finance, and bringing research and advisory services closer to farmers. It will further need to ensure that land rights are secure and encourage new methods of urban farming.
On the other hand, the country will also need to effectively manage the transition of its labor force from subsistence agriculture to manufacturing and services. This includes making the informal sector – especially artisans and household-based enterprises – more productive by providing it with access to capital, training, and a good working environment.
Finally, Uganda will need to take a disciplined and planned approach to the exploitation of its natural resources, particularly oil. Though it is uncertain when Uganda's oil production will begin, the country has proven oil reserves of at least 800 million barrels and may have closer to 3.5 million barrels. Production at this level could double the government's total revenues in less than 10 years. Production will place considerable pressure on government regulatory and oversight systems, and several donors have cited the expected revenues as a rationale for stopping aid. The government will need to manage the transition from aid flows to oil income by increasing tax revenues, borrowing strategically, relying on some private financing through public-private partnerships, and improving the efficiency of public spending.