FEATURE STORY
In Chaco Province, work is underway for access to clean and safe water
November 21, 2013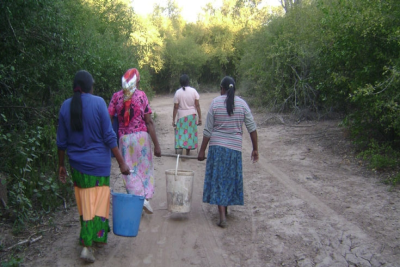 STORY HIGHLIGHTS
In Buenos Aires, water consumption per capita is 500 liters a day whereas it is just 20 liters in northern Argentina.
In some areas of northern Argentina, women still spend from four to six hours a day carrying water in buckets or drums weighing up to 30 liters. In Nueva Pompeya in the Gran Chaco region, residents must walk at least half a kilometer to the closest lagoon to obtain water of questionable quality.
In the best of cases, rural communities get water from water tanks, dams, windmills and rainwater accumulated in natural depressions or reservoirs. Underground water and water distributed by cistern trucks complement this supply.
Argentina is home to vast water resources, which provide 80% coverage of the water supply system. However, it also has areas of extreme poverty in its northern provinces, with deficient services, contamination and few water sources, as well as a serious lack of investment and limited financing.
In Buenos Aires, water consumption per capita is 500 liters a day whereas it is just 20 liters in northern Argentina.
One of the most affected regions is Chaco, where all efforts are now focused on building works to provide a constant supply of clean water to one of the poorest areas of the country.
Waterworks for Chaco inhabitants
Currently, the government is implementing the Programa de Infraestructura Hídrica del Norte Grande (Water Infrastructure Program for Norte Grande) in nine northern provinces. The work began in Chaco, where a water treatment plant is being built in Presidencia Roca, which, together with an aqueduct network, will improve the lives of 48,000 residents of seven communities, 40% of whom live in poverty.
"This is a clear example of how to reduce poverty through delivery of a basic service such as drinking water," said Christophe Prevost, a World Bank water and sanitation expert.
In addition, a treatment plant and an aqueduct are planned for the communities of Wichi, Nueva Pompeya and Fuerte Esperanza in the dense Chaco woodlands, where 42,000 people live, mainly members of the Toba and Wichi indigenous communities.
"Consultations with indigenous and other local communities maximize social benefits and minimize environmental impact from the moment of project design," said Alejandro Salamon, environmental specialist of the Norte Grande Program.
Thanks to this participatory tool, the initial project was expanded to include dispersed communities, where public standpipes connected to the aqueducts will be installed. In even more remote areas, 750 rainwater collection tanks will be installed.
Another related effort is the Sed Cero (Zero Thirst) initiative, which brings together a variety of stakeholders to promote socio-productive development and social inclusion with an emphasis on water. Promoted by the Water and Youth Movement, the Avina Foundation and Chaco Networks, Sed Cero will work in the Gran Chaco region, which extends through Argentina, Bolivia and Paraguay in an effort to provide water access to 100,000 families by 2016.