FEATURE STORY
Vietnam: Group Farming of New Products as A Way out of Poverty
November 12, 2013
STORY HIGHLIGHTS
Farmers in Vietnam formed over 6,000 common interest groups to grow agriculture products with support from a World Bank-assisted project.
The project also rehabiliated 3,800 km of roads and constructed 1,500 meter of bridges to improve market access for farmers.
Since joining those groups, farmers' income has increased significantly.
Lo Thi Tiep, 28, lives with her husband and two kids in a mud thatch house in Bung Lao commune, Dien Bien Province in Vietnam. The commune is home to members of the Thai ethnic minority. In that commune, more than 70 per cent of households are living below the poverty line. This is a very high rate compared to the national poverty of 14.2 per cent.
Tiep's family has a tiny plot of land. Every day, she leaves at the crack of dawn to work in the rice paddy field but productivity is low because there's little water to irrigate the field. To make ends meet and to be able to buy rice during the lean season, Tiep works as a seasonal laborer in a nearby coffee farm while her husband works as a mason. Despite their hard work, her family has barely earned VND 800,000 per month (equivalent to $40 US dollars).
However, since 2012 when Tiep joined a women's group in the commune that raised pigs to earn additional income, their life has improved remarkably.
"Our life was very difficult," says Tiep. "Now, thanks to the pigs, we have some money to buy clothes for the children and send them to school."
To help the women in Tiep's group jumpstart their livelihood raising pigs, a World Bank-supported project provided them with two small pigs each, some initial feed, and training on sanitation, effective feeding and disease prevention. Called the Second Northern Mountains Poverty Reduction Project, it supports the rural poor and ethnic minorities of the poorest and most disadvantaged areas in northwest Vietnam.
Tiep is recognized as the best pig farmer in the group. In just one year after she started with two piglets, Tiep now has five "beautiful pigs" (in her words), which can bring her VND 12 million (almost $600) in profit over five months -- that is three times higher than her household income before she joined the group.
"I am very proud of the pigs," says Tiep while feeding the pigs. "They are vibrant and shiny, and grow well."
Tiep and other group members meet up monthly to visit the piggeries and share experiences in pigraising. The farmers also advertise the livestock for sale by putting up posters on the main road where traders regularly pass by. They help one another in ensuring that they don't sell their pigs below the prevailing market price.

Our life was very difficult. Now, thanks to the pigs, we have some money to buy clothes for the children and send them to school.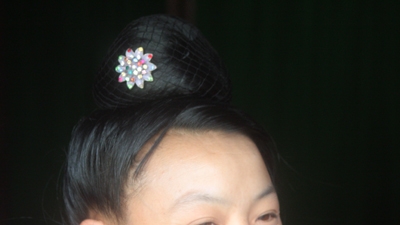 Lo Thi Tiep
Farmer, Dien Bien Province, Vietnam
Eight-fold increase in household income
Similarly, poor farmers in the Muong Khuong district of Lao Cai Province are reaping the benefits from working together in a group for collective action. When they realized the potential of growing chili peppers, they decided to form a group that would help them increase their harvests and market them more effectively
Under the same project, they were given initial seedlings and fertilizer to start planting 2,000 m2 of field each. Group farmers were also trained in pruning and other techniques to help increase the chili's productivity.
By July 2012, they started their first harvest and six months later, each farmer had earned between VND 30 and 40 million (between $1,500 and $2,000 USD) from the chilies. Compared to the income they previously earned from growing corn on the same land area, the amount is nearly an eight-fold increase.
"I noticed that many poor households with heavy debts were able to pay them back thanks to the profit they made from growing chili," says Thao Thi Lien, who just recently joined the group. "Chili plants are more resistant to disease… and the price is stable."
The farmers' group prevents price manipulations by traders through an agreement with the local Muong Khuong General Trading Cooperative that processes the chili and markets chili paste to other provinces in Vietnam.
Connecting farmers with markets
The pig-raising and chilli-growing ventures are only two out of over 6,000 common interest groups producing similar agriculture products in six north-western provinces in Vietnam with support from the project. More than 50,000 poor households are expected to benefit through improved productivity and incomes.
To improve the trading connectivity and market access for farmers in remote areas, the project has also supported the rehabilitation and upgrading of 3,800 km of feeder roads and paths, and constructed almost 1,500 meters of bridges, among other types of infrastructure.
Like other farmers in the group, Tiep is confident that the pigs are her best savings account and will help make her dream come true.
"I will expand the production to 10 pigs," Tiep says. "By then, I will have enough money to build a new house and we will be able to escape from poverty."