FEATURE STORY
An Agricultural Revival in the Sahel: Landmark Conferences on Pastoralism and Irrigation Lay Foundation for Durable Growth
October 31, 2013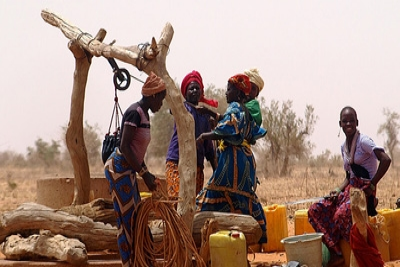 STORY HIGHLIGHTS
Two landmark conferences on pastoralism and irrigation served as the foundation for an international effort to revive agriculture in the Sahel, home to 16 million pastoralists
A regional approach was adopted to boost pastoralism and tackle shared challenges such as trade and early warning and response systems
Participating institutions recommitted to doubling the amount of irrigated land in the Sahel, which is vital to transforming agriculture in the region
NOUAKCHOTT, October 31, 2013 -- In a new regional push to revive agriculture in the Sahel, two landmark conferences on pastoralism and irrigation have kicked off an international effort to lay the foundations for stronger growth in the Sahelian farm economy.
"Pastoralism matters for Africa's future particularly in the Sahel," said Makhtar Diop, World Bank Vice President for the Africa Region.

Pastoralism matters for Africa's future particularly in the Sahel,

Makhtar Diop
World Bank Vice President for the Africa Region
"So does irrigation. Both affect farming, the dominant industry in the region, which accounts for one-third and more of all economic output in the Sahel. This in turn empowers the women of the Sahel, as women account for the majority of Africa's farmers."
Pastoralism: Building Resilience for a Sustainable Future
Pastoralism is the dominant economic activity in the Sahel, and pastoral communities have long suffered from the effects of droughts, flooding and social exclusion. Competition for water and grazing lands for crops and herds is growing and climate change is exacerbating the situation.
The Sahel is home to some 16 million pastoralists. At the Nouakchott meeting held on October 29, participants agreed to adopt a regional approach to boost pastoralism and tackle many related issues such as trade, trans-boundary animal diseases, policy harmonization, early warning and rapid response systems, conflict, and peace building measures, all of which involve a cross-border dimension calling for ever-greater collaboration that stretches across borders.
Diop joined President Mohamed Ould Abdel Aziz of Mauritania, President Idriss Déby of Chad, as well as regional Ministers of Agriculture, Rural and Community Development, senior business leaders, and representatives of producer organizations and civil society.
More Irrigation Vital for Transforming Agriculture in the Sahel
The Sahel is home to some of Africa's largest aquifers, yet its water resources are under-utilized. Only 20% of the irrigation potential in Sahel countries is currently developed. Of this, one quarter of the area equipped for irrigation is in a state of disrepair, and many schemes receive public support for operation and maintenance or recurrent rehabilitation.
In Dakar, on October 31, Diop joined President Macky Sall of Senegal, President Deby and government ministers from Sahelian countries, business leaders, and representatives of water user associations and civil society.
A major outcome of the Dakar meeting was a strengthened resolve by all participating institutions to double the amount of irrigated land in the Sahel for increased incomes and greater prosperity.
The commitments and resolve are reflected in two declarations issued in Nouakchott and Dakar.