FEATURE STORY
Sri Lanka: Preserving Wetlands for the Future
October 28, 2013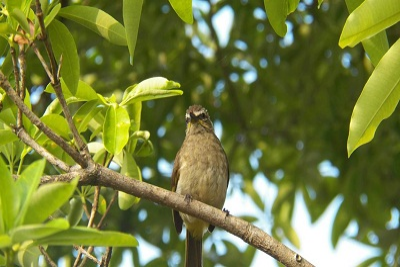 Highlights
Sri Jaywardenapura Kotte boasts a wealth of wetlands which are home to diverse species of plants and birds that serve to reduce flooding, maintain the quality of lakes and a cool atmosphere in Colombo.
However, the wetlands and the historical ramparts face threats from uncontrolled access and development work which has already taken a toll on their survival and the environment on the whole.
A part of the Metro Colombo Urban Development Project (MCUDP) will protect these wetlands for future generations through preservation, increasing Colombo's resilience to floods, and allowing residents to enjoy the benefits of living in close proximity to a natural reserve.
Sri Jaywardenapura Kotte is a landmark part of metro Colombo due to its historical importance as the site of the last kingdom of Sri Lanka. It is also the current administrative capital of the country. Most of the area surrounding the parliament complex in Sri Jaywardenapura Kotte consists of low-lying freshwater marshlands, a key feature of local topography. The Beddagana urban wetland, which is part of the flood plains of the Diyawanna Lake, has been a birds' paradise for decades. The local bird population uses it as a breeding site. Habitats as diverse as ponds studded with water lilies, wet shrub lands, seasonally flooded grasslands and mud flats are found in this vicinity. The challenge is to preserve the wetlands for the benefit of future generations.
Threats
Beddagana and Kotte ramparts wetlands are part of a larger Wildlife Sanctuary declared by the Department of Wildlife Conservation around the parliament lake in 1985. It is identified by the Sri Lanka Land Reclamation and Development Corporation (SLLRDC) as an important flood retention area. However, the pressure of urbanization and the demand for land over the years has resulted in threatening the future of these wetlands. Garbage is strewn in several locations. Currently, access to wetlands is uncontrolled and as such parts of the Beddagana wetland is used as an informal picnic site. Part of the wetland which has been filled with dredge material from the parliament lake when the parliament complex was built, has turned into a playground for the local community, car racers and motorcyclists. These activities intimidate the bird populations who thrive in quietness and seclusion. If left unattended, the wetlands may face the risk of being utilized for land development at some point in future.
Nippon Mawatha, through which the wetlands are accessed, is also an area with much cultural heritage as the ancient ramparts from the Kotte era can be spotted. Unfortunately, unregulated and unauthorized development has taken a heavy toll on the ramparts which are fast disappearing from sight with people building on them with no regard to its cultural and historical value.



Beddagana is a small area, but very important for its demonstration value, in particular with regard to how innovatively the multiple and very important functions of urban wetlands could be combined, preserved and managed in a sustainable way.

Rosanna Nitti
Project Lead
Challenge
The conservation and sustainable use of Beddagana and Kotte Ramparts wetlands aim to demonstrate that urban wetlands such as these offer a natural solution to keeping the city safe during heavy rains by detaining floodwater. It will also highlight that wetlands play an important role in treating surface run off, (keeping the Diyawanna lake water clean) and keeping the city cool. While urban expansion continues in and around Colombo, areas such as these wetlands provide great opportunities to retain pockets of wilderness in the heart of a city where the city dweller can be close to nature. At a strategic level, this project will demonstrate how urban development can be effectively integrated with urban biodiversity conservation.
The multiple objectives of this sub- project are:
• Ensuring protection of Beddagana and Kotte Ramparts from future encroachment and land development to enable it to function as a flood retention area for the city.
• Demonstrating the importance of urban wetlands and the multiple eco-system services provided to the city.
• Enhancing the natural environment of the area combined with Water Front Development that would facilitate recreational activities
• Protecting urban bio-diversity by providing preferred environment, especially for birds butterflies and other marsh animals
• Identifying opportunities for students and naturalist to learn and explore wetland ecology.
• Identifying opportunities for bird watching and other low impact recreational activities.
Achieving these project objectives will provide multiple benefits for the city and its environs.
• Reducing the flood risk to the city and lake water pollution
• Improving air quality ,climate change resilience and reducing heat in the city
• Improving public health by providing greater interaction with nature and recreational walking to relieve stress of urban life
• Increasing awareness and learning about wetlands and its ecology
• Preventing unacceptable land development and illegal encroachments, so that these wetland areas can be enjoyed by future generations.
Project Design
The conceptual plan that has been developed for Beddagana hinges upon conserving the site as it is, with only light interventions to facilitate bird watching and learning and enhancing habitats where possible with wader scrapes, reed beds and wetland forest trees.
Interventions proposed in the Beddagana Wetland
• A small information center, which will be the only entry point to the site.
• Nature trails and bird watching views/hides designed with utmost sensitivity to areas used by birds for feeding, breeding and nesting
• Creation of two wader scrapes in the grassy patches to enhance wildlife viewing
• Enhancing the seasonal shallow pond in the dry ground with reeds and additional retention capacity
• Planting of a wetland forest patch for field researches
• A small car park adjacent to the football federation grounds
• A jogging track which continues from the top of Nippon Mawatha, screened by vegetation to minimize disturbance to birdlife.
The design concept for Kotte Ramparts wetlands is more of an interactive one, given its relatively low ecological sensitivity, with features such as jungle adventure for kids, board walking and forest gardening for school goers.