FEATURE STORY
Power Line Projects Create Significant "Indirect" Jobs
August 14, 2013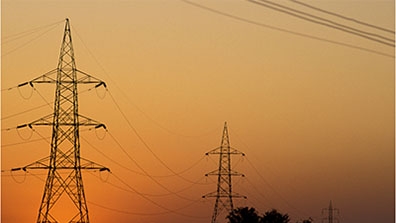 STORY HIGHLIGHTS
Building power lines can create more indirect jobs than direct jobs
Increased employment seen at businesses that benefit from a steady power supply
New methodology developed by World Bank researcher adopted by development partners
Building power transmission lines can create far more "indirect" jobs than the often-cited "direct" jobs in construction, operations and maintenance, according to a new study using an innovative approach developed by the World Bank's research department for the IFC, a member of the World Bank Group.
The analysis, which uses an input-output model and enterprise survey data, shows that the Powerlinks Transmission Limited project, which in 2003 received a $75 million loan from the IFC to construct electricity transmission lines linking Bhutan's 1,020-megwatt Tala hydropower plant to power-deficit northern India, will have created about 9,700 formal jobs by the end of its 25-year life span.
About 82% of those jobs are indirect jobs, especially in food service, agriculture, manufacturing, and other businesses that benefit from a steady power supply. The real number is likely to be significantly higher, because there aren't any data about "informal" jobs.
"Contrary to the popular perception that transmission projects have marginal employment effects, the study finds that such projects generate significant employment in the long run, because it addresses power shortage, a binding constraint on the output of firms," said World Bank Research Director Asli Demirguc-Kunt. "This is a prime example of how our cutting-edge research is contributing to operational work across the World Bank Group."
The study's methodology was developed by Govinda Timilsina, a senior research economist at the Bank's research department. He conducted the study with colleagues at the IFC, with inputs from various stakeholders in India and Bhutan, especially industry partners and government agencies.

This is a prime example of how our cutting-edge research is contributing to operational work across the World Bank Group.

Asli Demirguc-Kunt
Director, World Bank Research Department
The team uses a step-by-step approach to map out the Powerlinks project's impact on employment. First, they tracked jobs created during the five-year construction phase of the transmission system, followed by the number of jobs provided – both directly and indirectly – over the next 25 years of operating and maintaining the transmission system. More jobs were generated down the supply chain, as Indian suppliers sold cables and other materials to help maintain the equipment. Workers on the project spend more on food, furniture, curtains, and other household goods, boosting sales among service vendors and local farmers.
Second, once the project began to operate and connected to India's grid, it helped businesses avoid considerable losses caused by frequent power shortages and allowed them to increase production and hire more workers.
"The increased power consumption allows firms to operate machinery at capacity, plan longer production cycles, adopt more productive methods that use more electricity, expand their output – and therefore, employment," Timilsina said.
In addition, the project made it possible for land-locked Bhutan to export hydropower, boosting its economy and government spending on social services, such as health and education. In India, the project, as it cut through some of the poorest states and helped create more jobs, has contributed to poverty reduction.
Namita Datta, senior results management specialist and project team leader, said the study helped shift the development community's attention from the relatively small number of direct jobs created by infrastructure projects to job growth spurred by steady power supply. "The most significant employment effect of a power project comes from the increased supply of power and its reliability that becomes available to firms, which can then increase their output, and create more jobs," she said.
Roland Michelitsch, chief results measurement specialist at IFC's Development Impact Department, said the cooperation between researchers and operational colleagues was invaluable. "The study brought together rigorous research, field knowledge, sector expertise and stakeholder involvement, building a solid piece of analytical work appreciated by international financing institutions," he said.
Already, the study is being replicated by development partners. The U.K.'s Private Infrastructure Development Group recently commissioned a study on its project in Uganda, using the same methodology. Other sectors may adopt the methodology as well.